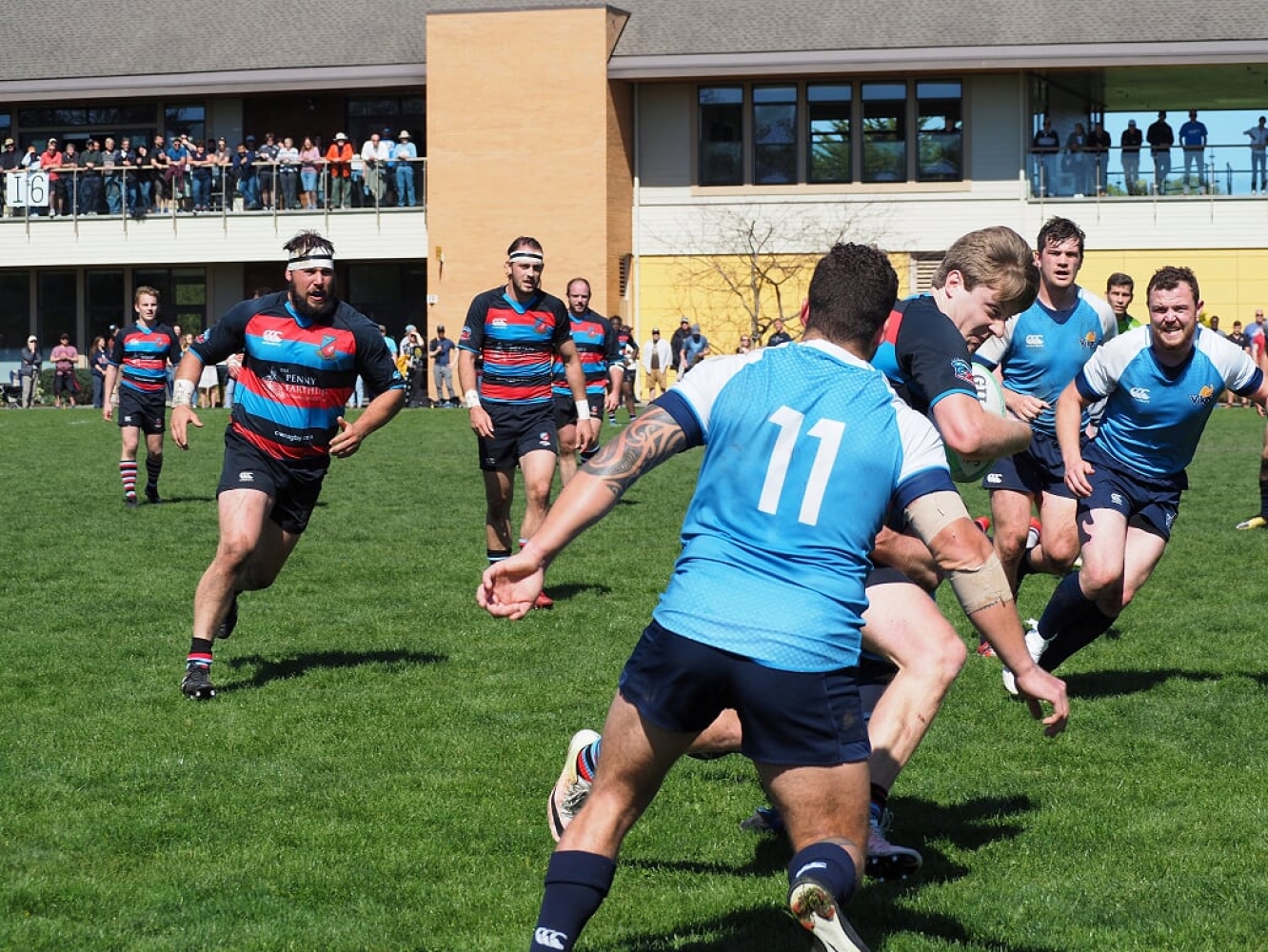 (Photo, credit to CW's Wendy Norman; see MORE for other match photos)
.......AND THEN THERE WERE FOUR
Pre-game, UVic's Martin-Freek took a blow and Findlay started. The game was only three minutes old when CW put their stamp on it and it proved to be indelible. Morra broke out and fed Dawe inside to cross, 7 – 0. UVic cleared from pressure however the kick was errant and found the hands of FHall, who was very good on this day. Although it was not a try it produced pressure and field position. From the breakdown, NStewart and Bradley made yards with sure hands, the fingertip passing sent men away at pace. CW continued to battle commandingly at the breakdown in the early stages, Dawe, Braddock, Finny and Chiz being most noticeable. CW did commit an error, being caught offside to nullify an energized UVic attack, one of very few in this first half and Bowd obliged around twelve minutes, 7 – 3.
Then the fireworks really started. The Captain made another rampant break and fed Balucci; from this went perfect wide ball, through 4/5 hands and FHall was over at the fifteen minute mark. CHall added the extras from the sideline, a feat he was to repeat often in this first half, 14 – 3. Stewart again showed the way, feeding CHall and back inside to Chiz. Liam showed speed unknown to most of us, to rattle some thirty metres and reach over (for a Times Colonist picture op!) and for CHall to convert, again from wide out, 21 – 3. Then it was Pitsy with a little individual brilliance, after an initial break from Dawe to NStewart to Bradley and Pitsy chipped over the fast closing D. The defence somehow regrouped on their line and cleared. The deficit of possession for UVic was telling a tale. CW's execution was precision-like and to watch the ball pass through four and five hands was sheer magic. On one of these occasions, Finney somehow juggled a catch and fed the ever present Sawyer who proved unstoppable, side-stepping and fending around two or three and another CHall convert from the sideline – pinch myself, is this real?? 28 – 3 at 25 minutes!
CW was creating its own destiny when Kelton Dawe won yet another breakdown ball which quickly transferred from Pitsy to Morra. Josiah went for thirty and transferred to Balucci who had work to do to finish and it was 35 – 3. Right from the re-start, it looked like it was on again, as this time, FHall, Woolridge and Morra scooted only to be penalised. The UVic ball was pinched from the lineout and Balucci fed Finney to threaten and when the ball came to CHall from the broken play, he correctly read the situation and hoisted a classic 'Garryowen'. Bradley was the recipient of the bounce, feeding Morra to scoot thirty meters with 6/7 minutes left. UVic finally saw the light of day with Prevost flying on a seventy metre sprint, only to face his opposite number who surely brought him to ground and end the threat and the half at 42 – 3.
The second stanza picked up where the first had ended with Morra and Balucci, pairing to go 40/50 m and almost break it, only for the ball to be lost in the tackle. The Vikes countered with a desperate break from Vataiki and CStewart and with Wooly, Braddock and Finney subbed and Dawe injured and off, it seemed to give the Vikes a resurgence. Three alert, quick tap pens and Gavin Kratz was over at 8 mins, for a number of the assembled on the balcony to recall days past. 42 – 10. Morra was away on an intercept for the only "debatable" call on the day of offside, from Referee Smortchevsky. With tails up, UVic came in waves and with pace aplenty, Matthews, LKratz and Findlay being visible. It was Adibe who saved a certain try with an excellent open field tackle. From a penalty, CW failed to find touch, probably CHall's only error on the day, never-the-less it was The Tricolours who found themselves again with the upper hand, earning a breakdown penalty. From the short lineout, a designed ploy, Suddsy was driven over at the midway point, 49 – 10.
Despite more home team fireworks from Morris, a crash ball to Bradley and an Adibe juggle; no points resulted and it was to be Lockie Kratz who broke and fed Bowd, on to Brennig Prevost not to be denied, 49 – 15. Dalsin made his appearance when Pitsy, after his best game of the season, was forced to leave the field. Despite U.Vic's desperation to score again, the ball being kept alive uncannily on occasion, it was Fawcett who broke from a lineout and showed an amazingly clean pair of heels for forty metres, 54 – 15. The Vikes then finished with a flourish but there would never be a chance. Prevost showed amazing pace, for a bit of sheer individual brilliance and sixty metres, catching FHall in a different defensive alignment and unable to put his exclamation mark on that little battle, 54 – 22. CW's response was slow, patient build-up, Finnemore being notable with a massive twenty meter burst and the ball eventually came to Kegode, skirting the touchline for 40 m and a 59 – 22 differential. The Vikes did have the final say on the scoreboard when they crossed after some noteworthy interpassing, 59 – 29. With time on the clock, CW appropriately so, finished with the upper hand, Balucci being "held up" and CW winning turnover ball from a tight-head scrum and Dalsin, joyously, "kicking it to buggery", (credit one, Dave Brockhoff).
With the under/overs being 85 and backing the "overs", the three point win was a profitable day for this pundit! All the pre-game factors that had been opined about CW had come to fruition and ….then there were four! For UVic M-o-M's were Ollie Nott and Brennig Prevost and for CW; Mike Finnemore and Cam Hall with Kelton Dawe winning the Players' Hard Hat. The game report has told the tale but a special thanks to Dave Smortchevsky and his crew, a fine job orchestrating an exciting match. The men now join the CW Premier Women who had booked their ticket to the mainland for next Saturday's semi, after they had defeated UBC on Friday, 38 – 10. The ladies will return to Klahanie to face the Caps, a team who, although higher in the standings, The Tricolours have defeated twice this season. We may have some seats on the players' bus for Vancouver (Capilanos and/or Burnaby).




Premier Women defeat UBC
Credit, Dawson German & for
more
.

A tip of The Ruggernut's a cap to the NSWT Sevens, winning the weekend tournament in Japan and vaulting into the second spot on the table. With Langford and France remaining in the series, Olympic qualification is far from over! Managed to catch a number of the games and the gals were on fire. Just loved the return of CW's Karen Paquin and the continued maturation of CW's Caroline Crossley. Go, you beauties, bring this game to Westhills!
Finally, for today, a special shout out to all of the Player Award winners from Saturday Night. We'll try to bring names to the site as we have time. The occasion was most fitting to recognise the retirement of Canada's and we love to call him "our own", Ray Barkwill. Ray was presented with a token of our thanks and best wishes from his FRF mate, Doug Woolridge and as the reader can imagine there was tale or two told. An amazing career, Raymondo and all the best for your future. Thanks for the memories!




(Credit, John Richardson)
---