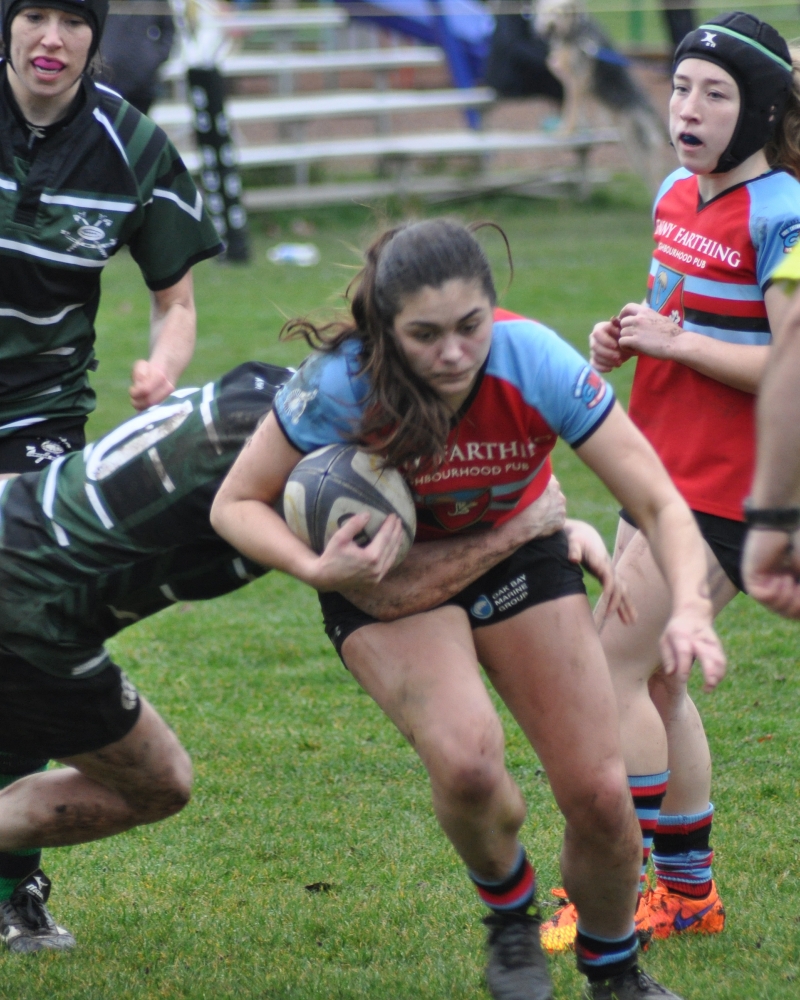 CW traversed the Malahat and wended to The Pigpen on Herd Road, with two senior teams this past weekend. The Premier Women provided the curtain-raiser against the locals as the skies opened and the winds blew. The weather proved to not be a detriment to the rugby. Cowichan has had a challenge with numbers so far this season however for this game they were bolstered by Rugby Canada women, Laura Russell and Tyson Beukeboom and a few other ladies to compile a strong group. Likewise, CW was strengthened with the addition of RC player, Sabrina Poulin. Sya Trafford was on the pitch for her first game with the Tricolours this season. The match was both entertaining and competitive, with CW good value for the win, 26 -15. With the upset defeat of Comox by the Nanaimo ladies, this result tightens the race with CW hurdling Westshore into second spot by a mere point. For CW, tries were scored by; Julia Folk; Sabrina Poulin; Nicole Shaver and Danica Pedrick, with 3 conversions by Brooke Bazian.
The Men's match resulted in a lop-sided victory to the hosts, moving them into second spot in the Third Div. League. Despite not getting on the scoreboard and permitting a number of tries, reports indicate the outing was another step up and the match was enjoyed by all. There is still a BIG push to enlist numbers to ensure the club can continue to meet its commitments in this league.
In other men's action around the league there were a couple of upset results and score lines. Well done, Nanaimo Hornets for their first win of the season over a well-placed Seattle team. With no reflection on the Hornet's efforts, more than doubling the score and a very different squad to that which CW faced some weeks back, one wonders just what effect the MLR Seawolves program has on the club side? Burnaby, a very different team since their one-sided loss to the Ravens back in week one or two, defeated UBC. In this writer's opinion not a surprise and a score line that will give UVic some real heart heading into their National Championships next week. U.Vic's win over JBAA was again, not necessarily an upset but the score of 47 – 10 was certainly convincing as a real serving of notice to CW who take on the Vikes under the lites at UVic this Friday evening at 7:30 p.m.
Then there was Sunday when the CW U19 lads knocked off their JBAA counterparts from their unbeaten pedestal. We only have the score minus any details and it was CW 58, JBAA 38, another track meet, hotly contested by the sounds of it.
And mere hours ago, Canada defeated Coventry in their second "warm-up" game, 35 – 12. The proceedings were opened with a try from Barkwill within five minutes, progressing to a healthy differential at the break, 21 – 5. It appeared from the starting lineup that a few eligible "pros" were in the mix and now the coach will announce his final line-up to travel to Marseille to take on Kenya on Sunday. This pundit predicts a win in this match, followed by a win over Germany, a club that is not as strong as originally thought to be with the loss of a couple of South African potentials and the last minute addition of a new coach. I would call Hong Kong and Canada to both be undefeated at that stage and playing for all the marbles. It will be close as Hong Kong has a squad that has plenty of non-Asian surnames, whatever that might mean, basically NZ–ers and Aussies qualified through residence, a good coach and a financial commitment to the venture. Injuries may also be a factor but I will call Canada in a close one.
---