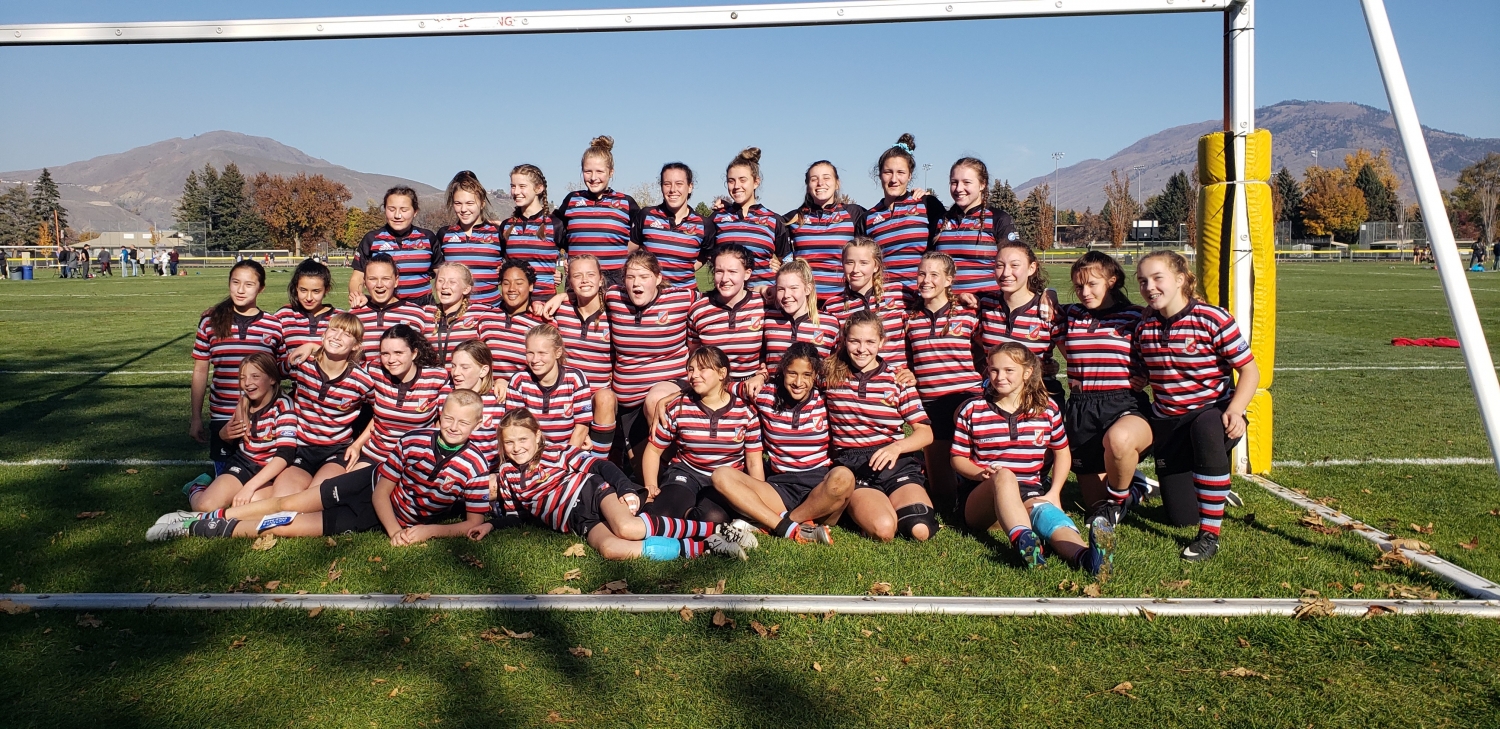 Happiness is................
What Makes A Rugby Club?
There is much that goes into any amateur sporting club being successful. It is with pride that today The Ruggernut reflects on CW rugby. This past weekend CW had three girls 7's teams – U14, U16 and U19 playing in Kamloops. Their results were extremely creditable – U14 – 3rd; U16 – 1st; U19 – 2nd. We congratulate all involved particularly, Manager Brian and those parents who committed to transporting the players and we will blog a more complete report on Wednesday. Our U16 boys were on the road for league play (XV's) at Cowichan, always a tough opposition and venue and they returned with a 45 – 33 scalp under their belts. Further, we had a Mini rugby graduate, Caroline Crossley score the opening try of the first 7's Series Tournament held in the U.S., in this an Olympics qualifying year. Caroline also contributed a unique, length-of-the-field try when the pool match against France was very tense. Canada's NSWT went on to finish in third place in a series where the top four finishers at the end of the season automatically qualify for the Olympics in 2020. Blend all this with a couple of outstanding Premiership wins from teams made up of players locally and from across the country and I have a feeling this paints success.
The major problem facing rugby clubs is a lack of players. In the men's game, we follow the second year of the professional Major League Rugby. The first Canadian team to be accepted into the league for the 2019 season, the Ontario Arrows won an exhibition game on Saturday against new 2018 entry, New England Freejacks. The Arrows have mustered a quality roster and have played a number of successful exhibition games, clearly proving the League's decision to accept them as being a wise choice. This team has attracted a number of players from the B.C. Premier League with whatever remuneration they will receive. For example, Saturday's M-o-M was Josiah Morra, a lad we have seen at Windsor on three occasions this season, he accompanied Lucas Hammond and Riley Di Nardo, both wearers of the Tricolor in the past, add to this Coe, Mullins and Abdelmonem, all drawn from B.C. clubs, admittedly most not having been products of youth programs here. With the current stand-off with Rugby Canada and its men's 7's players would it be too far off base to assume some of these boys might take this path, particularly if the remuneration bettered that of a "carded player"? The "show me the money" growth of the game may be good in some aspects but the pressure is back on the clubs to produce players for that level. Who will be these players and how will they be developed? Throw into this mix, added concerns of parents with juniors about concussion, a pay to play model for an elite player and simply the increased operational costs – travel, equipment, injury prevention and we have a real issue, not unique solely to B.C.
This brings today's blog full circle. The club that can recruit and introduce young players of both genders to the sport, enhance their skills with good coaching and go beyond the rugby pitch to friends for life, will be the club that can carry the rugby mantle successfully.
Josiah, M-o-M Vs New England.
---