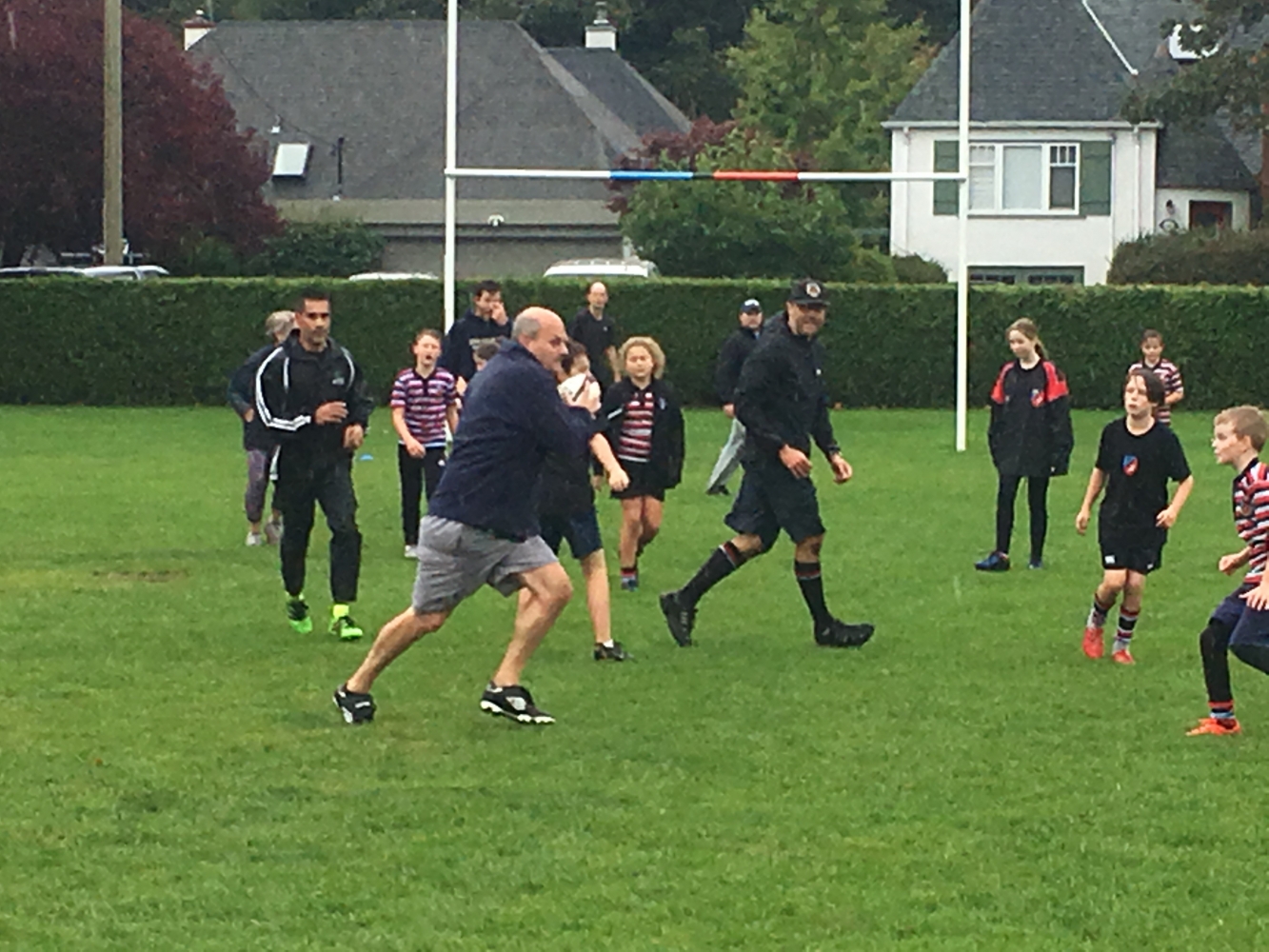 Lots to be thankful for…………….CW parents rock it with their youngsters yesterday. Former International prop, Jeff Hayes, stretches it out!

NSMT Vs Uruguay. Only caught three minutes of action in this one – the three minutes prior to half time. Canada led 7 – 6 however three sets at the five meter were shunted and twisted, resulting in penalties and when it occurred in the fourth set, a penalty try was awarded for a 7 – 13 score. This was a microcosm of the final score and it looks like there may be more to come as Argentina, Tonga, Samoa and U.S. all look strong. The Repecharge is looking to be an increasing challenge. Good to see Doug Fraser cross the line after working some interpassing with Theo Sauder. Our best wishes to all as they try yet again to right the ship.
A welcome to Michelle Evans who has volunteered to join Wendy Norman as a photo contributor to our web site. Michelle will load photos for our Junior Girls, check out her first bunch (remember to scroll do down to latest photos ). It is to be hoped we can also get a volunteer/s to shoot pix of our Junior Boys and Senior Women. Our photos are an integral part of our site and players really enjoy viewing their game via the eyes of the lens.
This week at CW NSMT Sevens players met last week with RC Board and Exec, also others were at the table, most notably members of the Rugby Canada Foundation, a body looking after Trust Funds and headed by local, Mike Holmes. Although reports indicate there was plenty to disagree about there was also some attempts at amelioration. So, we'll see where that goes. This Saturday the Islanders are slated for their first road trip with Comox the venue. New faces are needed and hopefully this roadie will inspire the dusting off of the cleats. The Men's Reserves will be at home to face Port Alberni. The Black Sheep are always a welcome guest at Windsor and more often than not, provide a handful for the locals. Kickoff at 1:00 p.m.

Boys U19 recent action Vs Nanaimo
---