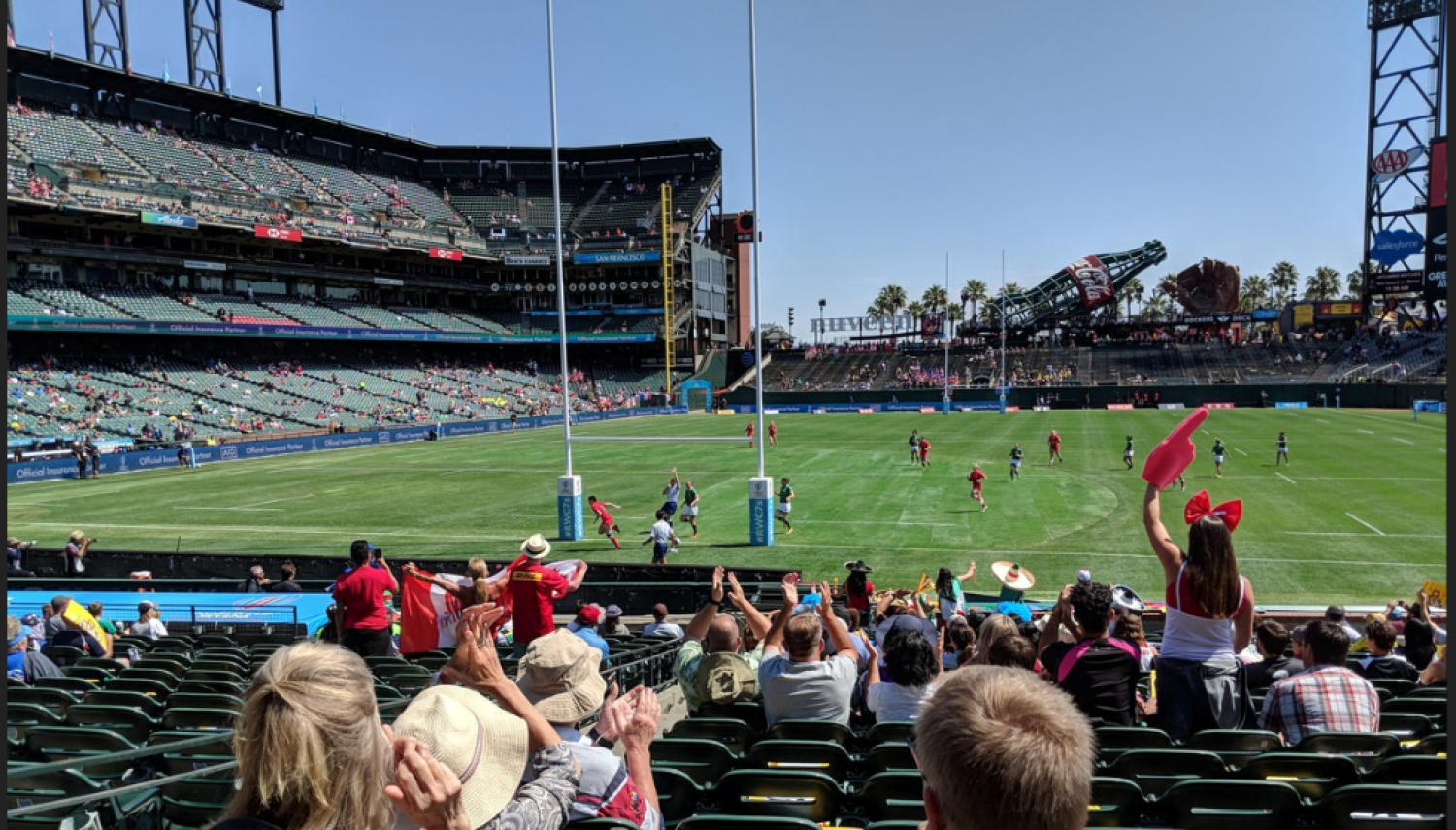 Canada women dot down another one!
Plenty of action there was over the weekend. We'll start with the Sevens RWC in San Francisco. A spectacle at A.T & T Stadium with great crowds and very solid TV coverage to gain further inroads for rugby in the U.S.A. World Rugby would have been licking their chops and Big Bill Beaumont was a good "lead"! This pundit gives kudos all round, particularly to New Zealand. The Kiwi Men & Women convincingly took the titles. In the Men's Tournament, I thought England gave a good performance and Ireland has certainly earned a spot as a regular member of the Big Show next season. Canada has seen better outings, 12th place being a fair indication of their performance. The Women finished seventh and although they may be under the microscope in some quarters, for a young team, it was not bad but some hard work needs to be done. The squad certainly misses Jen Kish and other countries, notably France and Ireland again, are on the 'improve'. The American teams performed well in both genders and their following was very vocal and apparently knowledgeable.
Back "home" at the CRC's in Saskatchewan, B.C. teams fell short of what the average "fan" might have expected. The Men's U19's finished third and the Senior Women finished fourth with the U20 ladies in the basement. There was a time when all one had to do was to tie the laces and put on the jersey and B.C. was home and hosed. It is a very good thig that is no longer the case and B.C. teams face all they give and then some more from opposition across the country. So, it's "hats off" to the Rock from Nova Scotia, Quebec and Ontario, showing we on the west coast there is work to be done as the bar continues to rise. We offer an apology, as at post time last week, we wrote that the B.C. Men's Bears were in action as well – well, we were came a week early on that one. On the local front our CW boys hosted a team from Sheffield (England). We have no results of this encounter but the weather was great and Victoria at its absolute finest, so the rugby probably really did not matter!
To wind up today's post we copy a very interesting article that is enjoyable rugby reading. Enjoy the weather, slap on the screen and keep it on the short stuff! The Ruggernut.
"Dan Carter may be one of the leading rugby players of any era, a World Cup winner and the record points scorer in Test rugby, but he admits to being captured by nerves as he prepares for the end of his career in Europe before moving to Japan. The New Zealand fly-half, whose three-year stint with Racing 92 ended in anticlimax when injury ruled him out of the European Champions Cup final against Leinster last month and the Pro 14 semi-final against Castres, is in the Rest of the World squad for the Soccer Aid match against England at Old Trafford at 8pm on Sunday night.
"I am more nervous than I have ever been before a rugby game," says Carter, who scored 1,598 points in 112 appearances for the All Blacks. "I have not got a football background and suddenly I am running around a field with football superstars. It's crazy. I am not sure where I will play but I am just happy to be alongside so many legends of the game. Not many Kiwis can boast that."
So much time is spent on analysis now, it takes freedom away from players. My career has been about instinct Carter did get struck by the football bug when he had a stint with Perpignan from 2008. As befits a player who has never been a slave to gameplans, he found himself regularly crossing the border into Spain to watch Barcelona.
"I was attracted by their style of play and, if I had been a footballer, I would have wanted to play for them. They had [Lionel] Messi and [Thierry] Henry. To me, sport is about playing with freedom and one of the biggest surprises I had when I joined Racing was everyone did what the coach said. In team meetings, players wouldn't say a word. It was all down to the coaches and I had to bite my tongue.
"There was no awareness of playing what you see, something that is drummed into in New Zealand when you are a nipper. Sometimes you come up against teams who are so robotic it is as if they are too scared to make a mistake. So much time before a match is spent on analysis now that it takes freedom away from players, but what you observe on a computer screen is not what you will see during a match.
"My career has been about backing my instinct and being prepared to go against the gameplan. What separates the great players from the good is the confidence to play what you see and the skills to be able to do it."
Carter moves to Japan next month having signed a two-year contract with Kobelco Steelers and, at 36, it is likely to be his last. He will be there for the 2019 World Cup when New Zealand – having retained the trophy three years ago when Carter played in a final at his fourth, and last, attempt – will be looking to make it a hat‑trick.
"Most teams struggled after the last World Cup," he says. "New Zealand and England were exceptions but the likes of Australia and South Africa are moving in the right direction again. For me, though, you cannot go past Ireland. They are in real form and getting stronger. I know their coach, Joe Schmidt, is very structured but it is working and he is getting the best out of his players by simplifying things.
"I think England will be better for having had a disappointing Six Nations this year and I would not write them off for a moment. Eddie Jones has created some depth, which is what you need going into a World Cup, and they have to learn from recent defeats. New Zealand had a horrific year in 2009, losing three times to South Africa and at home to France, but we grew from that and won the World Cup two years later."
Carter is not given to outbursts of emotion but he did let it all out after the end of the 2015 World Cup final against Australia at Twickenham, having sustained an injury in the group stage in 2011, lost to France in the quarter-final four years before and been in the match-day squad that was beaten by Australia in the 2003 semi-final.
"The defeat to France was a huge lesson. Under pressure, we withdrew into ourselves and stuck to what the coaches had said. We stopped thinking. I learned then that for all the time you spent in the gym and on the training field, not enough was done in terms of mental preparation. When I started my career, if you said you were going to see a psychologist, everyone would ask if you were all right. Now they say that if you don't.
"If I could change one thing in my career I would pay more attention to the mental side from the start. In 2015, I saw a psychologist, Gilbert Enoka, every week. It allowed me to confront my demons so that playing France in another quarter‑final in Cardiff became a positive, lucky enough to have the chance for revenge, rather than being haunted by ghosts. It is amazing how powerful a tool the mind is. I was emotional after the 2015 final because it was my last match for New Zealand and I finally had the medal I felt I deserved."
Now, that's food for thought!
---