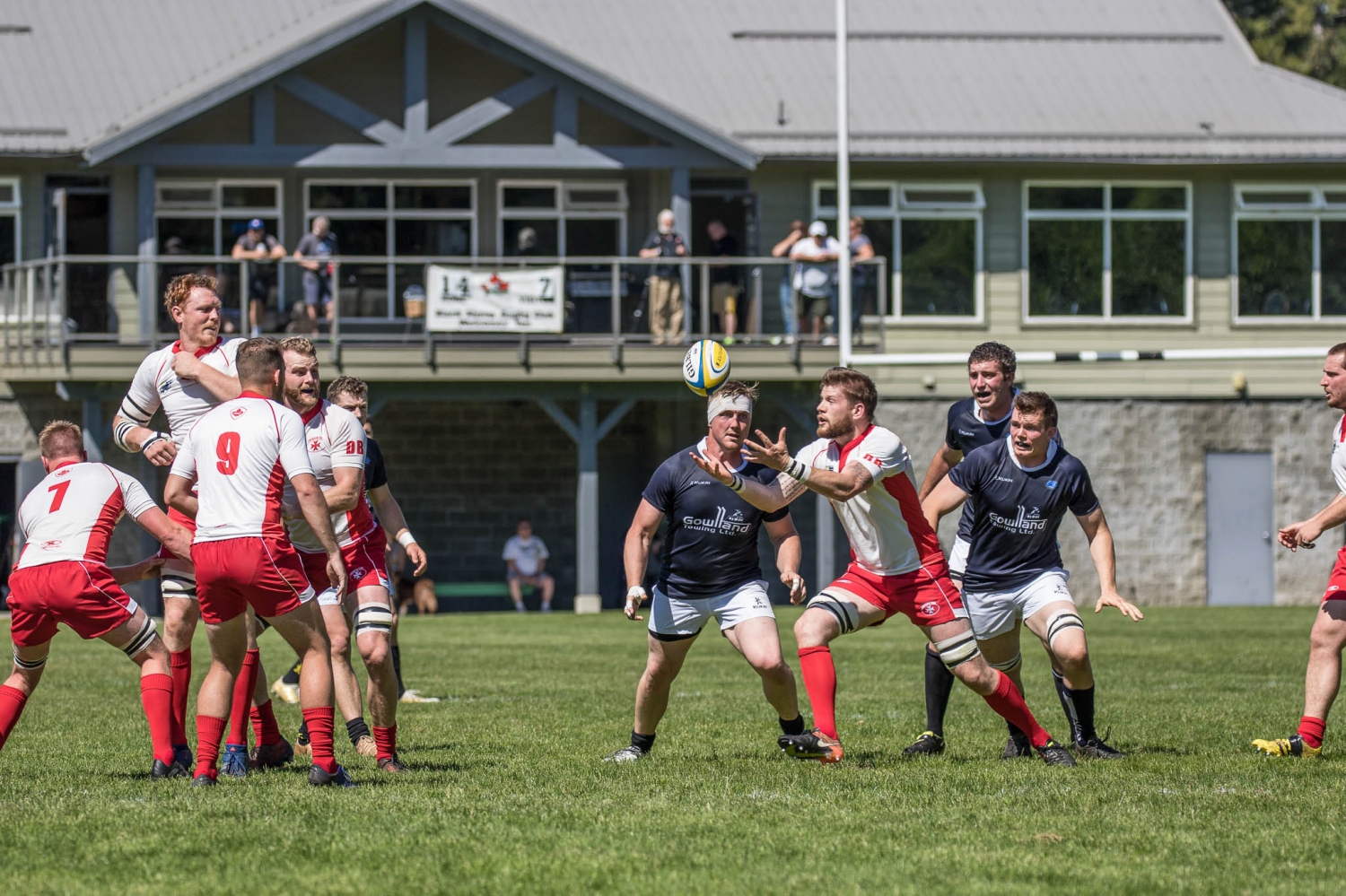 CW's Captain, Nathan Stewart snags lineout ball.
Regional Rugby.
Lower Island Crimson Tide men nipped Combined Tsunami (Port Alberni, Nanaimo, Cowichan and Campbell River), this past weekend, 40 – 38. Nate (above), was joined in POrt Alberni by club mates, John Braddock, Liam Chisholm, and Justin Logan as starters and Mitch Elliott and Matt Sutherland were included in the selection. It was an eclectic group from all four Victoria clubs. An Island Selects team will now be named to defend the McKechnie Cup in annual competition against Mainland Selects. The match will be played on May 26th in Victoria. We will post the venue when it is known. From this match and other observations, the B.C. coaches will name the B.C. Bears team to defend the Regional Championships MacTier Cup.
NSWT Sevens.
Clean heels from Charity
The Westhills HSBC Sevens stop on the IRB circuit took place this past weekend. Great weather produced some patches of great rugby. The hosts have been out of sorts of late and followers wondered just what the effect that Jen Kish's announced retirement would further have on the team. Canada had a tough opening match and lost to eventual finalists, Australia. They managed to "squeak" into the Playoff round with some overtime heroics from Charity Williams when they came back to score and convert her try against Ireland at day's end. For me, on day#1, I felt the speed, cohesion and often skills, were not up to the standards I had become used to from the Canadian group. The defensive philosophy of a "sliding", cross-field defence was not particularly effective. Finally, I thought the refereeing was incredibly inconsistent, particularly with evaluating the breakdown.
Day #2 opened with disappointment for the hosts and their horde of vocal fans when, after going ahead of the U.S.A., a poor re-start allowed them to score and convert with no time left. This result, eventually left the U.S. in fourth place. Re starts throughout the tournament were not a boon for the hosts. Having assessed the viewing to this point from my eyes, all of a sudden, we were greeted with the sparkling play of our ladies that we had become used to in the past. Landry looked like she had tested her "hammie" and everyone gave her the green light and she became the vital attacking link with her sweeping passes and astute "reading of the game". The defence suddenly went on the "front foot", knocking attackers over well before they made the gain line and the disappearance of the "crabbing" seemed to instil confidence. We were treated to a "cracker" against England where revenge was inflicted after a bitter, close, bronze medal loss to this team at the recent Commonwealth Games. The Canadian action finished with Canada totally overpowering Ireland, putting them in the light where they truly belonged against Canada, when this team is firing on all cylinders. Something was saved by these two performances and fifth place finish and it is to be hoped that with the return of Britt Benn, the ladies can get back to their consistent, confident form of yore.
The event was won by New Zealand with an overpowering display against Australia, shutting them out defensively and providing an exhibition of skills in all aspects of the game that would have done an All-Star team credit. Speaking of All Stars, CW congratulates a deserving Charity Williams on her selection to the Tourney Selects.
p.s. Great to see old foes and mates and this website received a considerable amount of positive feedback over the weekend. To our readers,thanks for your support.
Finally, we bring you an announcement about; The Almost Summer Tens Tourney, yet another initiative to provide an opportunity for players of the game at all levels to "don" the boots. 'onya, Don Swainson.
---