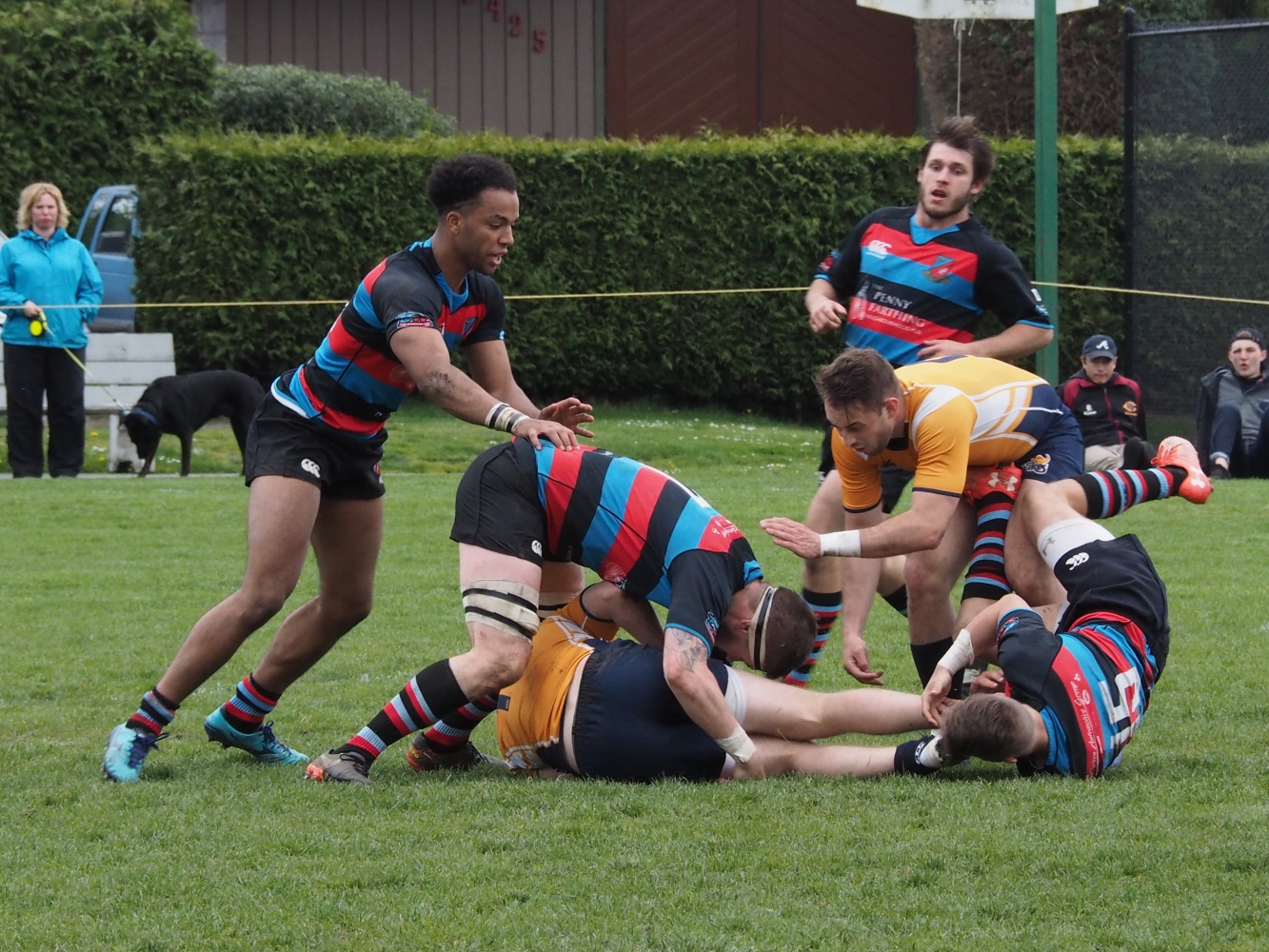 My period of mourning has passed and I will attempt to make some sense of the action last Saturday, with today's musings, although there is nothing too amusing about them! Both CW teams gifted the last seventeen points of their games to the visiting students! The Reserves started out where they had left off with their masterful effort against UBC last week, quickly going out to a 14 – 3 lead with tries from Newhook and Logan. Norseman fullback, Hersant made a fifty metre break and it was 14 – 8. From a 5m scrum, and getting pushed back at the rate of knots, Makaroff somehow secured the ball, faked a pass and went over for a 21- 8 lead. Keta almost got in before the break but that was the half.
From the k.o. CW made a terribly lackadaisical effort to clear, a ball which turned into a 'Garryowen' and bounced into the hands of Herron (all of the UVic pack had failed to retreat) however the resultant score was the price of ineptitude, 21 – 13 and game on. It was Lavellee, this man is a very good player, who gave a shrewd pass to Porter, on to Logan and finally Keta finished, 28 – 13. UVic answered with a good try under the sticks, 28 – 20. Play ebbed to and fro for a long stage until CW transgressed, 28 – 23.
With fifteen minutes left. Moar dragged defenders for twenty metres to no avail and UVic countered. CW, with a chance to clear, made the first of three critical and pricey failures to find touch. This error allowed UVic to romp sixty metres and the lead. CW had yet another opportunity to gain ground from penalties and failed to find touch for the second time. When a get-out-of-jail card looked possible for CW, after another Lavallee break and penalty earned and all that was necessary to have a chance was to simply find touch, win a lineout close and try to maul it over, the kicker failed yet again. We will omit the culprit who hopefully will not repeat these mistakes in the playoffs next Saturday when the boys travel to UBC to face the Braves in a re-match.
The reader can view the travesty should they so desire. For the victors, I liked Hersant (#15), fly half, Mouret, Masterton and Herron who stood ever so slightly above a big, hard-working pack. For CW, Elliott toiled long and hard, Newhook, Kelly and MacLean, all had good moments in the forwards. Winser, Logan, O'Flynn were the pick of the backs. It will be a test next week, with two playoff teams, one in Vancouver and one in Victoria and Saturday's game would be a bitterly disappointing way to end a season.
The Premier contest also ended disappointingly. Both teams notched five tries each, with only 2/10 converts successfully made, a very unusual stat for the quality of the two kickers (Adibe and Prevost). CW led 16 -12 at the half, with tries from Morra and Dala. Morra's coming after a strong burst from Chisholm and Nanyak making his own, something out of nothing. Adibe had stroked two penalties for the lead. Prevost tallied all of U.Vic's eleven points. Right on the knell of the half, Schellie broke thirty meters and tragically, the ball was knocked on under the posts. At the interval, Hugh Creighton in his final swansong at the scoreboard, won the 50/50!!
Prevost brought it to 16 – 15 after a penalty when a beautiful sleight of hand from Bowd to McCarthy caused a late tackle. Then came three wonderful CW tries. The first by 'Burger" Thornber on a good, old-fashioned "Willie Away" and for the youngsters, a front peel at the lineout! (Look that up in your Funk and Wagnall). Johnston finally crossed after a tight-head and some tough going by the pack with a series of retentions. Next it was Dala again, cleverly disguising possession at the back of a lineout maul and feeding Morra for his brace and 31 – 15 lead and less than fifteen minutes on the clock. If you wish to re-live the debacle, scroll the utube clip to around 1:10:00. What a demise!
UVic had some key characters in the downfall, Pitblado feeding Hager for the first, after a blocked "grubber". O'Neill and Matthews working hard in the loose for the second which came from play that appeared to have CW sewing things up, only for Bowd who was a pest all day, pinch an intercept, feed Long, Pitblado and back to Bowd for the 25 – 31 score. For the third and the dagger, McAra was twice involved, getting ball to Hager for an initial break from the re-start and when possession was retained, it got into Hager's hands again and he flicked it off to a big unit, sub (#20) and a Prevost convert for the final nail.
There was a last gasp with an amazing run from The Magician from Stewart, only to be desperately tackled by Prevost. From the ruck, what appeared like a UVic limb came through to cause a bobble and assessed knock-on, ending the game. Too little, too late, anyway. These two will go at it again, same time, same place next Saturday. It was good rugby to watch and the home team had it in their grasp. This is a couple of times this season we have seen the boys beat themselves and that is a pity. This week will be a real test for Scotty with his preparation and there must truly be some deep soul-searching and focus to extend the season, for the Vikes are a team that is "never out of it".
UVic had many quality performers but none better than Bowd, the most noticeable of all thirty today. Jack McCarthy is a very dangerous center. All of their pack worked hard but O'Neill probably stood out. For our boys, it needs to be heads up and I offer no player assessments this week. We bring readers the video for your interest, something we have not provided this season, so choose your own hard hat earner!
Thanks to the officials also who we will not rate today.
Growing the game - Where the Resources Should Be Placed?
FOOTNOTE: CW's Premier Women play their final game at BLRFC next Saturday.
---