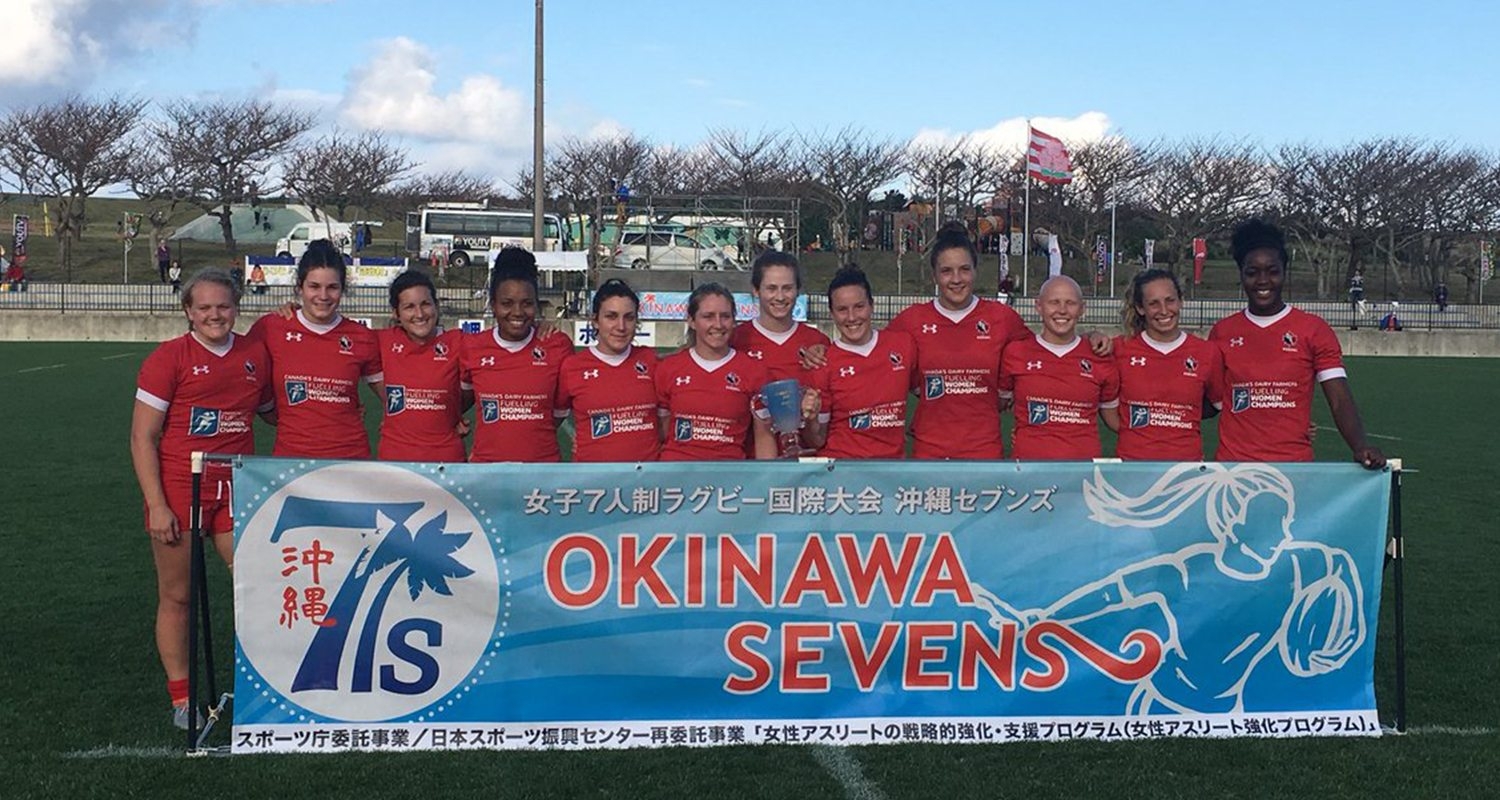 Let's start with some good news. It's hats off to the Canadian Women Maple Leafs Sevens, winning the Okinawa Sevens a legitimate event for Sevens Development although some countries ( including Canada), fielded a couple of their regular although younger, players. Caroline Crossley having worn Tricolours, was on the team which also had a couple of other regular circuit players. Along the way, they defeated Australia, Japan and Russia and met England in the Final. They had lost to England in pool play, 19 – 28 however the Final saw them reverse this result with a convincing 29 – 7. Coach Tait will no doubt be happy with this result as he builds towards the RWC 7's Championships.
NSMT: On the other end of the scale was a 15 – 40 loss for the Men's XV's to Argentina, called a 'B' Jaguares side however, read on Facebook from an Argie (Marcelo Vicentini); "Arg Xv is made entirely of local club level players.except maybe for Etchart Shultze and some other who are affected to the 7s international team." If this is the case then matters may be even more worrisome. We do know in the rugby world that Argentinian rugby is certainly on the improve (and has been for some years), ranking #8 with Los Pumas, so the depth chart is steep. Canada did not look good in terms of its physicality (Barkwill exempt, a man who punches well above his size. Raymondo, "TAG" - bagged yet another!) Canada still lacks size, so not sure where big men can come from. Next up; Chile to finish the ARC and the potential to end on a good note and hope that all available players are fit for selection for RWC Repecharge, details of which have not been finalised.
Men's VII's for Vegas: Good to see Jones, Braid, P.K. and Fuli are fit again. CW congratulates, Pat Kay, Mike Fuailefau and Luke McCloskey on their selections and wishes them and their teammates good luck for Vegas where Canada kicks off against England, followed by RSA and Wales on day #2. Canada if fit and sharp have chances in all of the matches. Go, you good things.
Club Happenings:
Yama (Shataro Yamano), played his final match as a Tricolour last Saturday. As has been his wont, he just worked his butt off and it was to a standing ovation from fans and teammates alike when he was replaced late in the contest. It has been a pleasure to have had this young man don Ceedub colours and he will be missed. On behalf of the club, Yama – thanks and the best of luck to you for your future.
Yesterday saw plenty of action at the House. Minis, some 130 girls and boys from James Bay and Westshore had a morning of fun and games and then CW hosted a team from Bow Valley, Alberta, for age grade afternoon matches. The Visitors took the U15 game with a solid win and the U18 match went to the hosts. CW U18's had to make a number of positional changes and good show to Nick Carson, having a run with his team mates before leaving for Ireland as well as Josh Mao, and Alec Boegman, from U15's for filling in off the bench. Thanks to our visitors and Coach Turner.
RIP, Sam Patterson. It is with sadness that we announce the recent passing of the club's oldest member, L/Cdr Sam Patterson. Sam was born in 1929. He is survived by his wife Pat, son Neil "Sammy", daughter Sarah, grandson Sam, brother Linwood and families and family and friends in Scotland. Sammy's lifelong love and involvement as a player and coach of rugby was introduced at an early age at Spiers School in Ayrshire. He played for Bath and on immigrating to Canada he played for Oak Bay Wanderers, VIRU Crimson Tide and B.C. Sam's brother, Lin and his son, Sam, also had long careers with the Wanderers. Many of our supporters played with one of these men. Sam and Burge – more of the best.
---