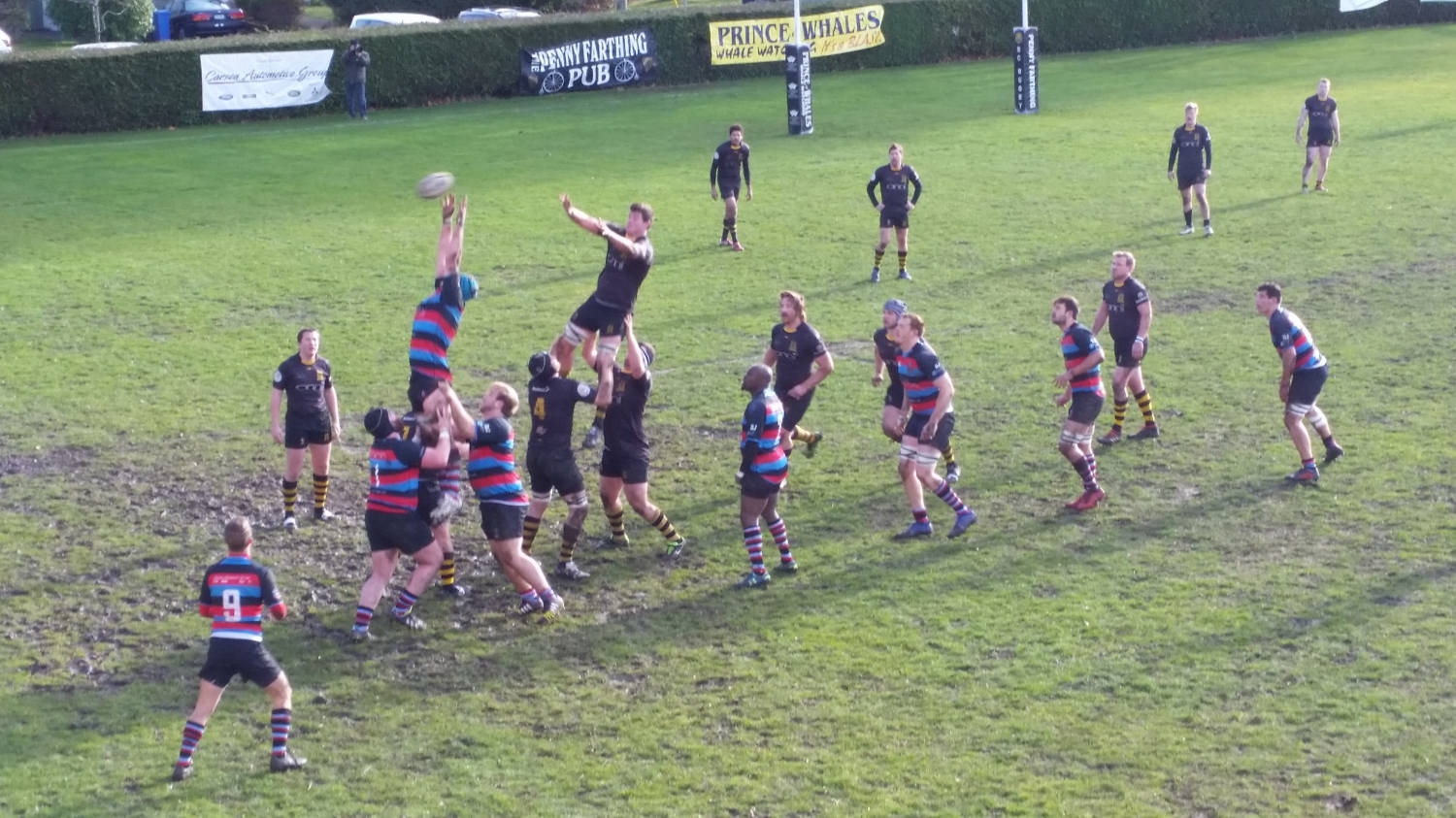 It was a full slate of matches for CW on Saturday. For starters, The Islanders (VIRU Men's 3rd Div.), lost to U.Vic's Saxons, something like a measure of five tries to two.
Matches then transferred to the House of Windsor which stood up to the conditions remarkably well after three senior matches. The Women gave a more formidable Capilano side a good matching, squeaking into a late bonus point differential, 20 – 17. Katie McNally (#10), Dawson German (#13), Gabby Senft (#5), Tasha Louckes (#8), putting in good matches. Congratulations to Capilanos who used their size advantage, basing the win on good, solid forward play and leaving CW, despite a good effort, somewhat floundering, with a win being an almost forgotten feeling. A "W"" would be a great elixir for the ladies as they "soldier on". Next week's UBC exhibition has been cancelled.
Then the Reserves took the field and they were on fire, retaining early possession and applying pressure in the windy conditions. The 'Divvies" stuck to their guns on this day, using a strong pack and wise decisions in the backs to methodically decimate the Caps. It was 22 – 0 at the half. Scoring started early in the second stanza and continued often, ending with MVP (imo), Mitch Elliot scoring the penultimate and Captain Winsor adding the exclamation for a 42 – 0 victory.
I thought newcomer, Goldstein at #9 showed well and his play enabled Tate at #10 to dictate. Another 'newbie' and Nanyak clone, Kegode, boosting the Kenyan Connection by 100%, was also good value. Rounding out the backs, Ford today at #15, showed why he has been called to play at the Vegas Sevens Festival. We also congratulate Justin Logan and Anton ('The Magician') Ngongo, on this list. It was the forwards who impressed, being the difference-makers. Hohert and McLean both hard-working, Newhook solid, Adams was good but marred his performance again with a control issue. It was prop, Mitch Elliot who had a 'cracker' and M-o-M in my books. This game was expertly handled by Derek Horton. Well done, Divvies. Now for a repeat performance Vs JBAA.
The Prems broke out formidably and had 13 points by fifteen minutes. Wide ball went to Newman, on to Yak ("Seagull") Dala and a quality return pass opened the scoring. Next, a good Adibe break resulted in a penalty and then it was Schellie, spotting a break from a tight-head set, 13 – 0. It was all CW in the pack although that crafty, old McKinnon somehow tidied up ball as his scrums were shunted in reverse. For reasons unknown, this superiority suddenly disappeared when, after a Fraser break, ball came back to Povey (ever so reliable), who dithered undecidedly and his kick was blocked, allowing for a 'heads-up' ramble by #22 (??) for Caps first try. Franklin converted from out wide, 13 – 7. Caps forwards took heart and from this point until the final whistle, carried the day, no doubt embarrassing a more vaunted opponent. The modern game is all about tackle technique and winning the collision and subsequent breakdown or counter-rucking at the right time. Caps gave a clinic in this game on retention, mauling lineout ball for 25 meters and constant 'pick and goes'. Despite deprived ball and Finnemore taking a "yellow holiday", CW did work ball close in the late going, only to see McKinnon ( a one man wrecking crew on this day), break out, ending with a second try by McKenzie and 13 – 12 interval.
The second half opened with further Cap pressure, sure handling and putting bodies on the line. A lengthy series of 'pick and goes' saw Povey clear well, despite some desperation. The game became fractured with Ontario visiting ref, Rose Labreche, taking time to deliberate. Her subjective decisions at the tackle, inability to spot and interpret what was really happening at the breakdown, being two areas that became contentious for both teams, after a fair enough start. Further, her constant dialogue with the roguish Caps Captain was totally unnecessary. (A one-eyed opinion from the balcony). Around the 25 minute mark CW actually produced some continuity with pace and quality. Newman broke out, on to Fraser to Nanyak and 'Burger' Thornber crashed over for his, almost customary, t-a-g, 18 – 12. Again, CW was denied ball and Caps closed out with a well-earned try by Franklin after his twenty meter break, with this writer's notes "vs a sleepy defence". Franklin converted from out wide, giving the Caps their deserving, first lead, 19 – 18 with about four minutes of regulation time remaining. Caps looked to close it out with pick and drives but thanks to Sponarski, Thornber, Dala, Stewart and Finnemore, this was not to be. Nanyak takes credit for an attacking tackle making an easy decision for Fraser, handing the ball to Povey. Robbie, the "Ice Man" reached in his pocket and extracted his "Get out of Jail Free" card and proceeded to slot the penalty on the last play of the game, snatching victory from the jaws of defeat, a happy ending on a day he would no doubt rather forget!
The final whistle blew at forty minutes of playing time, the ref perhaps also using a "Get out of Jail" card. Caps debatably contributed to their own demise, losing the advantage that should have continued and had been taken up with "debate time", at least according to my Rolex. A bitter pill for the Visitors. I did not put Caps under my microscope but Neil Courtenay and try scorer, Mills McKenzie, led their pack who just pounded all day. McKinnon whipped this group and was head and shoulders, best player on the pitch. At #9, Robinson showed his experience and craft and Sam Franklin with nine points, almost saving the day, were the picks of the backs. Commiserations and thanks to Caps.
Not much to say in favour of CW. I give my nod to centre, Mitch Newman. Gosh, what might he have achieved with more ball? Nathan Stewart, 'Burger' Thornber and Yak Dala (minus his throw-ins), stood out in the pack. Schellie had a good 2/3 at #9, Johnston and Fraser finished with "reps" untarnished in the backs. Thanks to the ref. It was a tough task with these adversaries, from go to whoa and as such would have been the case with the CW players, another learning experience.
ELSEWHERE in Canada's Rugby World.
NSMT are behind the eight ball going to Montevideo for a Miracle on Grass next weekend. Not much to say. I did think again, akin to CW on this day, the breakdown/collisions were lost big time both with strength, tackling technique and decision-making. To boot, some tackles appeared to have been almost "dodged". This is purely a personal observation. Los Teros with their delaying ploys left the ref talking about consequences without enacting any punishment. Frustrating enough for fans, I cannot imagine how the players felt! Not to count the chickens but the task is monumental.
Canada Women at Sydney Sevens. The Women's Day#2 started out slowly with the quarter-final against France, 14 – 12 at the half however the ladies finished with a flourish. Then it was the N.Z. Juggernaut in the semis. This game was never going to be close as the Ferns won the battle at the breakdown and had overall, greater speed. This being said, it was another example of the Sevens game being officiated to the advantage of the higher ranked team. This is not the first time this has been mentioned by this pundit and it is a pity. In this match, there was the re-start where three Kiwis were clearly in front of the kicker and re-gained possession, as well as at least three times, 50/50 chances at best, where Canada was penalised at the breakdown. Taking this out of the mix, the score line of 29 – 0 was debatably, indicative of the difference. The women concluded the campaign by whipping Russia to finish in third spot. Australia won at home with a faultless and dominating display, not having a try scored against them in six matches, some feat.
The Men's Sydney Saga ended with eight men and a hugely courageous 14 – 12 win over Scotland, after a 52 – 5 loss to this same team in pool play. The boys retained their top ten placing overall, moving on to Wellington next weekend. I imagine the phones will be running hot and ticket purchased for subs to "come on down" to N.Z. Go, you good things.
That's it for a Saturday that was a Rugby Day!
---