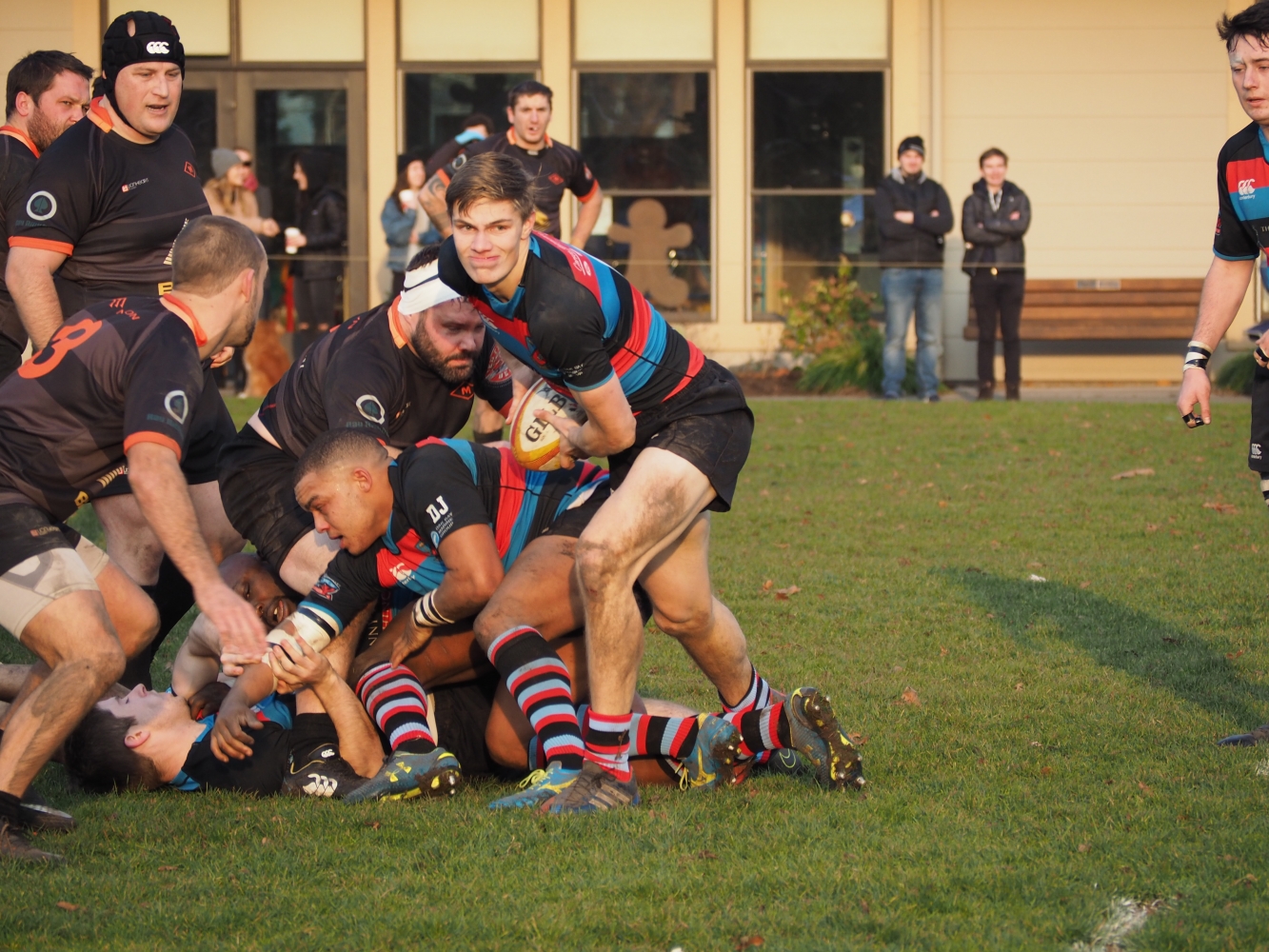 Morgan Tate - good form, good game.
Glad tidings, great joy!
In the curtain-raiser, Lomas opened with an early penalty at five minutes however CW responded with enthusiasm and sustained pressure, only errors preventing a go—ahead try. Meralomas eventually worked play into the CW half and when the Hosts were moving the ball to clear from their own line an unforced error occurred with a very poor pass for Bailey to take the gift and scoot 30 meters, against the flow and the Visitors were never to be bested. CW did respond mid-half with a nice breakout from Keta, inside to Winser and on to Coops. Meralomas increased the lead with another penalty. CW appeared that they might be able to stay close near the interval but after a "yellow", the Loma cleverly tested a three-line overlap. When they reversed the attack, they ended with a good try and 18 – 5 lead at the half.
The second half opened with a third, well-taken try. CW defense had been stout enough however a number of offside penalties did not help matters. Fourteen points was a heavy debt for the miscreant to owe his mates! CW stiffened at this stage and Boyd-Porter made a good break, Hohert and Makaroff also made ground. Finally, the ball passed quickly to sub, Vataiki and it was 25 – 10 at fifteen minutes. Things looked promising however Lomas showed us why their defensive record (second best and only allowing 13 points per outing), is so good and they added their bonus try with fifteen minutes remaining and the contest closed at 30 – 10.
The match was lively enough and the winners were well-drilled and organised with sure hands, showing us just why they are in third place with an 8 – 2 record. The locals have now dropped out of the top six. Lomas, #1 – 15 were solid, with big lock 'Bluey' MacDonald (?) being the pick of the pack and #10 Owen (C), orchestrating his backs to earn the honour there, solely The Ruggernut's opinion. For CW, 2 tries vs 4 was a pretty fair effort but players probably rued what could have been as overall the organisation was not cohesive. I liked Hohert and Makaroff, both tireless on the day. Boyd-Porter and Keta in the backs were often a threat and Schellie's tackling was again sure, in his custodial spot. I give Jordan Ford my M-o-M. Have a good break and set yourselves a playoff goal – it's within reach boys.
Main Game. Apart from ten minutes at the front and back ends, CW came up with sixty minutes of quality, entertaining rugby which included a couple of absolutely champagne tallies. Lomas opened well and had form and determination. In fact, CW was penned basically in their own half for the first fifteen minutes. First trip into orange territory saw good lineout ball go from Povey to Fraser, inside to the 'Magician' and Ngongo was over for what was to be a hat-trick before the half, 7 – 0. CW was soon to strike again when following a solid Tate tackle, 'Burger' created a turnover. Next there were two good CW sets with the Tricolour shunting Lomas backwards (Braddock looking like he had a point to prove to the M-i-M!) and from the second the 'Ice Man' Povey, gave a pin-point "diagonal" to Ngongo, unmarked, for his brace. Next the Captain got in on the act, earning a penalty with strong work at the breakdown and Thornber was a way again, from the ruck wide ball went to Povey, Adibe and the 'Magician' was barely held. With about fifteen minutes left, it was all CW, earning two scrum penalties. From one of the ensuing recycles, Povey spotted Ngongo open again and his second "diagonal" came to this man for his hat-trick, left CW up 19 – 0 at the break. On those occasions when Meralomas had threatened they had been met with very solid defense, something that would have pleased Coach Scott.
Immediately following the break, Dawes took a "yellow", a pity, as it was the only blemish on a near perfect game. Lomas assembled some threats, only to be rebuffed with aforementioned, stout defence. Again, it was 'Burger' Thornber with a 30m run, next Yama, ball to Povey and Adibe was stopped inches short. The ball was recycled, right and back left and when the defence was stretched it came back right and five passes later 'Burger' was in for a well-earned try, 26 – 0. Lomas really had no answers at this stage and were a bedraggled crew. A lovely Povey break and off-load to Anton, saw danger signals for the Loma and from the ruck, the ball came to Fraser who opened the gap for Thornber to outpace a number of backs for a 45m run and his brace. CW subbed liberally, Schelly already being on at the mid-point and the cohesion obviously went missing. A rejuvenated Loma, earned a try for Schwikkard after good retention, 31 – 7. A CW "yellow" to Newhook and a turnover continued to offer life to the Loma and Te Kiri, who had come on and showed more life than in his Reserve's game was duly rewarded after a juking run, 31 – 14, final.
For the Visitors, Noonan and Clarke showed up in the forwards and Dougherty was solid at #10, Viljoen was skilled but far too busy refereeing than playing on this day! For CW where to start? The tight five led by Braddock's scrummaging and Thornber's rambles, set the blueprint. This group is s super crew of blue collar guys, Leask, Dawes, Nanyak and Yama all terrific. Every back had his moment, letting the ball do the work, unselfishly and revelling in the joys of running rugby. I must mention Tate, good stuff, both sides of the ball but I give 'Ice Man' Povey my MVP in this one. Well done all, entertaining stuff. Enjoy your break. Thanks to the officials on the day.
The spirit of rugby......
FURTHER JOYS

CW U18 Boys won the Provincial Championship yesterday, defeating Bayside, 29 – 5. Story tomorrow.

CW, as well, had a large number of club girls on a South Island amalgam that won the Girls U18 Championship last week.

Finally, to the NSMT's Sevens. Wow, a real shout out to these beauties – Fuli and Douglas on the Dream Team to boot. This pundit only witnessed one match which demonstrated the quality and tenacity obviously displayed throughout the weekend. Reckon they would have won the bronze with a rub of the green from the ump. In this RSA Blitzbokkies match, the Bokkies were gassed but a last second heroic tackle saved their day. You can search out the details elsewhere however, the boys have moved up to seventh place and again, their results show that it's never over with this game (the last game went 1m 30sec after the hooter, compliments Canadian skill and guile)! Well done, all. Back home for Christmas. Have a great rest and go get 'em in Oz.


---