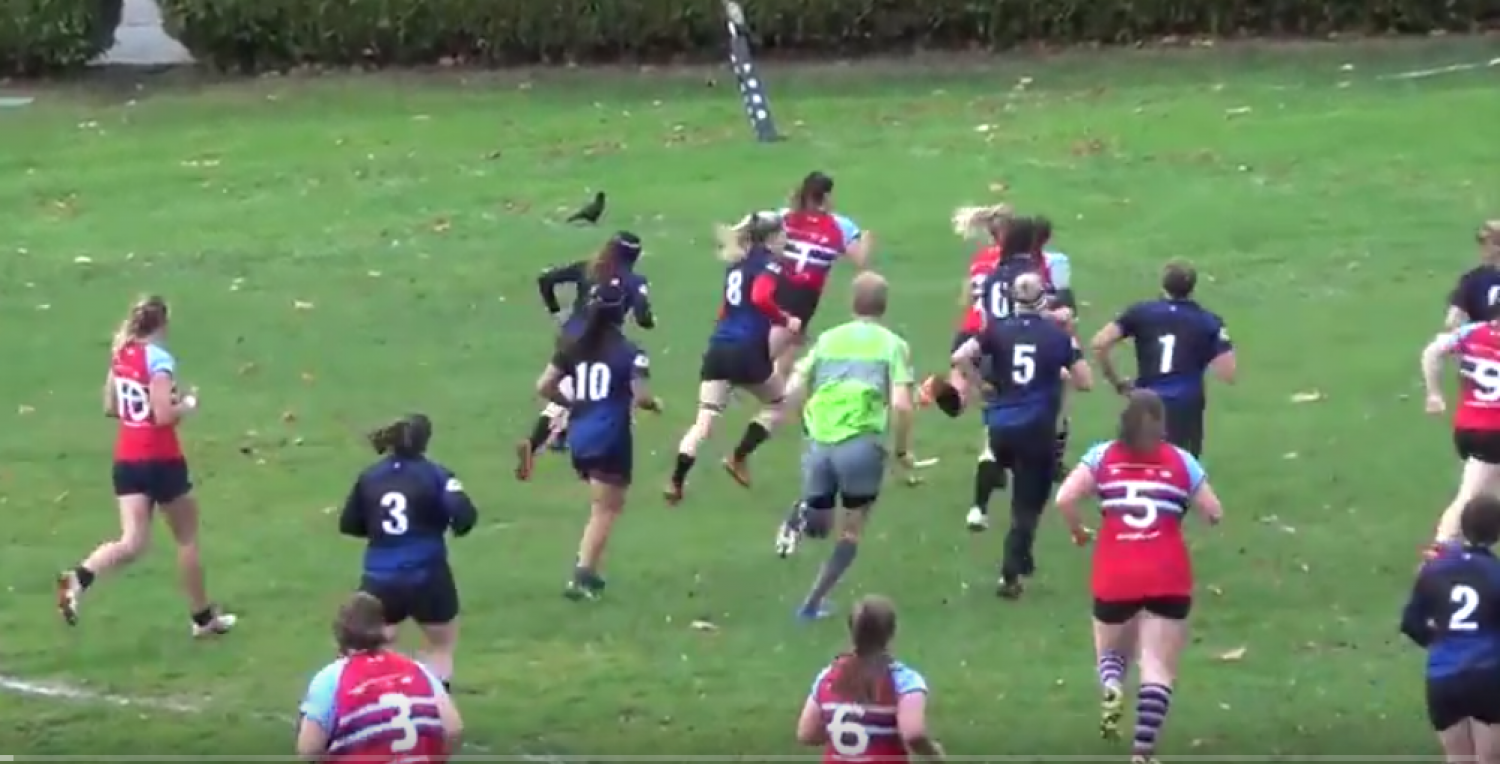 Westshore Women Remain Undefeated
Appleby shows clean heels for first try - unfortunately, it was the final try that mattered most!
The rivalry between these two cross-town clubs has been intense and produced some memorable matches. Saturday's was one more for the books. CW started their season against Westshore and conceded points in the three-figure margin; three weeks back it was thirteen and on Saturday, a differential of two points in a sixty point total match.
CW opened the contest with good early pressure and a blocked kick gave them possession for a couple of recycles then prop, Jenn Appleby, found daylight and out ran her pursuers over 35 meters to score under the posts. Some ten minutes later, Westshore returned the favour after good build-up and Megan Hewett was over, 7 – 5. Play battled and at the fifteen minute mark, CW hooker, Nicole Shaver broke away, beating defenders and fending off the full back for her score, 12 – 5. Next it was Gabby Senft who was huge on this day, a dummy pass and forty meter break from an alert tap penalty, well done; Lauren Sargent accompanied Gabby and when she was caught by the cover, Lauren was the recipient for a 19 – 5 lead.
One had a sense that this might turn into another track meet between these two and the scoring was far from over. So it came to pass and at the twenty minute mark, Westshore #7 responded under the posts, 19 – 12. The Visitors then cranked up the pressure and a sustained period saw them bravely repelled a couple of times, Hewett being held up on one of these occasions however they were duly rewarded, scoring from a set scrum, close to the break. CW was not finished and it was Lizzie Adams who made good ground. From the ruck a Westshore penalty was incurred and a quick tap from Sargent saw the ball in Dawson German's hands. The #10 made a fabulous break, dummying and weaving, deceiving pursuers with a deft change of pace, when gathered in she laid off to the captain, Tash Louks, for the lead at the half. 24 – 19.
Many players had stood up on both teams in the first half and the CW 'style' and gusto had somewhat wrong footed the favourites. The second stanza opened with a more determined Westshore team, patiently going through the phases and using their big runners to gain yards. The defence was sorely tested. It was tenacious enough, repelling a Westshore five meter scrum and holding out a number of testing probes. This goal line stance seemed to buoy CW and they worked play into Westshore territory in vain and when they lost possession, the screw was once again tightened and this occasion after a spell of good handling, the interchange saw #1, barge over around the twenty minute mark, 24 - 26. This was the first lead for the Visitors and inspired them to try to throttle the lead. Their play in the loose and their sure handling kept the ball away from The Tricolours. Against the flow, it was CW's turn to score next and Kelsey McKinnon was duly rewarded for her toil, scoring out wide, 29 – 26. However, WRFC had been in this position before and when CW forfeited possession, one just had a sense that this was their goose cooked! So it came to pass. From the half way Westshore worked play close to the line and I think it was #1 who crossed for her brace. 29 – 31.
On the day, the score was an accurate enough reflection. The match was well officiated in the first half although play at the breakdown in the second stanza seemed to become slack. Never-the-less, a tough job with no AR's to help, so, thank you, ref. I apologise to the Black and Blues for not naming players but this is a shortcoming of the Women's league. I liked the play of #1, 5, 9, 10, 12, 13, also #15 looked dangerous when she slotted into the attack. I would have liked to included #2 amongst these bouquets however her constant harangue detracted from her performance in my opinion. Megan Hewett at #8 stood above her team mates and gets my W-o-M. Well done.
For the locals – well done all. Westshore is a quality unit and to have the closest score against them so far of all clubs, is a credit. CW stuck to their guns in the face of a tenacious attack. The FRF was quality and improvement was so noticeable. Not to be shunted back at the rate of knots in today's game is vital. This is not to denigrate those who have served in the FRF to date. Nedved was tough with ball in hand and her fellow lock, Hawking, did not shirk either. The loose trio was money, scavenging for loose balls amongst bigger opponents, 17 year old White, Captain Louks and Senft, W-o-M for my money. This woman's tackling verges on the demonic!
In the backs, pint-sized Lauren Sargent at #9 takes her lickings and keeps on ticking. Her delivery was shaper and speedier than what I have seen. When #10, German left the fray, the attack became disjointed. Bronson's defence in the centers was torrid all day until she too left at a time that this pundit thought might have been deemed premature. Adams played another blinder and Graham back with the club at fullback is a talented rugger. So, it appears, that akin to last season, there may be a resurgence. It will come at a time ahead of last year's pace and with some luck, one game at a time, the ladies just may force themselves into the playoff picture. Were that to be the case – who knows what might happen? Every game will be absolutely crucial and a quality side must travel to Burnaby next week to begin this process.
SIDELINE SCENE: Good to see Shaye Tudor, Karen Paquin and Coach Julian renewing their Tricolour bonds.
In other ladies' results, the NSWT ("Development" – Ed term) was soundly trounced 79 – 5 by an English team that included a solid composition of their RWC players. Some Canadian players were exposed and are simply not ready for this level at this stage. With two more games remaining, we will see what might be conjured up.
On another note, in the opposite side of the equator Canada's NSWT (RL) had a great result against Papua/New Guinea, with a 22 – 8 victory. This is an amazing outcome in this scribe's opinion. A hat-trick of tries was scored by Cowichan's Natasha Smith, a natural body type and a very strong runner, suited perfectly to the stop and start of the league game. One suspects that upon her return she will be added to the "Development" group! The Ravens now play Australia in the cross-over game but this win assures them of a spot in the semis. Great job, ladies.
---