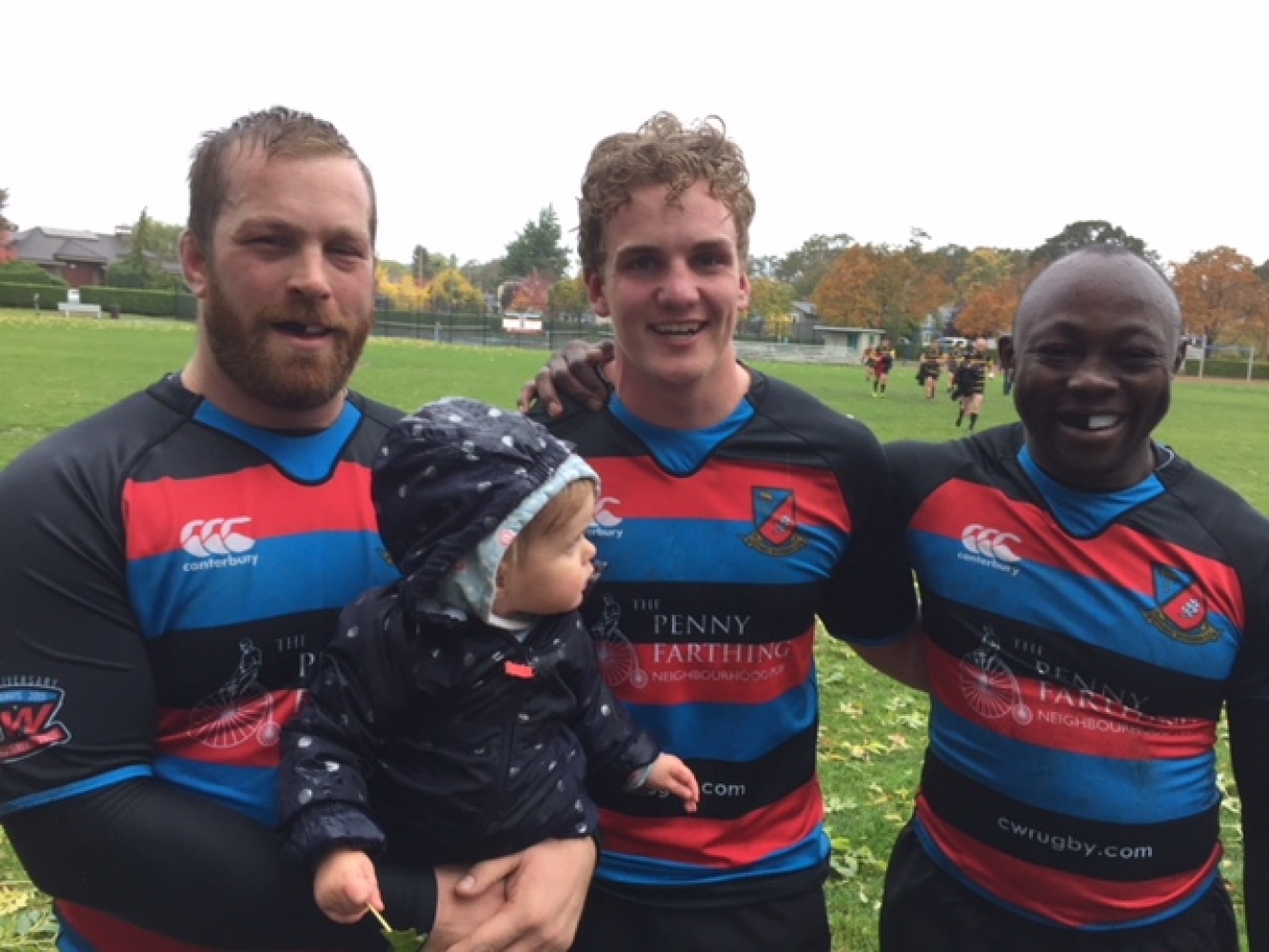 Overheard at practise last week from newbie, Kris Uschold from Winnipeg, a journey-man prop; "Geez, I saw these guys playing in the World Cup." This was in reference to a couple of blokes he was training with. Well, Kris, hang on, for you will learn a lot from the Front Row Fraternity around CW! On Saturday, Kris actually got to spend some time on the pitch with Tieds and Yak – a happy camper!
This will be an interesting week of preparation for The Tricolours, taking on their toughest hurdle to date – UBC Thunderbirds (and Braves). It will be interesting to see just what the selectors deem to be the best backline combo, particularly if Pullin and Adibe are available. Last year CW won the League match, coming from behind on a Ray Barkwill hat-trick, 28 – 25. However, the boys succumbed in the semi, 15 – 25, predominantly, scythed by Sauder! UBC has lost a number of players this year to graduation and it took them a few matches to get it right. Certainly, their 36 – 14 win in Seattle last week, looks like they are in the groove. There is plenty of talent from which to choose for the Birds. They will be led by tight-head prop, South African, Lemkus. He has had plenty of "ink" and deemed by some scribes as the best in the league. Jim Carson, we think in his senior year, has also become a great leader. Sauder and Coe will both be on the park. These are some of the threats. We suspect that Manning will stick to his word, in using a game plan that will require the opposition to match the Visitors. Women will be working to reduce the deficit at Westshore.
Good win for the Islanders (VIRU Div 2 League), over Westshore in the wet on Saturday, 12 – 7. Marcus Hall led the boys with a brace. Next Saturday at home to Comox, another stretch as Prems and Reserves will be overseas.
Finally, my beloved Wallabies did the trick. A very good second half saw the Men in Gold knock off the All Blacks last weekend.
---