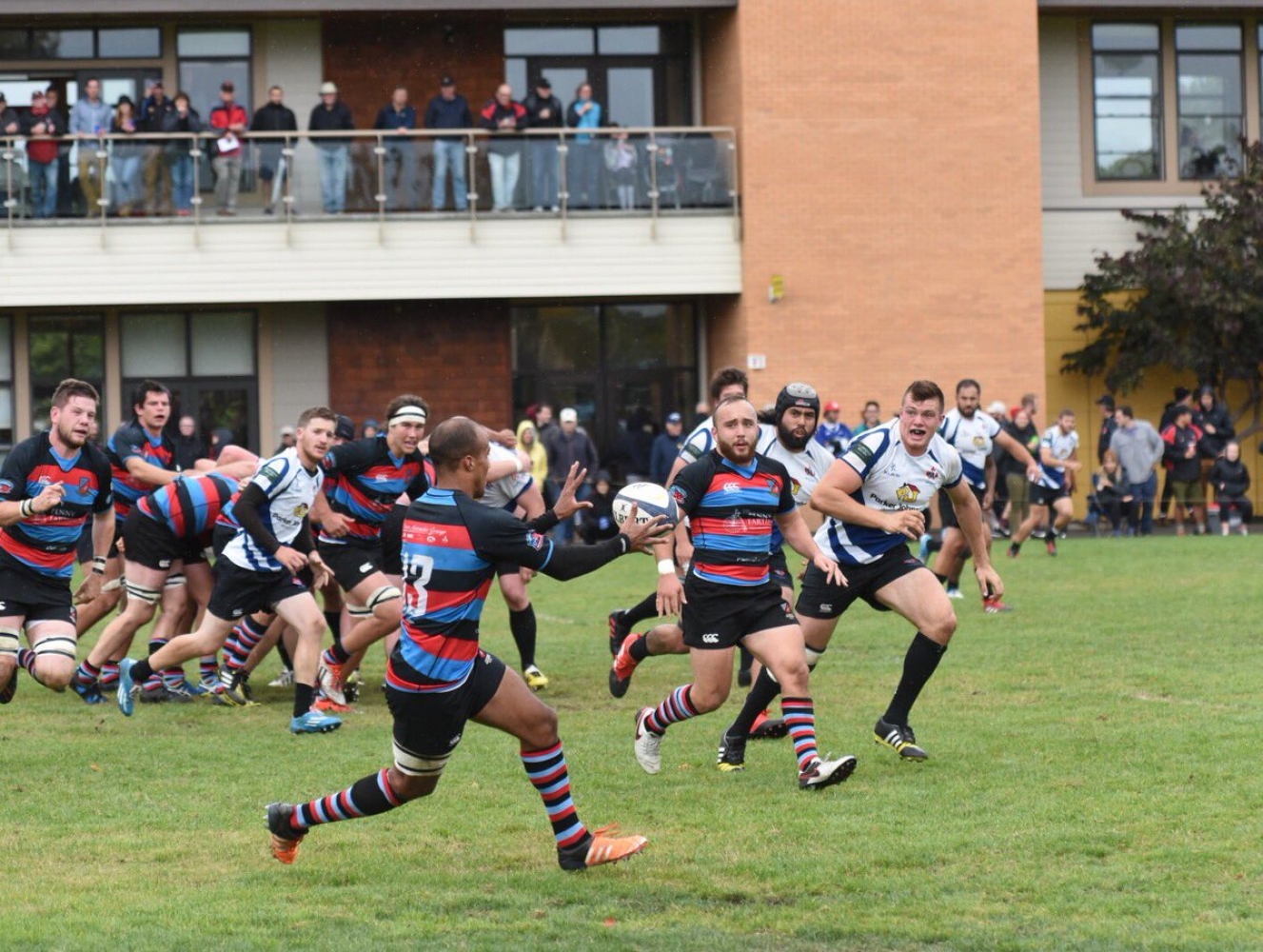 Premier Train on Tracks
A much awaited test for the Westshore faithful, the day had arrived. Play opened with both teams testing. CW's recycling looked good. Westshore won some ball only to grubber away, Newman covering nicely on one such occasion and made ground. Stewart, Hohert and Sponarski all showed early. The CW lineout looked a little sharper this week, earning two early penalties. CW exerted pressure causing Westshore to infringe often, eventually frustrating Assmus early in the proceedings, he awarded a card. CW backed their lineout and for the third win, they drove towards the line. Westshore repelled and a scrum resulted from a knock-on. From the scrum, wide ball saw Newman step inside a defender to cross for first blood at 12min. Early decisions were interesting, with Pullin making good choices, running his attackers on good lines yet Westshore chose to aimlessly kick away hard won possession. About 18min, Pullin moved ball adroitly, with the quick pass finding Stewart for #2. Westshore finally exerted some pressure and CW got lucky despite an inept defensive lineout, Di Nardo getting a bounce and breaking, Pullin cleared nicely. Leask was a man possessed.
Westshore stiffened and despite tricks such as chip and retrieval from Captain Friz; Westshore getting under pressure, yet winning a scrum only to indiscriminately chip away; they held the fort. A Leask probe about 30min in caused panic. Despite things being close, it appeared that DiNardo was increasing the pace of the affair as he sensed he could ask some fitness questions with the defence arriving in desperation rather than control. Finally, a CW set scrum put the wood on and Fraser stepped inside his man, for a 19 – 0 lead and hints of the dam breaking. The CW attack lines were asking questions and the continuity was making Westshore work hard. Despite a series of sets won by the hosts, Westshore hung in to cause a CW knock-on. From the scrum. Panga sought to clear but his kick went to the hands of Newman, a man who had showed enterprise to date, he made a nice run and fed Keta, on debut, David showed clean heels over thirty meters for a 26 – 0 lead at the interval. Braddock had been carded late for a dump tackle; Newman looked good with the need to temper his excitement a little and ensure good hands; Pullin, Leask and Sponarski all had been good value in the first stanza.
Just seven minutes in Pullin featured with a sixty meter breakout, only for the momentum to halt with error. Still early, a series of CW pick and drives saw an enthusiastic Keta fly over prematurely, as the ball had been knocked on! From the scrum, Stewart picked up and drove for ten then competently handed off to Di Nardo to finish the job, 33 – 0. Westshore erred with a fundamental from the kickoff, as tiring of the troops was apparent. A Di Nardo chip saw Logan gather nicely (Justin had a good game on this day), make good ground only for another knock-on to spoil the progress. Westshore did manage to dig deep, work their way back into a threatening position, only to once again kick away ball to Newman who again, relished, making good yards, only to give up a penalty at the breakdown. Westshore managed some phases and when they gained the 22m space, giving their followers some hope. It wasn't to be, as a very slow, 'telegraphed' pass, saw Pullin say "thank you very much", intercepting and scooting 75meters for the score and 40 – 0 lead.
Credit to the visitors, they did come back with commitment and worked play to the red zone, only to turn it over and when they received yet another yellow for breakdown infringements and CW subbed liberally with about 15mins on the clock. Play became less than stellar for Premier rugby, interspersed with injuries, errors and whistles and it all seemed rather pedantic. CW did manage a final flourish when from another lineout won, quick ball was moved wide and with Newman "filling", he earned his brace against a defence that seemed disinterested. Newman, relishing the day, broke again and his chip was gathered and passed to Stewart for his well-deserved brace and time waning. As the tempo appeared slo-mo., Westshore did put on some good pressure and was rewarded with a long advantage call; ball was tapped for ¾ willing runners, eventually providing a break for Panga to break the bagel against some lame defence, deserved from the pov that Westshore indeed had "hung in there".
In summary, thanks to ref Assmus who always orchestrates a contest that leaves very little in dispute. In this one, his ability to maintain continuity was limited by skill breakdown and law infringements of the participants. To the Visitors. Westshore has size and physical abilities. Playing at eighty minutes at this level seemed to be a shortcoming but that will improve as this year they will be playing at least six or seven teams that will play at today's pace or faster, considerably different to First Div.
For CW it was interesting going in, to see just how some of the newbies would step up. I don't think the fans were disappointed. A couple of the guys who are new to Premier play this season and only have a couple of games under their belts, also looked the goods. Loved the bubbling enthusiasm displayed throughout most of the match. For this pundit, it all started up front, as predicted. Those who should, played well. Of the FRF, I liked big Jack Sponarski best. Hohert was a horse, carrying plenty of load. Of the loosies, Leask and Stewart were superb. Di Nardo is a good thing and one suspects the Sevens program will be pondering long over his potential this year. On debut, Pullin had a cracker, poised, good decisions and a nice skill set as well as direction, he was a nice surprise and a more than capable replacement for The Ice Man! Fraser was himself and Adibe was a little less obvious this week but his ball transfer was quality and he chipped in ten points. The back three were enjoyable to watch and they will force A-ton to be at his best when he is ready to go. Newman at the custodial spot was particularly enterprising. There will be a week's layoff for Thanksgiving and then it's over to Klahanie to see how really good these guys might be.
Where it all began.
---