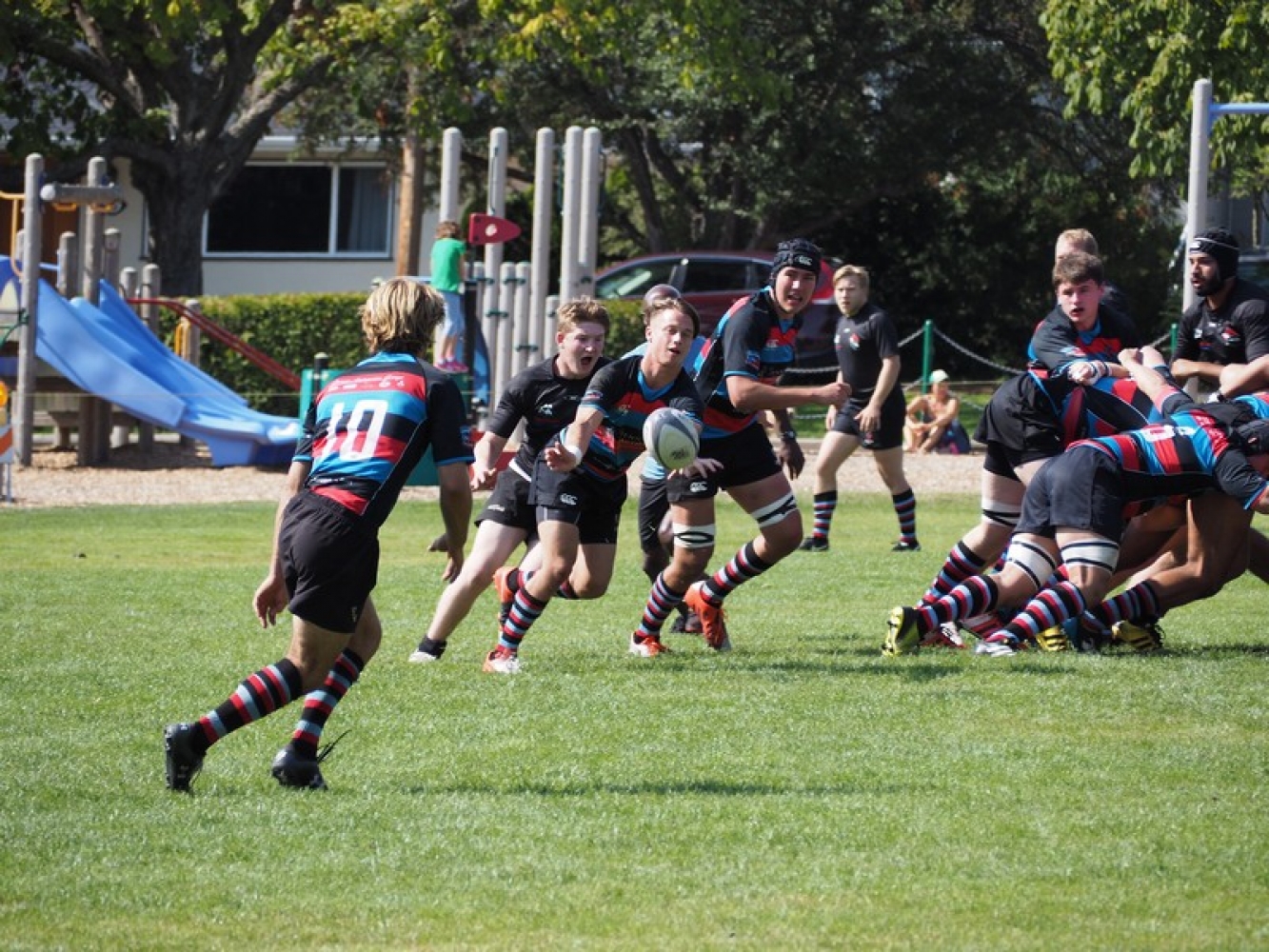 Saturday's Results: CW opened VIRU Division1 play with a lop-sided win over visiting Port Alberni Black Sheep. Port did not quite have the fire-power we have come to expect from them in the past however, some young players will progress with the season and they certainly "hung in there". For CW, lock Fowler had a field day, full of running, with Newhook and Adams on his shoulder. Yama scored his first try as a Tricolour and we had our first look at David Keta. Windsor, Hickman and Logan were the pick of the backs. Thanks to Spence Robinson and Nanyak Dala for stepping in to ref and thanks to Port for the game.

In the other match, also described as VIRU Div.1 (and we can't figure this out), supposedly competition for the Times Cup, a strong Cowichan combination, bested the locals, 43 – 29. CW fielded a youthful combination, blended with age with Hepp, Gordon, Lewis and Hume on the field. Cowichan's team play was a feature of their win. Thanks to Don Barber, as M-i-M who eventually found his way to the House of Windsor. This Saturday will see our Women Premiers kick off their season against a strong Burnaby club. Burnaby will be looking to earn those extra few points in this game, points which proved to very elusive to them in games last year with many near misses. CW will feature a number of new players as they enter their third campaign. The Men's reserves and Premiers will take on the visiting Seattle Saracens.

Canada NSWT Rugby League Ravens

It was news to this reader that not only is the thirteen a-side code being played in Canada by women but a "long list" has been named for the upcoming RL RWC, hosted by Australia in November! Loved the fact that one of UBCOB's Founders, an old nemesis, 'Black Jack' Shaw took umbrage with the name, Ravens, claiming copyright title for the Old Boys – a valid point, as the codes are so clearly delineated. Of the 32 players named, CW has three, Sya Trafford, Kathleen Keller and Mandy Marchak. There are many well-known and very talented rugby players on this list. The most interesting question for this writer is just how this group will be funded? We will try to get an interview with Mandy to tease some information. So, off to Oz, the home of Mungos and Rah Rahs, to experience the wide cultural and playing differences between the two codes! Other countries participating will be Papua, New Guinea; Cook Islands; N.Z.; England and the Hosts. Why not?


Celebration of Life - Tom Browne
This will take place on October 7th at 2:00 p.m. at the University Club (formerly, the Faculty Club) at UVic. We conclude today's blog with a fine tribute from Campbell River's, Erin Young, Director of North Island Mini Rugby. Erin communicated with Ed Knaggs this past weekend regarding an upcoming Jamboree and included; "First, I wish to express our sadness and sympathies to Ed and all that knew Mr. Tom Browne who recently passed. He left an impression on me at our Jamboree two years ago when he took me aside and explained how happy he was for our club, to see us have happy young rugby players up here (Campbell River)! I walked a little taller the rest of that day and wish I could tell him we will continue to help out happy young rugby players."



---