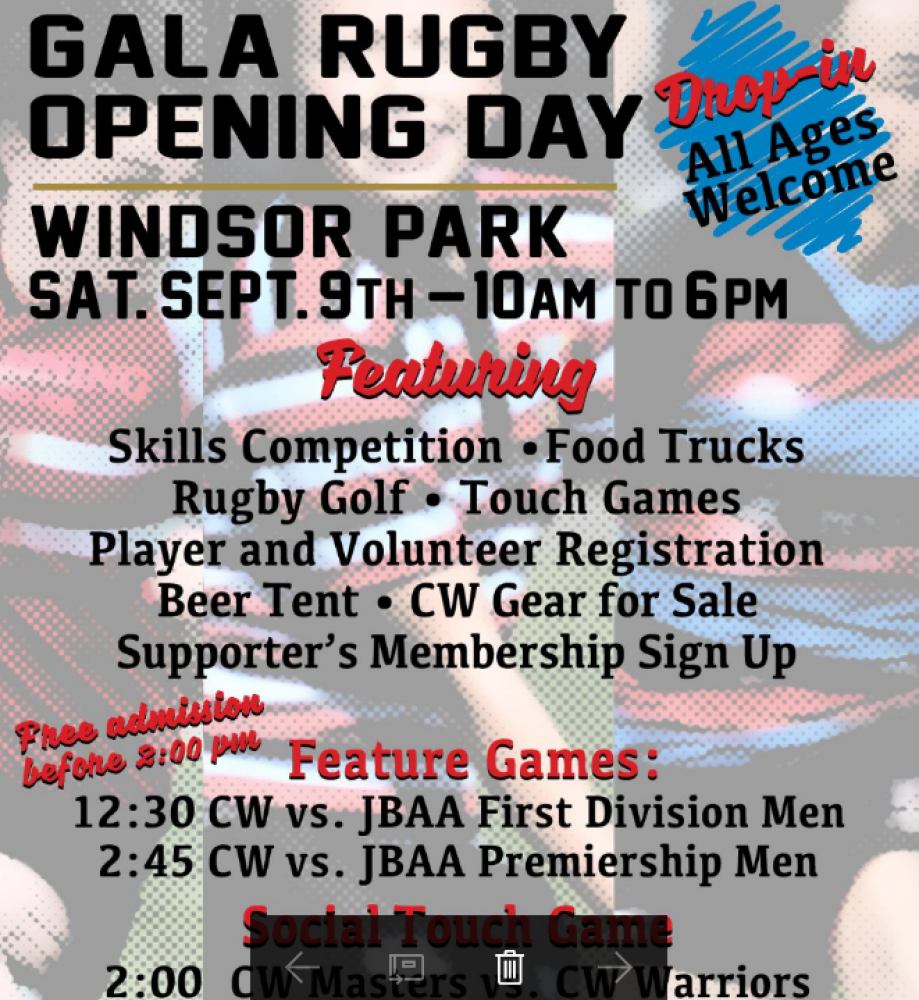 Countdown to Saturday – Day 5
CW is very pleased to announce its second Annual Gala Opening Day this coming Saturday, commencing at 10:00 a.m. with skill stations competition for girls and boys, ages seven to sixteen. If all eight stations are completed, then the player will be eligible for an ice cream cone. An inflatable rugby field will be available for the tiny tots to romp around in. There will be rugby golf, computers to register, food trucks, a segregated beer garden area, heaps of swag at bargain basement prices, something for everyone. Our senior men's teams will play James Bay in the afternoon, interspersed with a Master's Touch Game for Old Boys; Rogie's Rogues Vs Jonesy's Jokers. Join in the fun and check out the talent of the men's teams for the upcoming season.
At CW Rugby we take pride in our club's website, something which has become a very useful tool. Our website has nooks and crannies that the average reader never bothers to case out. Today we provide a link to CW's People……..our new President, Matt Gordon, encourages readers to check out the folk who are involved first hand with all of our players, in a coaching capacity. "Visit this page to get an idea of the mammoth task it is to muster all of the coaches necessary for a season of rugby and also to check out the quality of CW's coaches. Finally, a massive thanks to all of our VOLUNTEER coaches."
Coach, Shane Muldrew (Boy's U14) wishes to remind readers of the following details for the boy's program. (All practise times and dates, along with matches will soon be available on the calendar on this site.) CW U14 BOYS RUGBY- Commences Wednesday September 11.

*Practices 4:30 - 6:00 pm Wednesdays and Fridays @ Windsor Park - arrive by 4:15 pm
*Festivals/exhibition games Sundays - usually mid-morning, varied locations
*Mouth guard and water bottle mandatory for all sessions
*Highly recommend packing healthy snack and juice box for post-practice recovery
*Manager position vacant - two persons can share duties if they wish
*Head Coach: Shane Muldrew, 250 727 2358. Register HERE.
Canada's Men's U20 Team lost their second match at the World Rugby Trophy Tournament, Vs Japan over the weekend. The score was 50 – 12, a very one-sided outcome. CW's 'The Magician', Ngongo, notched a tally in the late going. The two outcomes to date must be very disappointing for the players and coaching staff. For the supporter, it raises the question, are we really this far behind the progress of Namibia and Japan?
Finally, some news from Sydney, Australia. The Warringah Rats won the Sydney Shute Shield competition on the weekend, knocking over the defending Champs, Northern Suburbs. The coach of the Rats is Darren Coleman. Coleman coached the Calgary Saints and Mavs, around 2002 – 2005 and also Jake Ilnicki with NSW Country in 2014 and many players still in action in B.C. this season, came under his tutelage. Just a snippet, for those who new Darren.
---