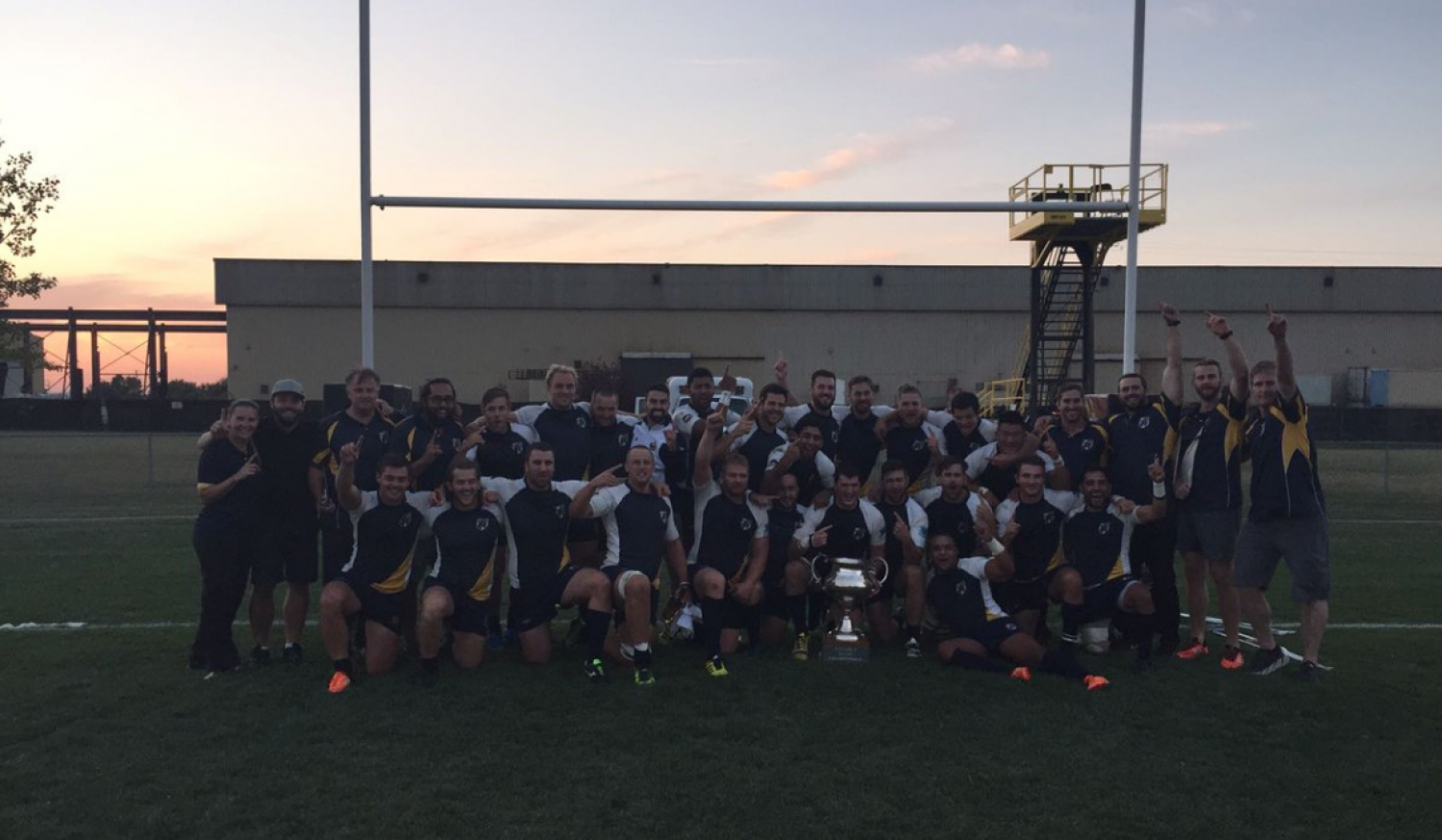 Sun sets on the winners!
CW Quintet
After a seven year drought minus the MacTier Cup and a five year drought without a win over Ontario, B.C. men finally find themselves atop the Provincial heap after a close, 30 – 29 win in Saturday's final. Ontario led 14 – 10 at the interval. The CW quintet played their part with Fraser, Dobravsky and newcomer, Leask in the starting line-up and Polson and Di Nardo on the bench. No doubt there are many stories in the vitae of the players that have trod the trek of development, on their way to the top. We congratulate all who have played a role in their development and highlight our recognition of the players themselves.

We point to Doug Fraser, from a tyke trundling around Piggy Park, flashing against CW at Mini Jamborees, through age grade squads with the green and black, to the Tate Premier Academy at UVic and now a dyed-in-the-wool Tricolour, we witness the hard slogging to get to the top, if that is your goal. Finally, we congratulate the coaching staff of the Bears; Tony Healey and Phil Mack, great job.

Now the Bears have taste of this competition, hopefully even more players will vie for spots next summer and the CRC's can become a fiercely competitive level of skill and action. This pundit still would like to see players up against each other more than just what is basically once per year unless they get on the pitch to go hammer and tongs in the odd club game. We may not be able to get players oversees but with more intense local competition, the level of all aspects would rise, not the least being coaching, a criticism oft heard in some quarters.
So, well done, one and all, you good things.

CW had eleven lads and lasses and one coach wearing B.C. colours in Alberta this past week at the CRC Age Grade National Championships. There were no gold medals for B.C., perhaps a wakeup call to those involved as maybe, we have become a little complacent with the expectation of customarily finishing on top. Three silver and two bronze was the outcome. It might be added that B.C. fielded U17 players in the U18 competition, a fact this pundit cannot explain. Ontario and Alberta took the top spots, with the latter showing much improvement and providing tough opposition. Well done CW kids and stick with it!


BITS & PIECES
*Training starts tomorrow for Senior Men.

*Don't dodge The Don – support CW!

*Remember you need to be registered before you can grace the field. 2016 fees before Sept 9th.

* NSWT 2 RWC play Wales tomorrow @ 9:00 (PDT) I comment that in a three pool competition, it was tough that the #3 seed did not get a pool "of their own".
However, one cannot whine. Let's get the job done tomorrow aginst the re-match against Wales for a spot in the Final for 5th and 6th spots. There are a few selection shake-ups – From CW Olivia DeMerchant starting in the FRF, Britt Waters in the centers and Julianne Zussman @ #15. Go, Canada.
---