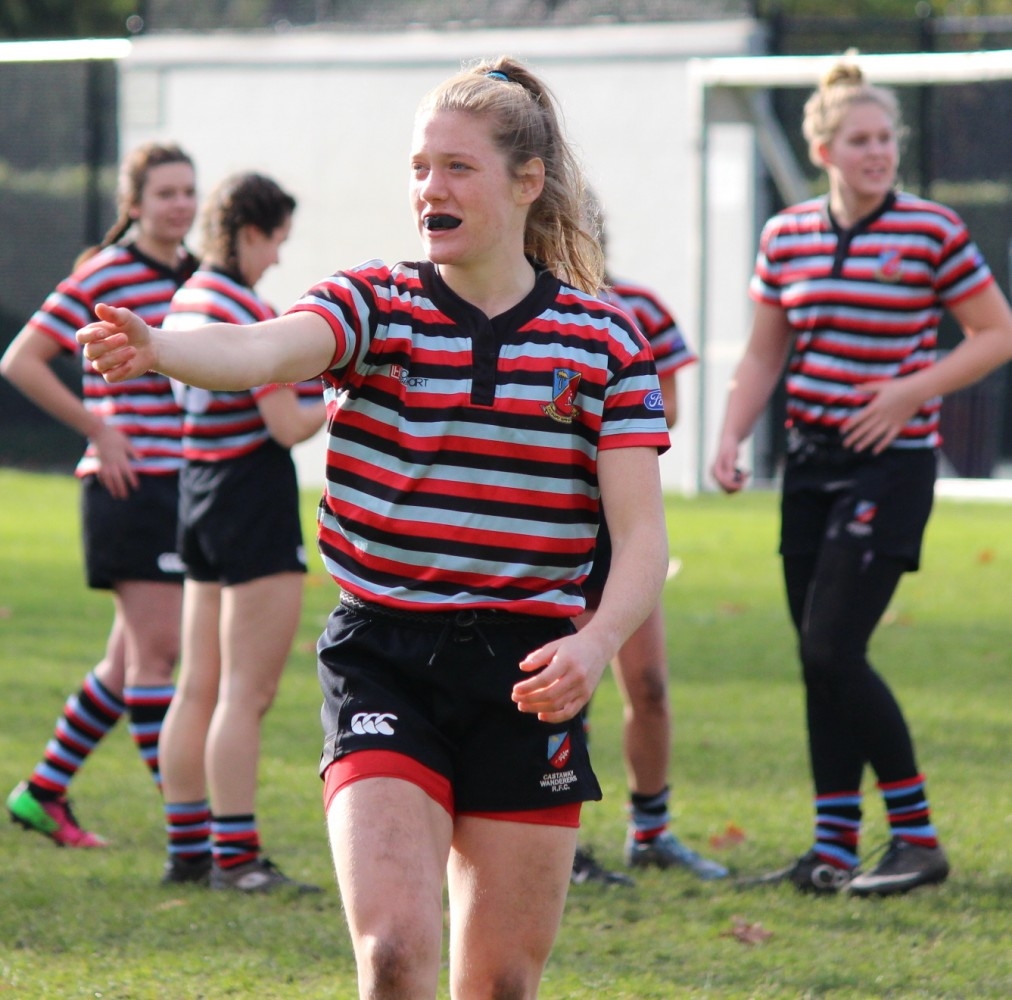 Shaye Leads the Way
CW congratulates Shaye Tudor who has led her country's U18 Women to a brace of wins over their U.S. counterparts this past week. The team completed game #2 with a five-try, 25 – 5 victory on Saturday.
Shaye is an example of a cross-sport athlete who has followed a successful pathway to the top. Although she missed Minis, she joined CW some three seasons back and has been selected for age grade, sub-Union, Provincial and National teams. Shaye came to CW from a high-performance diving environment, although she has also won a gold medal in her class at B.C.H.S. Weightlifting Championships. Further she has had considerable success at BMX biking! Shaye has been identified at a young age and will no doubt play a major role in the future of Canadian Women's rugby her sport of choice.
Shaye has also co-opted her close friend at Claremont, Payton Cochrane to play rugby, although a basketballer at first choice, Payton has shown some focus on rugby and was selected for Team B.C. last summer. Payton is Shaye's biggest cheer-leader. Shaye has been a fast learner. She is a tireless worker, giving 100% at all times – playing or training. Her dedication and devotion is inspirational. She has become a great role model to the younger players in our club and is already giving back to the game as a youth referee for lower age grades. 'onya, Shaye!
Speaking of CW and leadership……we further congratulate, Gabby Senft who will Captain the U20 Canadian Women today in their re-match against the U.S. Round #1 went, 45 – 24 in a seven-try W last week. Gabby (#8), will be joined by Jen Appleby, starting at the hooker position. As this blog goes to post, the Women are in front, 19 – 7, at the half. Gabby and Jenn have been members of our Senior Women's team for the past two seasons. Great stuff, ladies.
Elsewhere on the Canadian rugby front, fired coach, Mark Anscombe has lashed out at Rugby Canada and in particular, Jim Dixon (General Manager of Operations and Performance). "To be honest, all this (review) has done is deflect blame off one person and that's (fellow Kiwi), Jim Dixon. That's what annoys me." "At the end of the day, the team is only the product of a system and the system is broken……and no one's doing anything to improve it."

Dixon was instrumental in hiring Anscombe and at that time was quoted as saying; "Having worked with quality organizations like New Zealand's Under-20 Team, Ulster and Auckland in the ITM Cup, Mark brings a wealth of international and professional experience to our organization. As we enhance our domestic program over the next 12-18 months and prepare for RWC2019 qualification, Mark's experience and leadership will be vital," Dixon said. "Importantly, we feel Mark's coaching style, playing philosophy and understanding of the environments our internationally based players compete in is a great fit for this program." Further, he highlighted the new coach's experience in building programs as crucial to the hire. It certainly sounds like "things are crook in Tallarook" and twice as bad in Ottawa! Just how Rugby Canada will extricate itself from this mess will be interesting, to say the least.

(n.b. Opinions expressed in this blog are those solely those of the writer.)


Final, Gabby and gals - 50 D. U.S. 12! You good things.
---