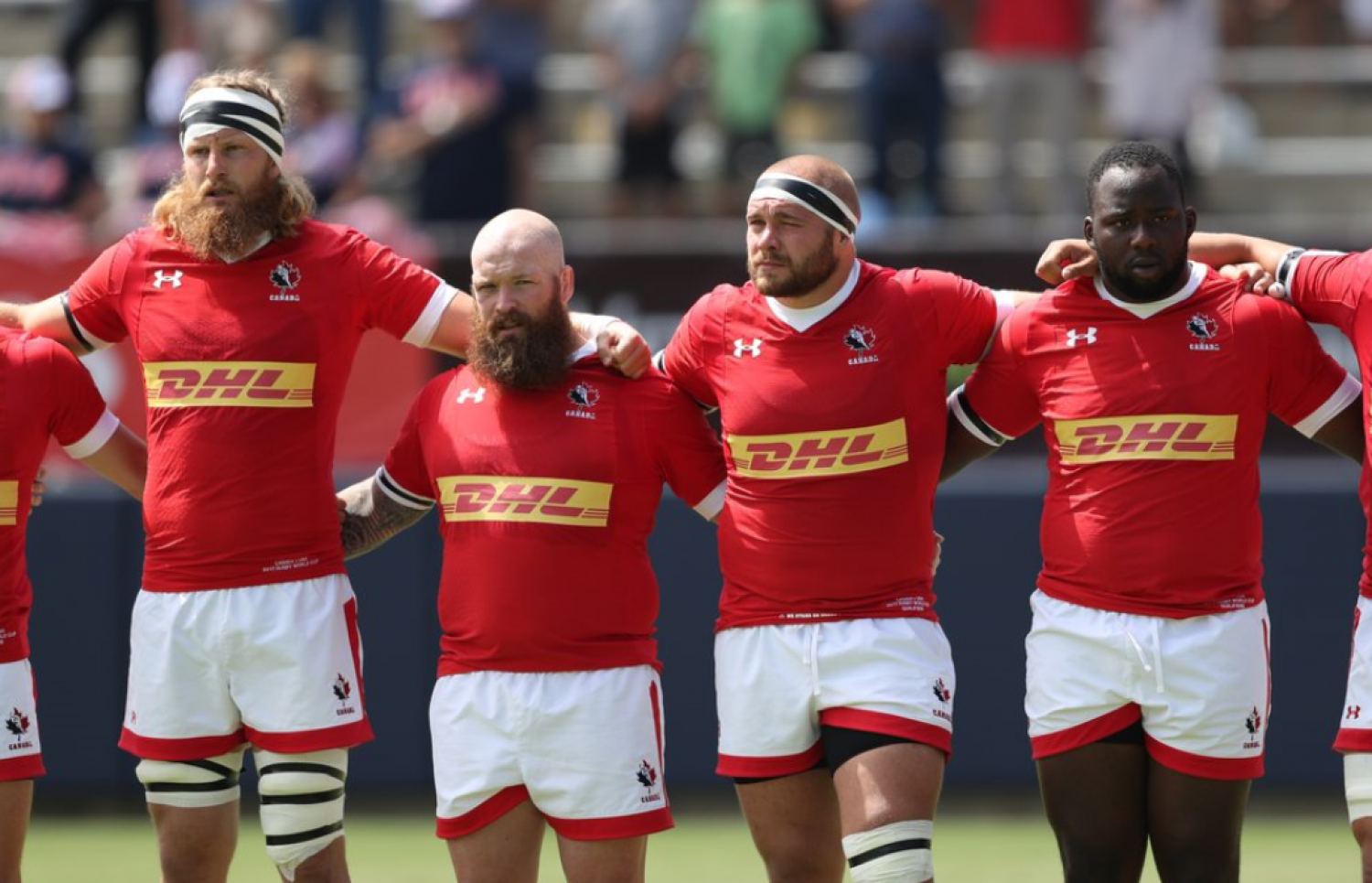 Four of the day's best!
And yet another calamity! We have watched the men's team kick away hard won ball indiscriminately, for these past games and Saturday was no different. If we can't beat "big opposition" in tight, the wide channels must be explored. On one of the few occasions that quick ruck ball was transferred with haste and accuracy, we saw, after a beautiful "miss" pass from Barkwill, Dan Moor off on a break and a quick transfer saw Cejvenovic score the lone tally. Even when the side was down by thirty points, the ball was being kicked away! How can such tactics be justified? Apart from the set pieces for 3/4 of the game and lineout play, our players were generally inept, rather than alert. A classic example; with good Canadian pressure and 7/8 recycles and hit ups from about five meters out, the stage critical, the ball was passed short side to no-one and the opponent was off the hook!
I liked the hard work in the sets and around the pitch of the FRF, led by Barkwill. Olmstead again, was tough and Ardron worked hard - work which was somewhat negated by two penalties and a yellow card. As for the backs, debatably, it was only Dan Moor who escaped with reputation unscathed and his performance was not error-free. In summary, first time USA has won the honor to go to RWC as #1 Americas; greatest deficit ever vs US, eight tries to one, with seven of them coming from forwards; must have left past warriors with a pretty sour taste. So it will be via the back door if we want to show in Japan. Ironically enough, it would be in a Pool that on paper, is not as difficult as the Pool C - "Pool of Death", the US qualified for on Saturday.
In relation to the coach's lamentations about a "lack of big men", I espouse that if all players played with the heart of Barkwill and we could try transferring the ball quickly to the wide channel, we might even find a way to create a Canadian advantage. Some may accuse Mack of being unpredictable but this has to be part of the arsenal, with the ball being moved quickly (overheard from one wag; "Grandma's chickens could hatch a faster egg!"), to move big men around - even with "only 34% possession". The side looked to me that it could also increase its fitness dose. There is no time for lamentation and reviews. Hard work and accuracy has to be the mantra.
These comments segue to the upcoming, BCRU AGM where the Rules Committe has tabled new playing conditions for clubs and teams. No doubt there will be much quibbling about who is, or is not elligible to play, matters ever so trite. We need ALL our centralized players playing against each other and then training together; we need healthy and robust clubs for the game to survive. This pundit has espoused in the past that the tribal nature of BC rugby serves as a detriment to the development of the game. Further, it was mentioned on this site about the notion of centralized players being elligible to play for any club, specifically Vancouver clubs, countering the anti-Victoria/Island thinking that seems entrenched and enhanced since the inception of the National Training Center at Langford. It would be not such a unique idea that a minimal stipend could be given for centralized players to travel to Vancouver on Thursdays, train with their club, play on Saturday and return to Victoria on Sunday. We can no longer afford our carded players standing on the sidelines on Saturdays!
Relative to this line of thinking, I recently came across an article in which Bob Dwyer, an out-spoken but thought-provoking rugby man, who has done it all in Aussie rugby and always puts his money where his mouth is, promotes thinking on the importance of club rugby to the future of the game in Australia. Dwyer recently told media; "What started off as dismay and puzzlement got to anger with the ARU. Then probably six months ago we didn't care about them and just wanted to get on with what we do."
Former NSW Waratahs and Sydney University's High Performance Manager Tom Carter says; "That while creating a nursery of rugby talent is an obvious goal, generating a love of rugby is perhaps more important for the code's long term health. We see it as a duty to grow the game. There are really good administrators and systems in place in there and people who are passionate about the game. It's an incredibly enriching experience to be part of that. At grassroots it's thriving. You only have to look at the Sydney Shute Shield and the growth with many clubs. There is some great stuff going on."
"If you're an aspiring young athlete, probably the worst profession you can aspire to be is a professional rugby player", said Nick Ryan, Randwick's Director of Football. "That's because there's only 150 jobs in Australia and soon to be 120. The nexus of what we are trying to do is educate our players, both in an academic and career sense. There's also mentoring and transition of kids from a piece of paper into a job, which is critical."
This year's Shute Shield competition is clearly bucking the trend of rugby's overall decline in Australia. Sponsorships are up, crowds have increased and TV ratings are healthy in a competition built on pillars of tribalism created by clubs who do not expect handouts from above anymore. "The love for the game and culture of the game that exists at club level does not exist above because the people who are running the game have seldmon exeperienced that culture." Dwyer added. Ryan commented further; "For rugby to get out of the doldrums, it's got to collaborate and align. Club rugby is certainly pulling its weight and doing a great thing for the game as a whole. The monetary challenges of the game has actually helped it. Five or ten years ago when everyone had the cash to splash they were thinking commercially. Now you've got to be pretty pragmatic about how you spend your money. The astute clubs are thinking about how they can help people." "And we must not forget the volunteers," adds University Head Coach, Tim Davidson, "they really keep the game alive at club land. They are the people who turn up and are the fabric of your club. They're the real reason clubs are successful. They're instrumental in shaping kids' lives!" Read FURTHER
Canadian club rugby may not be quite up to the history and standards of Randwick and Sydney Unviversity BUT we can and must develop domestically as we don't have the where-with-all to "ensure more opportunities for our players to go overseas full time" (CRU GM, Jim Dixon). I believe we do have the ability to do something about our current dilemma with a home-grown and home-made approach. It must be both collaborative and tribal but whether or not the desire and thinking is there to do something about it, will be witnessed in the future - the sooner, the better.
(Comments and opinions are solely those of the blogger.)
---