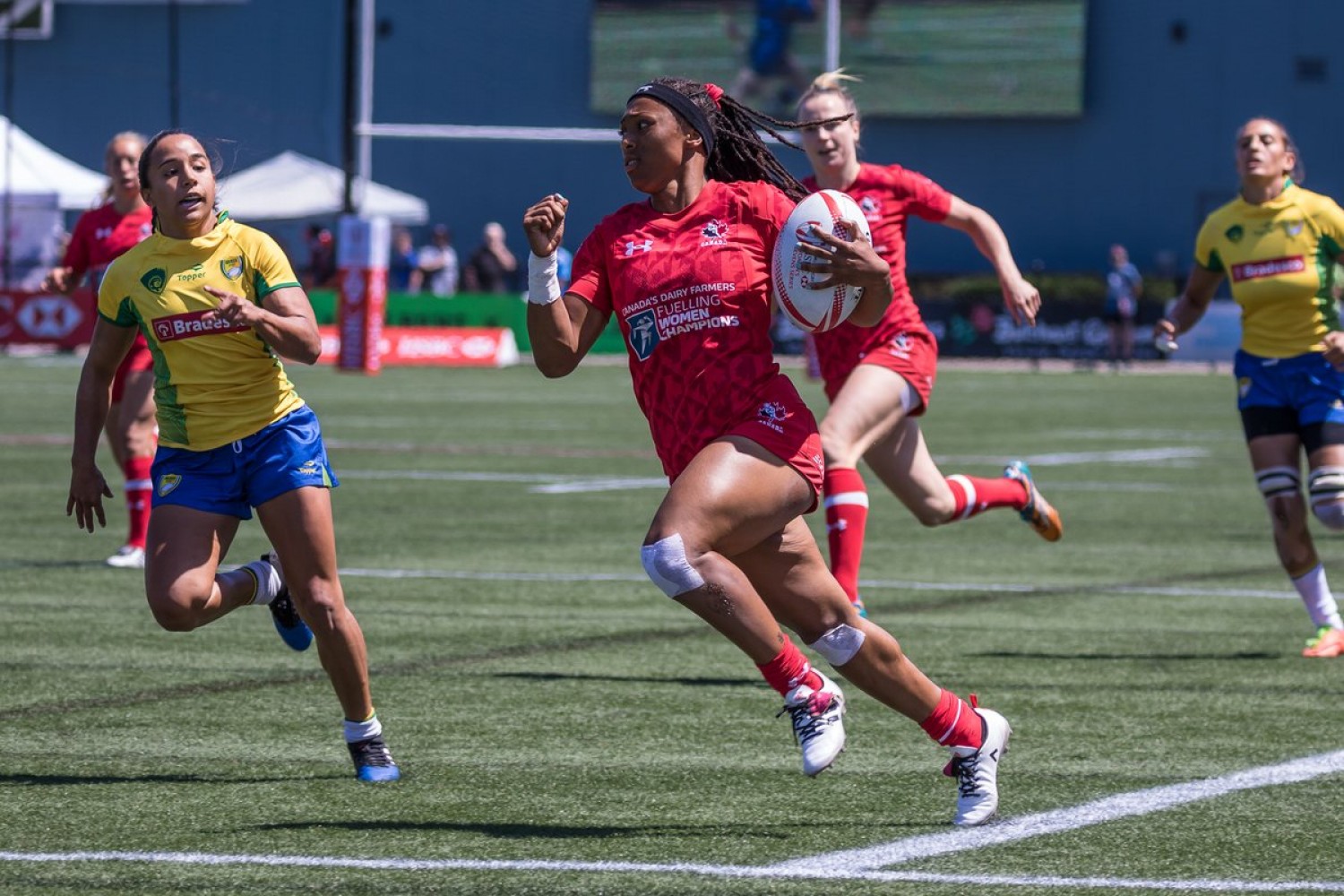 A clean pair of heels from Charity Williams.
Summer Is A 'comin' Weekend News – Women's 7's – Day#1 – Canada's NSWT went undefeated in Pool play. Caroline Crossley got a few trots and played her role. For me, most interesting news of the day was that the Kiwis left their three top ladies home, knowing they could not be bested to win the overall title. These women, led by 7's top-scorer, Portia Woodman were involved with the XV's team, preparing for "exhibition" tilts with England, Australia and Canada, upcoming, all as a pre-cursor to RWC action. Canada, along with England and Australia, has opted for the two-prong, clearly delineated, sole-sevens and sole-fifteens approach to the World Cup. I say "good for them" to recognise different horses for different courses. On the other hand, we have recently seen Scotland Men co-opt fifteens players whose season was over, to considerable success! As the time line moves along, it will be interesting to see if the NSMT program will call on any 7's power to boost their qualifying chances for 2019.
Bits & Boots
Eagles Coach, John Mitchell has done a 'Geraint' and opted for bigger bucks by returning to Super 18 next season coaching RSA's Bulls, just another case of show me the money. It will be interesting to see if there is any adverse effects as the U.S. and Canada battle to see who will be the "Americas #1" for RWC.
Rugby Action A-plenty, continued on after Day #1 7's finished with 'Canada Men' under the pseudonym of Pacific Tyee nailed the B.C. Bears, 42 – 15 in night time action. There were plenty of CW guys and exiles getting their chances with both squads. For the Bears – Dougie Fraser, 'The Magician' Ngongo and Schellie. For the Tyees, particular strength was noted in the FRF with Jake Ilnicki via Manawatu, Raymondo Barkwill via injury and DJ Sears via Glasgow, with the flying, Dan Moor on the wing being the fourth. The Reps have another go at it against the Prairie Fire, upcoming.
Day #2 at the Sevens….. was most satisfactory until…., Canada ran into a N.Z. juggernaut in the second half of the championship final! The day started with a clinical demolition of an English team that won the final, this time last year. Next was nemesis and Olympic Gold medallist, Australia. Although The Okkers opened the scoring, it looked done and dusted at 17 – 5 for the hosts and only two minutes on the clock. It's never over til it's over is the mantra of sevens and the Aussies added another try for a 17 – 10 differential.
The final saw the Kiwis open with a well-worked try, breaking a tackle and taking a half gap for the opening tally. Next, an unfortunate slip by a Canadian tackler let in #2 and although the Canadians bravely fought back to manage a, late –in - the – half try, N.Z. had their tails up. The second half opened with N.Z. re-winning the kick-off and keeping Canada pinned in their own half, in fact, I cannot really remember the locals getting into the Fern's half of the pitch. Almost total deprivation of ball and furious Black defense was the recipe for their 17 – 10 win and on to Clermont-Ferrand for the final show. Canada, crept up the ladder to be now tied with Australia after this silver medal performance at home.
In summary – another "really BIG SHOE". Well done volunteers, officials hosts and hostesses in any manner at all, kids on show from local clubs, JBAA, Westshore and CW. Some glitches but they will be caught, although electronic ticket purchasing could be a little less "confusing" and worth mention. To our ladies – you gave it your best shot, thanks for another memorable display. On this day, it was not to be. The Dream Team was stacked with Canucks, although this pundit feels, Aussie, Williams, should have been named. Great to see Brazil, Netherlands and a final good win by Ireland – loved, loved it all.
---