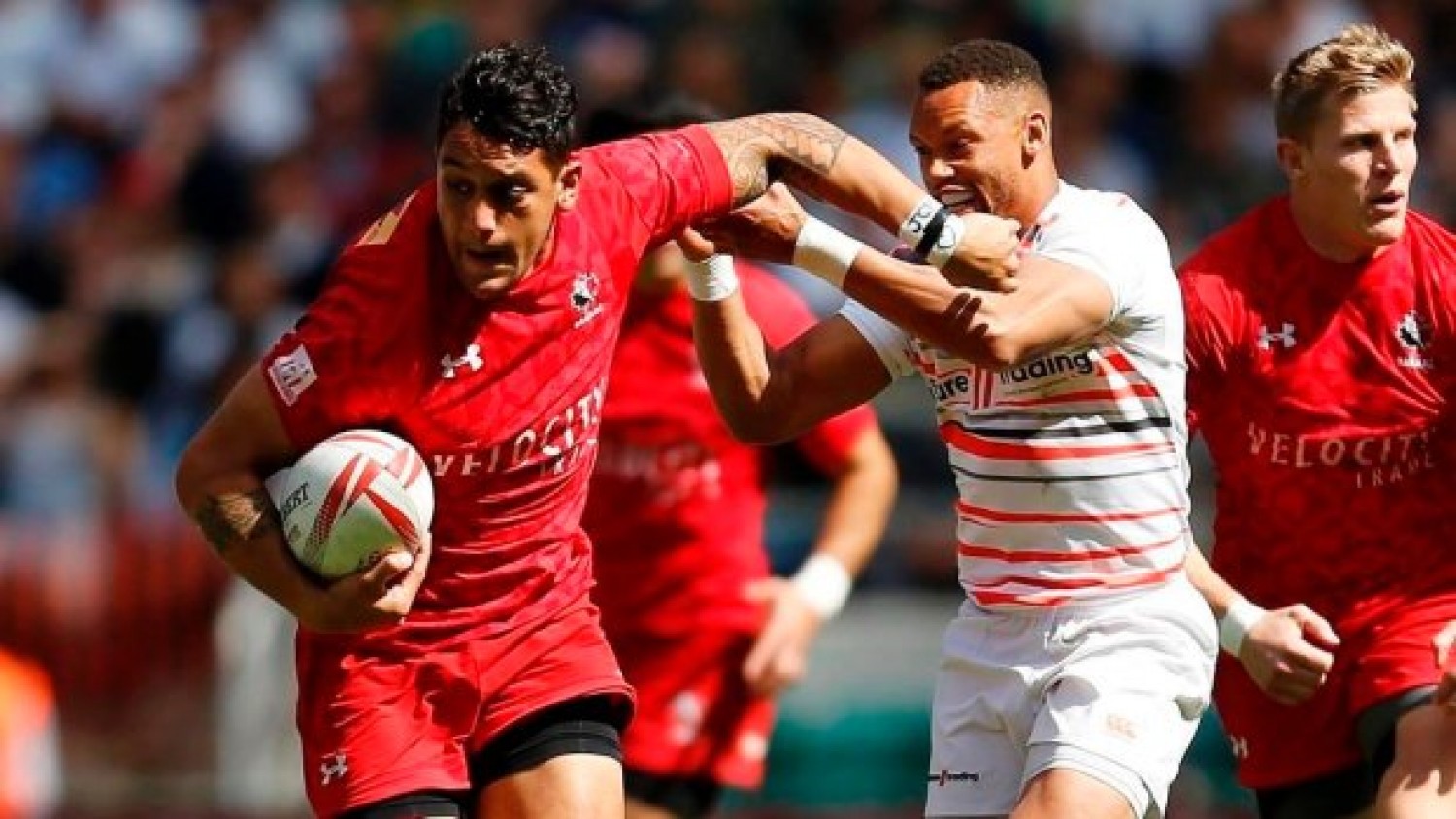 Men's 7's Rise to Top Echelon Again
Heady stuff for CW's Mike Fuailefau, from the fields of Gordon Head and Windsor Park to the pinnacle of the Sevens world – the All Star (Dream Team) at the London Sevens. 'onya, Mikey. The London event opened with a solid Canadian win over Fiji. The boys then played NZ tough, 14 – 19 and ended with a second place pool finish when NZ nutted Fiji. Meanwhile all kinds of strange scores were occurring, not the least being USA destroying RSA and Kenya defeating Wales who was on a roll.
Day #2 opened with a most satisfying, comprehensive 28 – 7 win for our men over The Argies, a team that in recent tournaments had proved to be a nemesis – and then there were FOUR! Canada's loss to England was a lot closer than the 24 – 5 score line might have suggested and so a re-match was set up for the battle for third, vs USA. Canada came from 14 – 5 down to 22 – 14 ahead, the US making it close in the third minute of "past-time", 22 – 19.
From samples of my viewing, it was a total team effort. Fuli deserving of his Dream Team selection and every man contributed at the appropriate time, with Nate, still conducting the orchestra and Justin Douglas rating high with individual stats. The Scots defeated England in the Championship Final and maintained their seventh overall placing. Canada finished the year solidly ensconced in eighth – qualifying for the 2018 RWC 7's in San Francisco next July.
Pride "grads", Cookie and Ken taming the Pride!
Locally, some of us experienced a great weekend of tribute to many Canadian male legends and an excellent program when the Pacific Pride mustered some 70+ troops for their first ever re-union. The head lion, David Clarke who also doubled as NSMT's coach, accompanied by den mother, Beverly, seemed to have not lost a beat as he moved seamlessly amongst his former players, supporters and friends established during his tenure here. Watching the boys play touch on Saturday, saw displays of skill and on occasions, pace, not lost. Further, to be on the periphery of their sheer solid joy, sharing mateship with class, was a real treat. Just maybe this event could be a catalyst to a revival of a similar fashioned program. One and all, from Johnny Mac who organised the event and all the lads that travelled from the east coast to Oz, thanks for the memories.


Sipi struts his stuff vs alma mater!
---