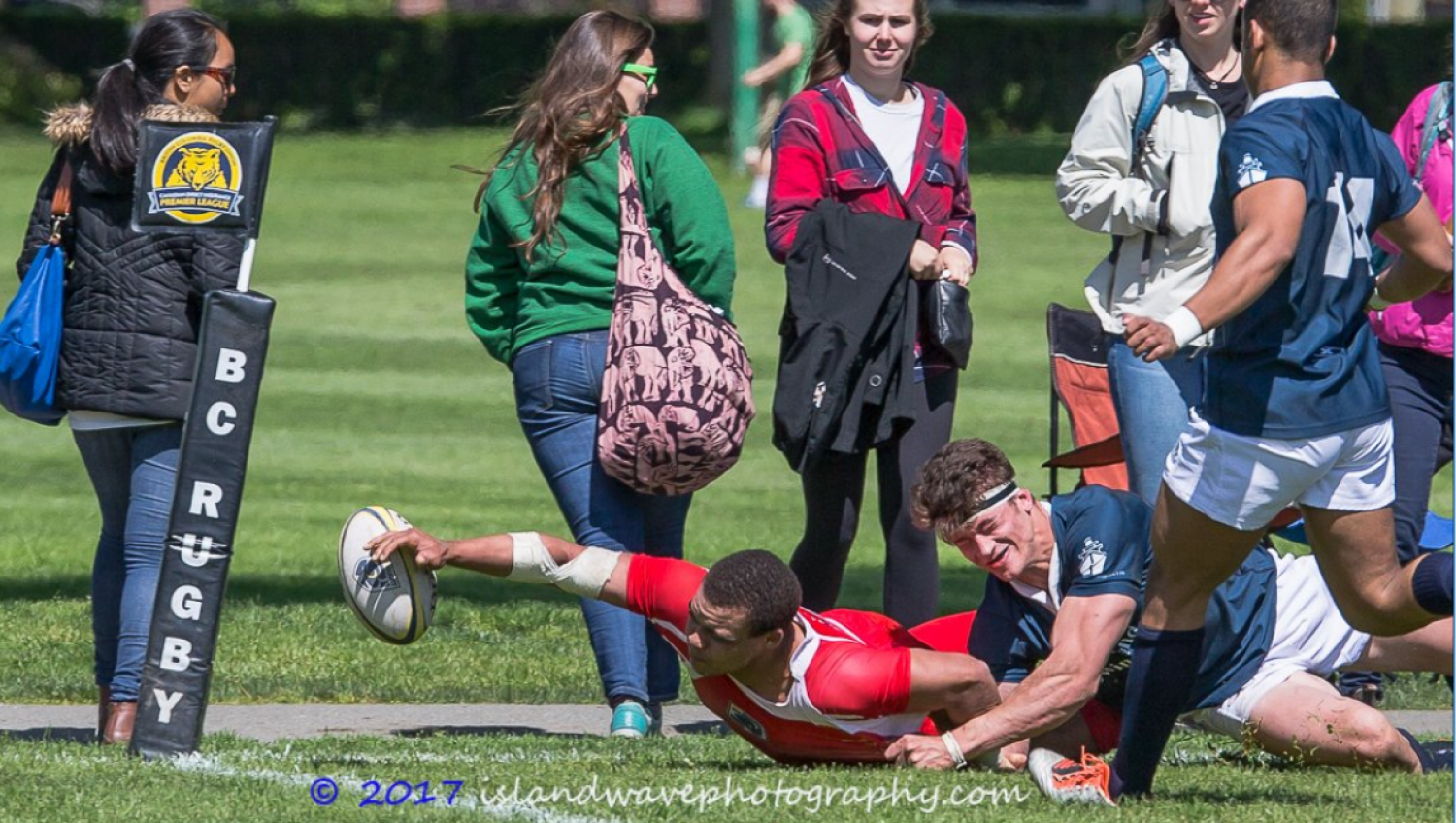 Doug dots down.
South Island Men; Island Women Victorious

Crimson Tide Men, liberally sprinkled with CW guys displayed superiority over the North Island Tsunami at Windsor on Saturday. For the Tide, Dougie Fraser and Jo Morris scored a brace in the 46 – 19 win. Other CW boys on the squad – starting – John Braddock, Cam Polson as a loosie, Fraser in the centers and JoMo and Justin Logan on the wings. Clay Thornber, Nate Stewart and Schellie came off the pines. Rogie was the successful Tide Coach. Good to see NSMT Coach, Anscombe perusing the talent. Island Women bested their mainland counterparts, 49 – 24. CW starters in this one; Chanelle Challenger and Gabby Senft in the forwards, Jess Neilson at #9, Maddy Graham on the wing and Katie McNally at fullback. Coach Ratier was present to take in the ladies' action.
44TH ANNUAL GVSD MINI RUGBY CARNIVAL


Worthy of mention in the "giving back" category are; Chris May, Ed Knaggs, coaching their daughter's school teams but best of all was a response for coaches, replied to by club guy, Alex Austin, who stepped in at Cloverdale – 'onya, Alex. Brandon Gerhardt was The Queen of referees on Friday last, joining a bunch of old ruggers manning the whistle for some four hours of continuous play. Well done, B.G.


NSMT's PARIS SEVENS


This proved to be a tough outing, with our boys missing the "top eight" by the narrowest of margins. In two minutes "over-time" they succumbed to Scotland in Pool play, 26 – 19. The Thistles had one of their best tournaments to date, going on to reach the Championship Finals and being nutted 15 – 5 by a very good RSA squad, a team which Scotland had defeated in Pool play and Canada succumbed to by a score of 31 – 7.

Day #2 saw a good win over Russia and then a loss in "over-time" to Argentina after having a grip on a 14 – 10 lead. Los Pumas went on to beat Oz in the Challenge Trophy , earning eight points to Canada's five and Scotland leap-frogged the Canucks to move back to seventh place. This was the penultimate show for the year with London on the 20, 21st May, being the final encounter, one which will see Canada in a tough pool with New Zealand and Fiji.

Again, it was the mystery of this game, with the tournament seeing many "upsets". From snippets viewed, I liked the performances of Justin Douglas, Mike Fuli – scoring a couple of "don't-argue" tallies and Pat Kay. The absence of Lucas Hammond was noticeable. A big "hat's off" to Chris Assmus performing capably as M-i-M, 'onya, Chris. Just when we fans thought things were starting to look rosy again for our Men's Sevens, comes the news that the number of carded players will be reduced for next year. It is this writer's belief that the centralization of players for sevens is of value for many reasons, not the least being that immediate proximity to their squad mates. This can translate into a factor that needs to be harmonious when players travel for long stretches, stay in a variety of hotels etc. Whether or not this is a continued outcome of OTP funding disappearing is not known at this stage. Keep slogging on, boys!


Read somewhere about "thousands" at the B.C. Finals!
---