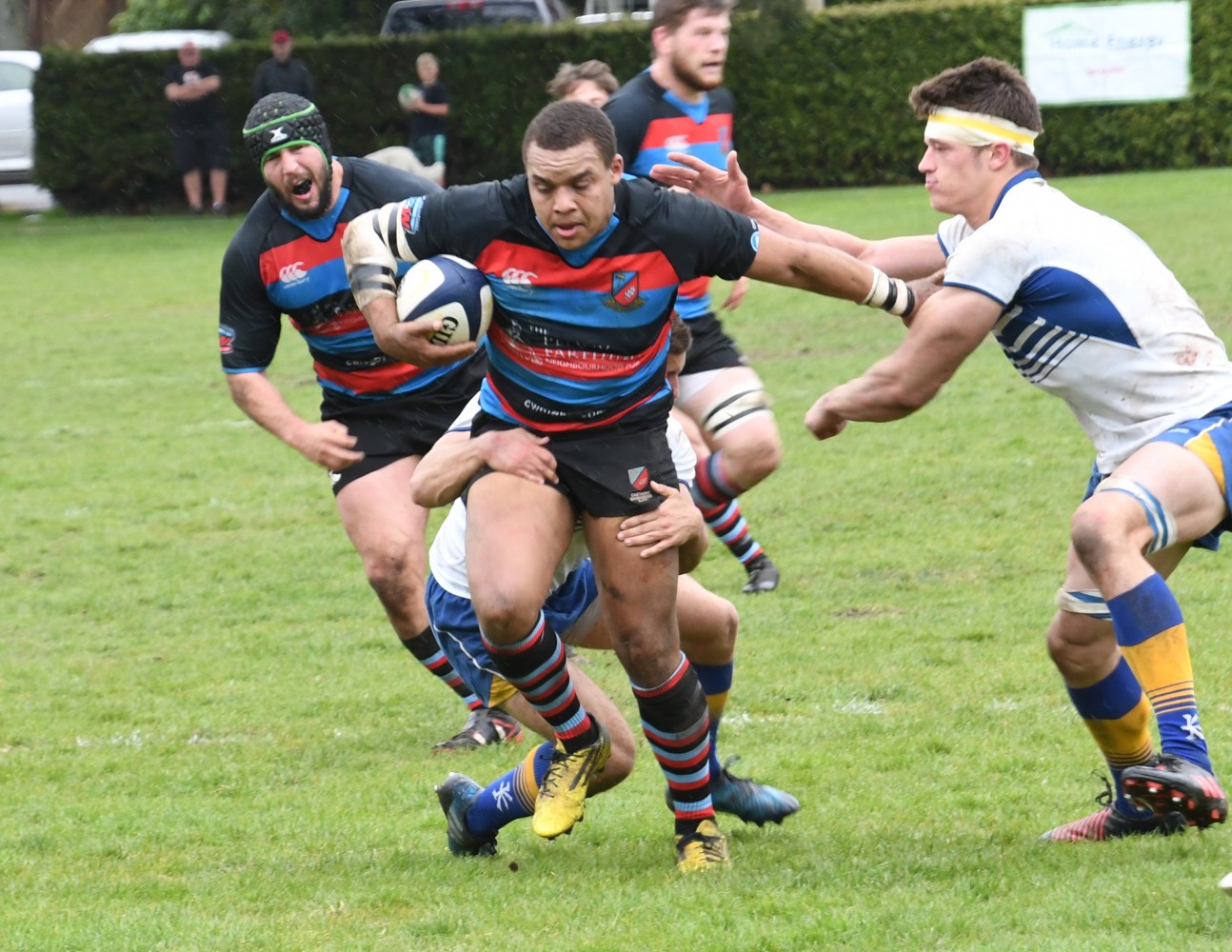 Flukey photo- the writer's M-o-M caught in the same frame - Braddock & Fraser!
A good season ends in hard-fought contest.
Being the last game report of the season, the writer may just become a little verbose! UBC had been bushwhacked on their last visit to Windsor and they opened with authority, clearly making a statement that this would not re-occur. One of the very early forays saw big winger, Kulkhan, crash into Dobravsky and unfortunately, Dustin was gone for the game. Schellie came on at #15 and proved to be a constant sparkplug, fielding balls, running elusively and making his customary, big-hearted tackles. Sauder made an early break and after five or six recycles went nowhere, the backs were called upon and it was Sauder's change of pace that sliced the defence to open the scoring, 7 – 0 after seven minutes. 'Ice' Povey slotted a penalty at ten minutes and at 7 – 3 this was to be as close as CW would get to The Birds on this day. Sauder was again, front and center, sending McQueen on a dummying break. The defense initially rose to the call but half a dozen retentions and a crashing good line from Weyell saw the score pushed to 14 – 3.
From the re-start, a super hard line and good "handles" saw Clironomos – a Lord Byng grad, who Spike would have been proud of; creating a penalty at the breakdown, 17 – 3. The game was getting out of reach very early with the hosts having little possession and the crisp passing and pace of UBC really asking some serious questions. CW had a brief, lively period and more may have come of it if an advantage had been given rather than being called back and receiving a scrum 'put-in'. So, flurry over. A big factor on the day was the quality work of the UBC forwards at the breakdown. The ball got into Sauder's hands again, a dummy or two and thirty-five meters later and he had crossed for his brace, 22 – 3. This all came from an unforced error after CW had lost a lineout on the attacking 22, following a penalty for touch. Worth a comment! CW did come on with a UBC player in the bin for a very debatable, 'cynical' knock-on. Polson made a good thrust; a further penalty against UBC, three or four good CW probes only to turn the ball over when questions were being asked. Again, hats off to the UBC pack as a unit, absorbing pressure then applying the 'attacking tackle' to reverse the pressure. Thus endeth the half.
The second stanza opened with a very useful period of sustained CW pressure. When two UBC players collided and were "out" (and subsequently substituted, Rees looking pretty serious), CW made hay. Wide ball got into The Magician's hands and Anton was delighted to account, 22 – 8 after five minutes and one just wondered could another 'Lazarus' be performed? The tension ramped up as the home side called on all their resources, personal and collective, Thomas being on and running rampart, leading the way. Dan Moor was also very noticeable, constantly looking for work. Having seen this man at club and International level, today may well have been his best or one of his best outings. UBC did respond to the try with attack of their own, particularly as CW was deemed to transgress two or three times and ultimately, Braddock was ruled to have "bull-dogged" an opponent and was shown a yellow. To have highlighted this incident with a card was perplexing given the fact that players from both teams crashed into the tackle without wrapping and went in high to obtain a maul ruling, there was just all too much going on for such a specific to be adjudged, so like the UBC card, I use "debatable". Further there is another point to be made however, I will save that for the summary.
A man down, led by great tackling, Fraser and Styles to the fore and credit to the pack, the boys repelled some ten UBC phases and Ceedub somehow, found itself on the attack about 35 meters out. Fingertip passing and pace tested the opponent's coverage of width. From the eventual breakdown, first it was Burger, yet again – a willing runner on this day, then Polson and finally Turner who barrelled over to get the score to 15 – 22. With CW still at 14 men, UBC won two essential scrums – welcome to The Bigs, Grant Baird and drew a subsequent penalty, 15 – 25 – the final nail in the coffin. The rain and mist settled, providing an ephemeral setting. At this stage, The Birds' possession produced another long penalty with the decision to find touch. The White Wave threw copious phases at a defiant defence. Then there was Sauder!! Shimmy and sidestep; his pace over ten meters wrong-footed defenders and a sideline conversion from Coe brought his tally to nine and the final, 29 – 15, two tries the difference and an accurate reflection. Well done, UBC.
Proof of the pudding - Ollie for Touchie!
This was a hard-fought and generally well-played, clean encounter only to have some edge taken off the enjoyment, interspersed with elements of boorish commentary from the balcony. Enough said. Thanks to the officials on hand. Although it was often hectic, the affair was handled fairly. This was a big occasion and for the BCRRS to only have two officials with a local club guy being called upon to man the second flag was a travesty. Unfortunately, a poor reflection on the BCRU doing itself no service with such a glitch. Enough said on this aspect, for I believe the Union is really trying to "pull up its socks".

Last time round Sauder and Rees were kept in check. It makes this writer go back to The Birds Halcyon Era in the early seventies! As for this day, cometh the hour, cometh the man. This time round, Sauder was something else! It is to be hoped he is courted by McGrath for Sevens. Set scrums were a saw-off, mostly due to the insertion by UBC of a South African and Irish prop in the second half, CW lineout play was erroneous and the T-Birds at the breakdown were the better side. Take Sauder out of the picture today and the backs were pretty even as well, with UBC backs receiving slightly better possession. The tackling and passing skills of both teams deserve high praise. M-o-M must have been Sauder, with my vote to Jim Carson in the UBC pack. For CW it has to be Braddock in the pack, with Fraser ahead of the rest of the backs. There were many others who stood out and no-one shirked. Thornber, Polson, Stewart and Thomas in the forwards get my nod. In the backs – Moor, Schellie, Dalsin (early substitution was 'interesting'), Styles, and Anton with limited opportunities were all good value. Footnote – Dave Brown reports both UBC players doing well and that's good news. (All opinions expressed are purely those of the writer and not those of CWRFC).

Unfortunately, the First Divvies went down to Burnaby, 48 – 15 yesterday. The Sage will have a few words about this one later in the week. So the season has come to an end. Back in September it would have been a wild dream to have called two semi-finalists. A mighty congratulations to the coaching staff and to all the players from Prems to Second Div. Successful – YES and hopefully a real incentive to go to the next step now that we really know just what it takes. Finally, thanks to all the crew who prepare the grounds for home games and man the gate – Shep, Spice, Bruce Robertson, Morley, Johno, Hughie Creighton, Ron Willems, Gord Hawkins, Jetter, with apologies to anyone I may have missed. Good job, all. Go, Ceedub
---