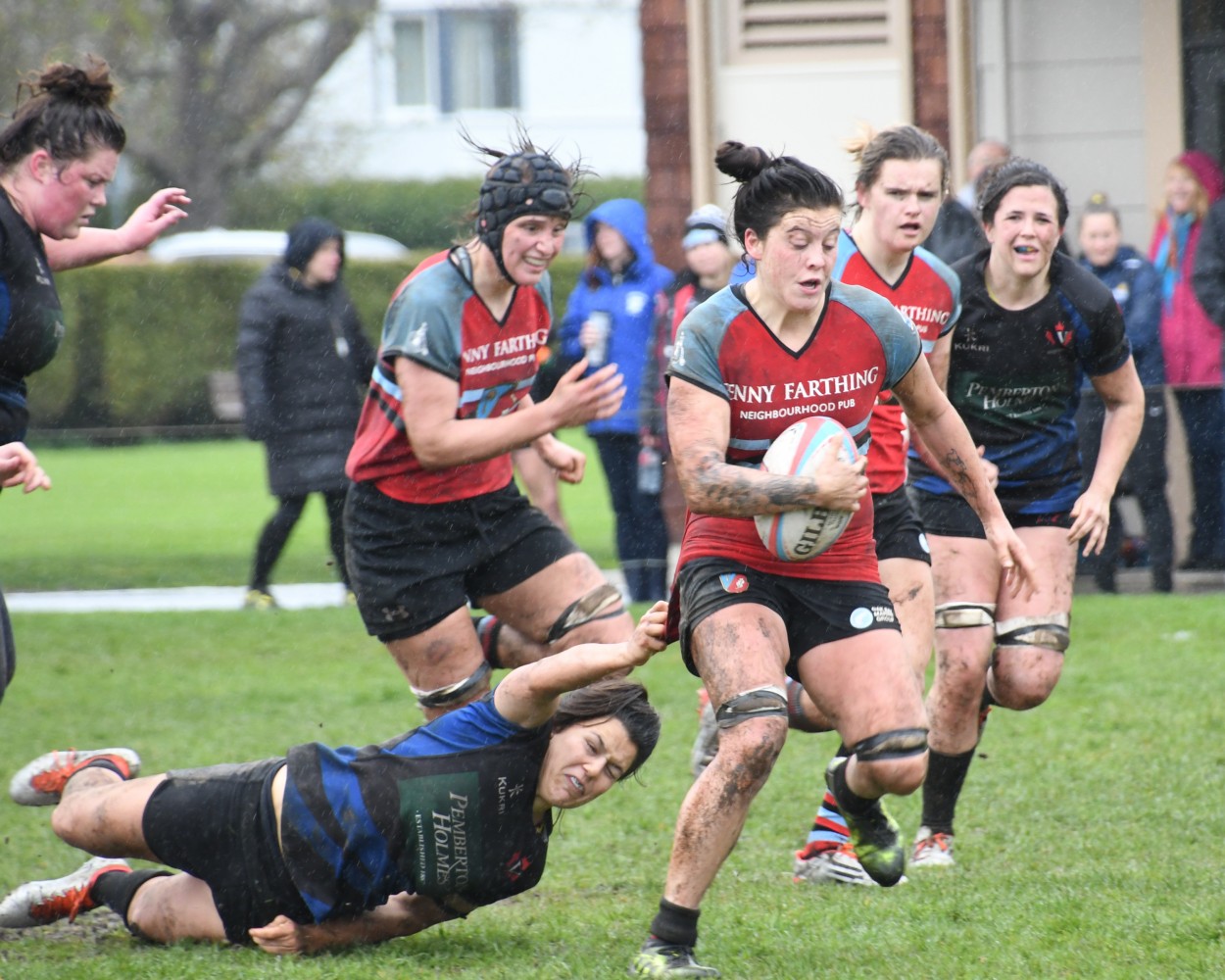 Visitors Throw Spanner in the Works at Windsor!
Saturday's Game Reports start with a few words of thanks;
Thanks to UBCOB manager, getting to the ferry at 6:00 a.m. to get tickets to ensure the boys would be on the nine after huge ferry backlogs.
Hats off to gatekeeper, Peter Kilshaw - ensuring fans donated equally for both men's and women's matches!
Thanks to the club and patrons for recognizing 100 years of the Battle of Vimy Ridge.
Finally, thanks to today's players for terrific enjoyment for the fans - five points differential in three games
As predicted, the CW women who we have become very used to seeing not give up and provide big performances, did not disappoint. The game was a mere three plays old when CW won a set at their own 22 - Neilson, Zussman and a slight hesitancy, feed to Waters at blistering pace, to the halfway, on to McNally and the opening score - electrifying! Westshore responded with good continuity and #10, crossed to tie it within five minutes. Westshore exerted pressure and won a tight head about 35m out and Mervin crossed at ten minutes, 14-7. Around the twenty-five minute mark Neilson closed it to, 14-10. Westshore came back with phases and good handling in souring conditions. The 'D' was stingy and the pace and pressure was relentless. With about five minutes left, CW took a "yellow", 20 - 10. From the kickoff there was more amazing stuff when Folk took the fly ball at full steam, causing Westshore to infringe and CW kicked for touch. Against what seemed to be the impossible, the line out was won, maul driven and Keller crossed, 20-17 at the half with the weather worsening. Spectators were abuzz from the play on display.
The second spell saw CW start well. Waters broke for sixty meters after a lucky block by McNally of a Westshore chip and it was only five minutes in when Neilson stroked a 30m penalty to tie it at 20-20. At the ten minute mark, a Paquin break set up the go-ahead points from another Neilson penalty, 23-20, CW. One wondered if an element of doubt may have been entering into the equation but Westshore showed their pedigree after plenty of attack variety, asking huge questions as all thirty players threw themselves at each other without hesitancy. Finally, the Black and Blue #9 found a small gap to gain enough ground to launch an attack with their patented pick and drive. Some eight phases later, Blackwood was over, 25-23. Shortly after, with plenty of time on the clock this same player incurred an unfortunate knee injury and was forced to leave the fray. The rain, field conditions and defensive pressure made handling and continuity very difficult, an affair akin to an Ali slugfest! Mervin and De Merchant for their respective teams were warriors and it was a DeMerchant thirty meter carry that had fans on their toes but the defence stiffened and it was all over.
This match resembled a final with CW's two-point arrears being five points closer than any other team has come to Westshore this year. Hats off to both teams - well played, relatively error-free under the soupy conditions and intensity and well officiated by John De Goode and crew. Talking to an English friend, he mentioned the standard would have matched or surpassed standards in the U.K. There are not enough superlatives for this pundit. Sadly, despite this comment, both Caps and Cowichan took care of business with a bonus point and CW is mathematically eliminated from the playoffs. There will be one final opportunity to show their power at full strength when they travel back to Cowichan for their last match.
First Divvies. Old Boys started well, pinning CW in their half with good handling and attack. When CW did foray over the stripe around twelve minutes, wide ball from Gerhardt missed Windsor to Hutton to Hall on the fly, he drew the defense and fed inside for fullback, Hager and a pretty slick tally. Windsor was next to probe and the team looked lively. Regardless to say, the old nemesis of poor handling gave the ball away and the visitor's Krohman went wide, reversed beautifully to Vreys, blindside, 5 -5. From the kickoff good interpassing saw the Hall/Hager show prominent again. From an ensuing ruck, big Nate Thomas was over from a beautiful line at pace, 12 – 5. Structure and discipline came apart and CW was carded, the defense looked disorganised but they scrambled to hold the score line at the half. One wonders once again, how this can happen when things look so good.
Although CW opened the half well with Kelly breaking and Hager going fifty meters, the resultant play earned a penalty and the plot unravelled. Errors enabled Old Boys off the hook and return the flow with good attack, deft passing outflanking the defense. A long grubber kick saw the chaser get lucky with the bounce and a deserved 12 – 12 tie. Ravens came on only to make a poorly executed chip which found itself in Kelly's gut and sixty meters later, the home side was back in front, 19 – 12. Kelly was again front and center and when the ball came to Gerhardt, he dummied to open the gap and went thirty meters and it was 26 – 12 with seemingly much more to come. It appeared cohesion had returned, indiscriminate kicking had disappeared and passing was accurate but how quickly the worm turns for this group!
After a lengthy period of non-descript play, CW having a slight territorial advantage, the error bug returned following liberal substitution – penalties on penalties, passes missing their target and poor tackling allowed the Ravens to inter-pass for a nice fifty meter tally, 26 – 19. Frantic reaction rather than poise incurred a plethora of penalties for the home side in the closing minutes and when they were challenged again in injury time, they obliged by missing seven relatively easy tackles and the match was tied, important competition points squandered. The playoff picture is confusing as the teams bunch on the ladder. In summary, a nice comeback by Ravens and for the hosts – disappointing. Thanks to today's referee, George Van.
After a Moment of Memory, the Premier teams got stuck into it with a good start from the Ravens earning Mclelland three points. CW did respond with a period of good retention but it was Old Boys again, catching Dalsin in possession, winning lineouts, earning penalties, asking questions. Somehow, after many opportunities for the visitors, it remained 3 – 0. Thirty minutes in and OB still in or near the red zone, wisdom from the wags; "We'll be lucky to get out of this!" and thus it was foreshadowed when Ravens moved the ball quickly through the hands for Ben Grant to score a nice try, 8 – 0. Around this stage CW lost Sponarski and reshuffled the pack. Late in the half, CW came back, somewhat against the flow with Ngongo and Stewart making thrusts. The hammer was kept down and The Iceman chipped from a ruck, Fraser showed his athleticism with the catch and it was suddenly, 8 – 7. Although this response looked like it might be relied upon at any point in time, given its ease, the Ravens consistency, detail and retention had them on the front foot.
The second forty opened with The Magician, Turner and Moar all moving well and a penalty was earned, Ice Povey putting the boys in front for the first time, 10 – 8. Ravens, not to be phased, came back with sharp passing, Blevins creating an overlap, feeding Charlie Thorpe for a good try and the lead, 15 – 10. Ravens sensed their chances and came back with more of the same, side to side attack, retention and after four or five such flurries, creating another overlap and a couple of "half-tackles" saw veteran, Benz Hendrickson increase the lead to 22 – 10. The home side had momentarily appeared disjointed and lack-lustre, complacent(??), a 'look' which has not been seen since before Christmas. Urgency and focus did return and some hard yards were made. Dinardo enterprise saw Polson close and further probes followed. Cam was unlucky to receive a yellow when a runner "slipped" into a high tackle – advantage lost. Play became disjointed as did its orchestration. An Ice diagonal to Anton was successful but this advantage was squandered with a turnover. Never-the-less, when Ravens failed to find touch, yet another Povey deft diagonal found its target and Logan closed the gap to 22 – 15. At thirty minutes, Old Boys were carded for a high tackle and Hutton was on for Moar. This followed by a long period of encampment in Raven territory. The pressure and enhanced play paid off when quick ball found The Magician's hands and 55 – 60m of space to the line. Anton swerved and spun out of two tackles and pinned his ears and when The Iceman converted from wide it was all tied at 22 and it appeared the Cardiac Kids were at it again.
Ravens dug deep from the re-start and maintained pressure with excellent retention and recycles. Finally, when a ruck was won from thirty meters out, ball was fired rapidly and deeply to Mclelland. The Kiwi calmly slotted the droppie from forty for the winning margin, 25 - 22. Congratulations to Ravens, good value for the win and enhancing their playoff chances. For Ceedub, the bonus point loss saved the day and they will get a week of rest and a home field semi-final. The urgency that we have become used appeared lacking today, this pundit attributing it to injury and tiredness, although, I am sure the coaching staff would not be accepting of these reasons and in all fairness, for the past two matches CW has been on the winning end of such similar, last minute heroics. The last two weeks have been a good opportunity to get some boys used to the different pace and pressure of premier rugby and it will not hurt the cause. Thanks to the officials and Happy Easter, all.
---