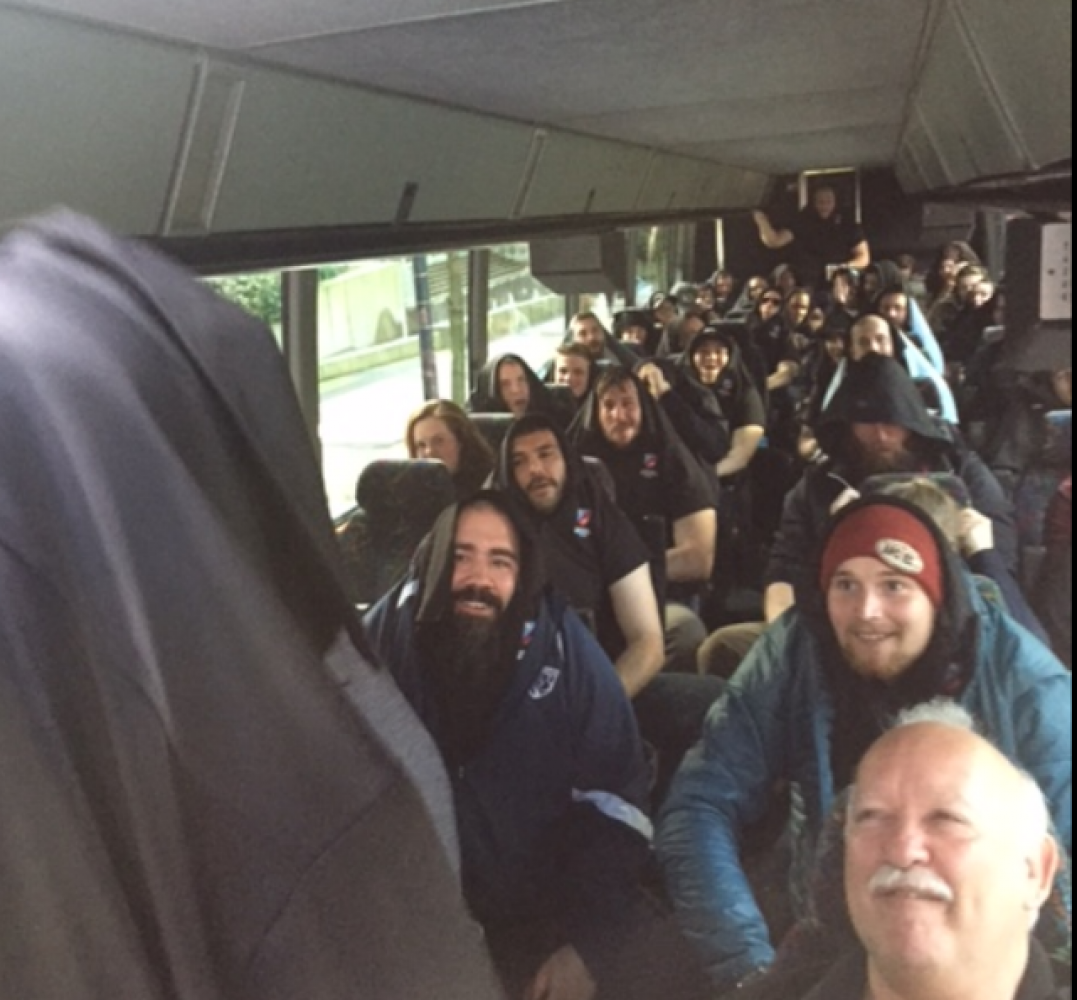 Rogie's Road Warriors
Saturday past saw all three of CW's senior teams on the road to Klahanie, never an easy venue. Arrived just prior to the half of the women's match with CW ahead 5 -3 and mounting an attack. A pleasant surprise for this pundit, given prognostications based on, last week. The second half turned into a torrid battle, not particularly well orchestrated, easy to say from the sidelines and so it goes. Caps ended up defending their home turf and probably cementing their spot in the playoffs. CW are not out of the picture, with Caps, Cowichan and CW scrapping it out and we do believe in miracles! Westshore at Home next week will be interesting and the final game at Herd Road may well be pivotal.
CW began the second stanza with conviction and attacked well only to be undone with unforced errors. Caps responded with character and multi phases to work ball close and ultimately reverse ball inside for a big runner to cross at just eight minutes, 8 – 5. With Caps big runners once again pinning their ears the picture looked glum however, quick ball from a set, saw McNally spot a blindside gap and shimmy and shake her way over forty meters, turning defenders inside out for a wonderful individual tally, 12 – 8, CW. As the game wended on with the home team pushing, they were finally able to use a series of five meter scrums as a basis of recycles and bullock their way over for the 13 – 12 and final, lead.
A visual overview would say that the hosts had field advantage in the second half and used their strengths to procure the win. For The Tricolours, a "bloody good effort" displaying the tenacity we have become used to and as predicted, losing a very close contest. Captain, Keller, on the flank led the way with an outstanding game – a terrier on defense and excellent technique and strength at the breakdown. She was ably supported in the forwards by Jenn Appleby, Camille Provencal-Aube, Gabby Senft and Jamie Beck. In the backs, Laura Sargent bore and survived the attention of some heavy hits, feeding Neilson who tried every trick to break the line with deft passes or hard-running snipes but she was closely marked by her counterpart, Tittley, who had another good day. McNally was a threat whenever she got her hands on the ball and all tried very hard, none shirking from the task at hand.
Elsewhere, in San Diego, The Nats inflicted another heavy defeat on the U.S. Congratulations, ladies.
The Firsts then took the field with much to play for however after drawing first blood at five minutes, there was sadly, not much to write about as a partisan scribe. It took only two minutes for Caps to respond, winning a tight head, Slater broke and fed Papin under the posts. At fifteen minutes it was all Caps as Papin earned his brace. From the re-start, M-o-M, Vilisoni, went for a ramble, fed a willing runner who made the thirty to the try line look easy, 15 – 3. Ironically, enough with the half winding down if a better decision had been made to take an easy kick at goal it would have closed the gap. Instead CW decided to look for the try with a tap penalty. It all went horribly wrong and it was Caps Captain, Cartwright who had a good day, and he made a long burst from a quick tap eventually dishing off and another try was added, 22 – 3. The half showed little glimmer for the visitors perhaps with the exception of the tireless toil from Hohert and McLean. Players did not fill holes, fell off or missed tackles and unforced errors made it look suicidal. All of these issues have been addressed in practise and it was unfathomable as to how this side could start the game so slowly, lacking alertness and coupled with poor decision making, this resulted in little or no structure whatsoever.
Finally some life after the re-start! A Hager kick and chase initiated a good thrust from Hohert, finished when Ollie Winser dummied and ran hard for the line, 22 – 13. All of a sudden, it looked like a completely different team, only for progress to be once again thwarted by an unforced error. Regardless, the field position and pressure eventually earned a penalty, 22 – 16 and excitement was in the air! Following a McLean hard run, yet another penalty was awarded, 22 – 19. From the kickoff, The Tricolours came again with good energy however they shot themselves in the foot incurring a penalty and biding some space and time for the Caps. Gerhardt stroked yet another to get the affair to a tie at 22. Both teams were under the cosh and errors crept in however when Caps forged into foreign territory for one of just a few occasions, they managed to hang on to the ball and cause a CW infraction. The resultant kick being the winning score, 25 – 22. With mere minutes left, CW came back, only for a knock on to occur with the line open. A well officiated affair – thanks to the M-i-M.
The First retain fourth place by the skin of their teeth, not taking care of business these past three weeks, certainly tough opposition, although they should have won this one. Hohert was incessant and had McLean on his shoulder in most of the forays, Winser and Hager in the backs earned their salt. For Caps, Mo-M, #7 Vilisoni, was shoulders above other toilers – Captain, Cartwright, loosie, Roberts, Slater and Papin in the backs, capably fed by #9 Spooner, all showed. It was probably with this unit that the difference between the two teams laid on this occasion.
Zero and two, not exactly the hoped for outcomes! The Prems suffered a factor not experienced before – major and last minute changes to the side. Polson could not go. Evans went to lock, JoMo came in the side and Stewart moved to #8. In the backs, D.D. was absent and John Moar came into a line that had already replaced Dan Moar with Logan. As stated pre-game, Glenn McKinnon was missing and as much as he tried, his inspiration as water boy didn't quite save the day for the hosts. So the table was set.
Caps opened with good retention and phases but it turned out to be Styles, almost away. It was CW's turn and they worked ball to the red zone with eight or nine phases, eventually, to spring 'Burger' Thornber (maintaining his TAG average), 7 – 0. About fifteen minutes in, CW incurred a penalty and an ever-alert, Robinson made yards. Unfortunately for Caps, the ball was turned over in the tackle, an area of play where the visitors had the upper hand all day, not always seen in that light; however, on this occasion, CW obliged with a length-of-the-field counter-attack. It was commenced by Fraser on to Logan and finally to Dalsin to finish, 14 – 0 after twenty minutes. From the re-start, CW gained possession only to incur another penalty and it was Robinson again, taking a quick penalty out thirty meters, skirting tacklers, he fed Boyd for first blood for the home team, 14 – 7. CW replied almost immediately with the ball ending in The Magician's (Ngongo) hands after six crisp passes, 21 – 7.
Caps who looked very feisty at this point, retained the ball with good passing, ran forcefully and forged ahead, breaking tackles and asking questions. After a series of recycles, big prop, Jessie Ryan bulled over, 21 – 12. This buoyed the hosts and they laboriously moved a maul a good twenty meters only to eventually lose it (as mentioned, breakdown skill being a huge factor for CW) and ground was regained. When a ruck occurred about twenty "out", Dalsin picked up, looked around, threw a huge dummy, side-step, and crossed, untouched, for his brace, 28 – 12. This "against-the-grain" try may have sounded simple but it was tough sledding, with Caps disrupting CW structure and imposing their own patterns, after many, many retentions, mostly of the pick and drive fashion, Caps earned a penalty. They backed themselves, found touch and drove from the lineout, De Freitas dove over, 28 – 17, more points left on the park. Thus endeth the stanza.
Half #2 opened with a missed Caps penalty, Chris Robinson having a very rare and very costly day with the slipper. Anton was on the fly again, only for the ball to be knocked on, losing attacking momentum occurred often in this game for Ceedub, fair comment to say, you play as well as the opposition allows you to play. When Robinson took yet another quick tap, their willing runners asked huge questions. The defence stiffened as the game seemed to hang in the balance with no real continuity from either team. It was CW who seemed to wake out of the reverie of ebb and flow when Povey's (The Iceman), chip eluded Anton by inches. However, Caps won the lineout and hard yards were earned. CW did show a period of poise, with DiNaldo in for Dalsin, the ball was moved wide, with Fraser and The Magician prominent, only for the wide runner to be desperately forced into touch. Pressure was maintained when Moar found a half gap, only for another pass to go awry. Somewhat of a TSN turning point – Caps had weathered a storm that should definitely have produced points.
Caps came back and when a high tackle was committed in desperation, they earned and won a lineout, enabling big lock, Owen to be shunted over, 28 – 24. A fourth quick penalty caused consternation but from the breakdown, Stewart and Fraser broke out, CW arguably, gaining an ever so slight, upper hand. Having stated this, akin to an earlier CW try "against the run", it would be Caps who next scored. Big yards were earned down the sideline and a fifth try earned in the corner, for the lead, 29 – 28. Hohert came on for Evans with time winding down. One could visually see the team lift itself for a final effort, desperate tackles from The Minister (of Defence), Braddock and hard running from others being highlighted with a penalty earned. Calmly, The Iceman performed heroics for the second week in a row to notch a wide, 35m penalty and regain the lead, 31 – 29. With mere ticks left, Hohert won two critical lineouts, the second adjudged 'crooked' and when Caps took the option, he pinched it again and the ball was sent to touch to end an entertaining affair with a collective sigh!
Overall, not necessarily a well-played match but there were plenty of quality moments and no lack of commitment from the gladiators of either side. It was extremely entertaining from its intrigue, Caps earning two bonus points and CW, a single by their 'patched-up' side. Caps really came to play today and their side too, was depleted and they were a shade unlucky for the result not to have gone their way.. Four of their five tries went to the forwards, deservedly, with the old "Leagie", Alex Boyd, being the pick. Ryan, Owen and Tucker were close behind and I thought that Greg Brown was a constant threat in the backs.
For CW, again, there will be much to be gleaned from this one and "hats off" to all those called to 'step up'. Nath Stewart earned the Hard Hat but Braddock (The Minister) must have been close in the pick, the rest of the pack more than earning their salt. The Dalsin-Povey connect had some good moments, the latter's match-winning penalty being special however, Fraser gets my nod in the backs. Must add, Povey was perfect on the day with his boot for eleven points. With one more match, next weekend, at home Vs UBCOB Ravens, both teams will fight for very important points – Ravens to get into the playoffs, CW to end up #1/2 and earn a valuable rest, to heal some pretty beat up bodies and home field semi-final advantage. From CW boys – thanks to Caps for a nice twist of taco nosh, also to the officiating crew. Great respect was exhibited by all combatants as they hoisted a post-game cold one.
P.S. The boys took time in the change room to honor and send thoughts and prayers with Captain Ilnicki. Riles is out of the fray as he heads for major surgery in the near future. The Ruggernut, on behalf of the CW Family, wishes you all the best, Riley.
To The Second Divvies fulfilling your away obligation to Comox but taking it severely on the chin – well done.
---