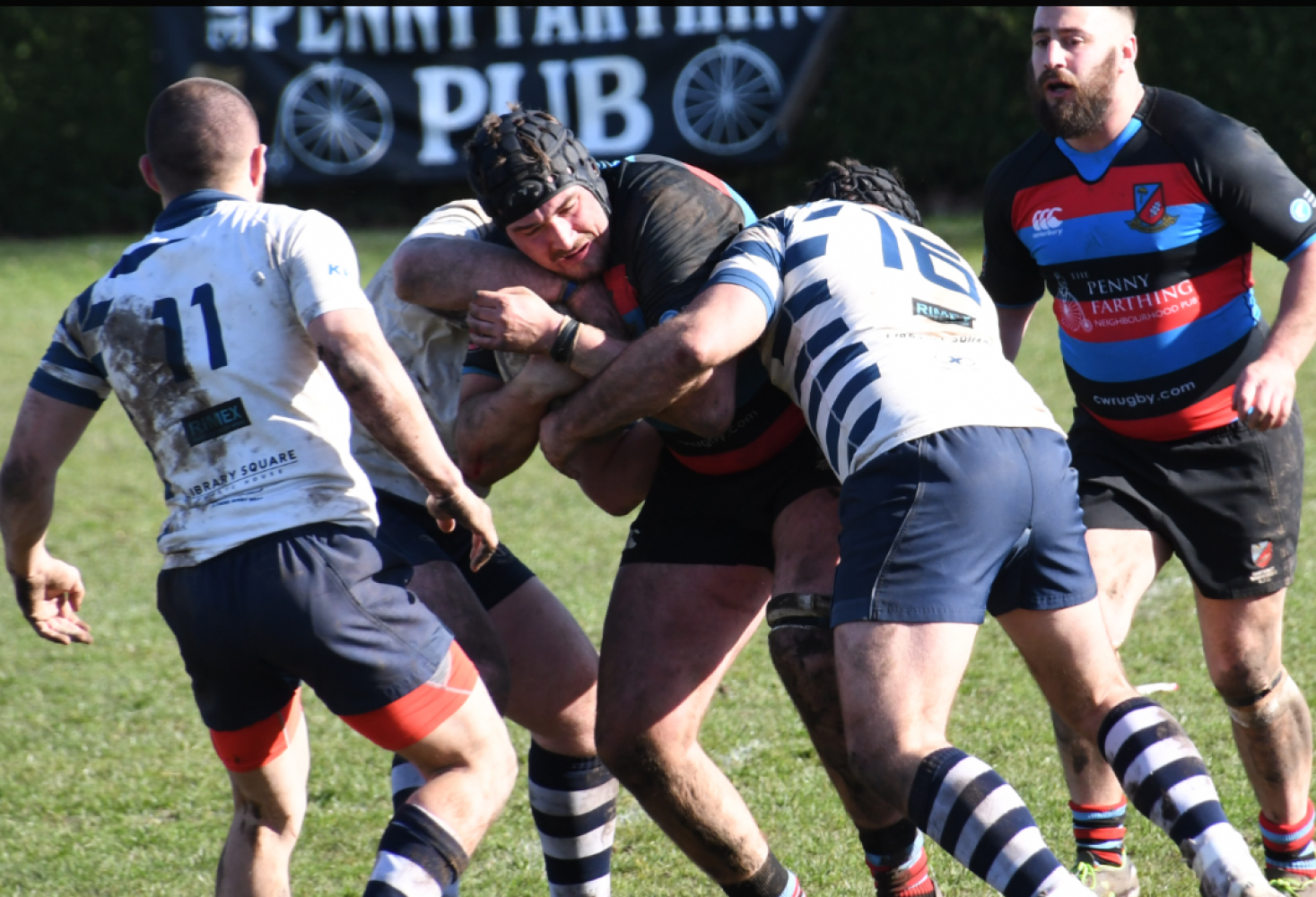 SATURDAY IN REVIEW
Paquin - a masterful game.
CW Premier Women were great value on Saturday for their 39 – 19 win, minus a number of players. It was 17 – 7 at the half when Britt Waters excused herself to go coach the Jess Nelson led Vikes to the National Unis 7's Championship. Congrats to Britt and the Vikes. The opening forays were hard and fast and it was not until the quarter when first blood was drawn, Burnaby opening with a well-taken tally. CW responded almost immediately with a Paquin 20m burst from the scrum base, 7 – 7. From the re-start, the hosts secured field position again and after hard work, big lock, Camille Aube crossed, 12 – 7. Bouquets to prop Demarchant for doing some hard yards and when Sargent intelligently fed ball blindside, it got to Zuss's hands for 40m and a 17 – 7 lead and the interval.
Despite being minus Waters and soon after, Zussman, CW surged into the second stanza right after the kickoff when Dovanne fed ball wide to #14, Dupois (??), for a strong finish and a magnificent Zussman, from the sideline in swirling winds, conversion, 24 – 7. The battle continued with Burnaby a willing participant, yet having trouble matching CW's handling passing and retention. Paquin received a "tough" card and Burnaby took further heart, only for Camille to make a dummy and good break from the base of a ruck, evade two tackles and feed newcomer, McNally, back after injury and a 29 – 7 lead. With the whole pack clicking and twenty five minutes in, coach Dovanne at #10, made a juking break for forty meter coverage, offload to McNally for her brace and 34 – 7 lead.. Burnaby made headway only to give up a penalty, then not to be denied, they pinched an intercept and touched down for 34 – 14 with some twelve minutes left. Paquin celebrated her return to the fray with a scrum pick up, brush of two attempted tackles and forty meters later, she had notched her brace, 39 – 14. Burnaby finished it when their #10 (who had a good day), made her second break in the final sequence and feed a speedy full back for a quality ending, 39 – 19, (7 tries to 3).
This was a great result for the home team in a well-officiated match. The day's results across the board were interesting and CW has now leap-frogged into fourth place behind a slumping Cowichan with a good win by Seattle and Westshore, keeping them as distinctive front-runners.
The Ones were only three minutes in when missed tackles allowed Burnaby's #9, Caithness to squirt free and sprint for twenty meters to notch his first of three and his team's first of eleven on this day. Burnaby added another but then a glimmer occurred for the locals when Hogan made a clever kick and recaptured, earning a penalty. Three recycles later, the score was reduced to 14 – 7. More missed tackles and quality support saw the flood gates open when 45m of good handling finished with the next try and 21 – 7 lead. CW traded, when aided by a penalty, Logan dotted down. This was really all "she wrote" for from here on in, it was basically one-way traffic. Burnaby came in waves, they were evasive, due to excellent support, letting the ball do the work in an exhibition of team rugby. McCory's pace in the backs was scintillating, Caithness direction of traffic and Vikilani's mischief was too much for Ceedub to contain. When Caithness crossed for his brace from a move starting in their own half and the ball going through six pairs of hands, the word "champagne" came to mind as the hosts trailed 12 – 38 at the interval.

Caithness opened the second half with his third and so forth. CW did manage a brace in the half, earning their bonus point in a 71 – 22 shellacking. The one positive was the fact that their 22 points represented more than the combined tally the four previous opponents had scored against the Comp leaders, perhaps giving some credibility and certainly hope, to the effort. Although disappointment was evident, there was no hanging of the heads. Kudos to Burnaby for a display of very attractive rugby, simple, well drilled and predicated on moving and supporting the ball. Thanks to the ref, George Van. CW will get another day next week against another accomplished opposition, so we will see if damage control can be installed. We have seen this team come back before and there is a definite learning curve evident. Work hard this week, lads.

To the main game. Great promise going in with the visitors slight favourites, based on their season's record and it did not disappoint, with a Burnaby fan quoting, post-match; "We have seen nothing like this calibre, this season." So kudos to both participants, handled ably enough by Saron Turner. Thanks. It was all hands on deck early, as Burnaby retained possession to get to the red zone. CW have been backing themselves on their defence which served them well and they were able to work ball back downfield. A lineout was won cleanly and four recycles later, Styles dummied his way over from a ten meter run. Week in and week out Keaton is proving to be the steadiest of links. First blood, perhaps against the grain looked good, 7 – 0. The sun was brilliant on a day which otherwise would have been positively miserable but the wind caused havoc, a mere sideline to the proceedings. Burnaby took it back, hitting up hard to a willing defence. Eventually, The Lakers aided by two penalties and some shaky lineout results from the hosts, drove from a lineout and on the second recycle, Albornoz scored his first "real" try at Windsor. Lucas moved to the Burnaby club last season and seems to have become an asset for them, 7 – 5 at the quarter. Lineout play continued to thwart CW and Burnaby cleverly noted same to take some advantage. Burnaby with debatably, less ball, was always dangerous and when CW committed a high tackle, the penalty was added for an 8 – 5 lead at the interval. I must note, the play of Braddock in this first stanza, in sets and in defence was very noticeable.


Burnaby got off to a good start, asking questions however CW's patience and reliance on each other to do the job, was commendable. It was an epic battle, players carded for repeated infringements, a thrown punch and mutual argie-bargie. When the CW pack was penalised for an early engagement, craftily master-minded by Rockson, Burnaby found touch. The ball went to Gotegote with one man to beat and the big man was in under the posts, 15 – 7. CW dug in and it was Burnaby's turn to be patient. Schellie's touches from fielded ball were electrifying, Jeke made another good break as did his center mate, Vinituraga, Fraser dummied and almost got away and Dobravsky strained to break a last ditch tackle. It was all in vein on all counts and both teams looked weary from their efforts. CW's substitutions gave impetus and with possession being paramount, they retained the ball and with the aid of two "lazy" but "clever", BL penalties, Burger Thornber barged over to make it 15 – 12. With mere "ticks" left, Fraser made yet another hopeful break from the restart only for errors to cause it to fizzle in CW desperation.


Plenty of heroes to celebrate from both teams on this day. It was a game arguably, worthy of a final with some mistakes from both teams, neither probably having experienced this kind of intensity to date. CW had marginally more possession, territory was equal and CW perhaps a minor edge in a very tough scrummaging battle with Burnaby having the better of the lineouts. There were some very good players and play on display but at the same time, the flow was often disjointed due to the massive tackles and physical battles. I am not going to summarise individual performances, although I think CW, with chances to win would have been disappointed, yet on the day, the score was probably an accurate indicator. (Almost sounds Trumpian, was it, wasn't it?). Next week, the flying UBC Thunderbirds visit Windsor, fresh off their National Sevens victory and it will really be the litmus test to see what CW takes from today. At this stage these three teams are definitely top of the heap from what this pundit has seen and read and what score lines have produced. A good effort Tricolour, just another step forward. Great to see Cam Man, Ron Willems back on the sideline after a prolonged battle. Ron's quality photography is a boon to our club and players.
Action - fast and furious!







---