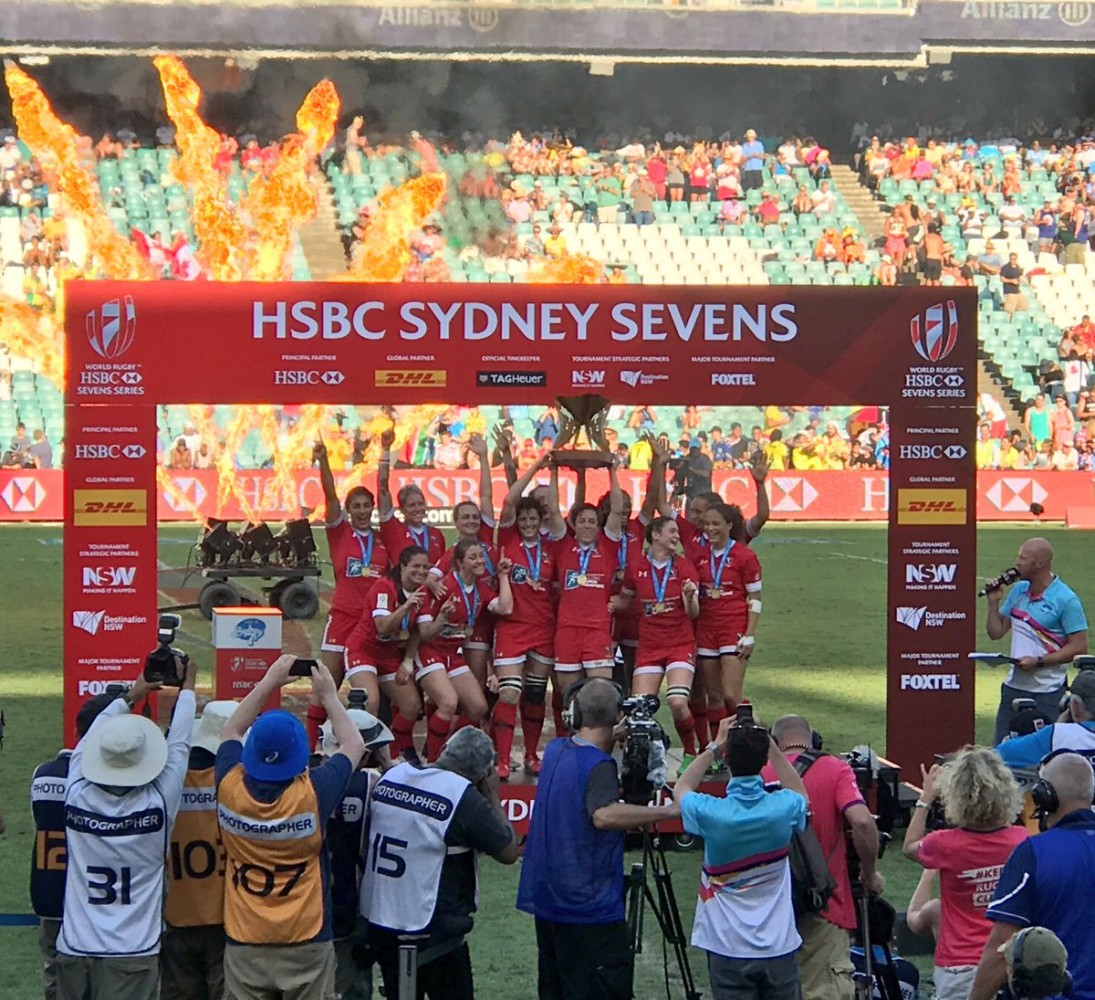 Women Reign Supreme
Hats off to our NSWT Sevens – winners at Sydney Sevens. The ladies knocked off U.S.A. in the "North American Final", played in front of a sold out audience. The win now moves Canada women into third, from sixth place overall, in the series to date. There were a number of outstanding matches, the ladies winning five of their six games and some epic individual performances. Jen Kish, Britt Benn and Ghislaine Landry were selected on the Dream Team, deserved selections. Women's Sevens, akin to their male counterparts, have teams that can upset on any given occasion, making this short game ever so exciting for both the casual and rabid fan. Oh, Canada!
With such inclement weather in town, keeping an eye on computer screens was also a part-time activity for the Victoria rugby fan over the weekend. Unfortunately, trying to find downstream of the rugby men's sevens in Sydney was as painstakingly difficult as watching NSMT's XV's battle the snow at Westhills. One settled for radio broadcasts which were surprisingly "flat" given the colourful backgrounds and rugby experience of the announcers. Enough said about that topic.
The men kicked off with a win against a Russian side that had a very good tournament and is now moving in on Canada in the overall standings. This was followed by a loss to U.S.A. after leading 19 – 14, the boys conceded seventeen points. They finished their day #1 with a solid 17 – 17 tie with Argentina, losing out to this same team on point's differential to advance to the Cup Round. Day #2 saw an abysmal start with a loss to Japan, posting their first W of the tourney however, given all the factors, subsequent wins over Papua/New Guinea and Kenya, salvaged something but reaped very few competition points.
We bring you the coach's comments; "It was a tough weekend for us. The weather was a huge factor, the high humidity and 41 degree heat was hard to handle standing on the sidelines never mind running for 14 minutes. We chased the ball and defended against Russia for large parts of our first game and whilst we came away with a win it drained us physically. Our biggest problem is lack of strength in depth. The loss of Hirayama was always going to be difficult to cover but to have Pat Kay and Adam Zaruba injured in the first game really made things hard. Justin Douglas had a sickness bug which eventually meant we had to rest him. These four players are our first choice backline and we have no like for like replacements. With that in mind I was really pleased with how the guys played out of position. Mike Fuailefau was outstanding and Harry Jones and John Moonlight were models of consistency."
On the Home front in the ARC Opener at Westhills, Canada went down 20 – 6 to Argentina. This was not the sizeable margin that occurred at the last meeting between these two however it was not much of a game, given the conditions and the level of play from the Home side. Again, we bring you coach's comments which probably most accurately summarizes the affair; "They looked a little more organised than us," Canada's head coach Mark Anscombe said. "It was anyone's game at half time but I thought we played a poor second half and they started playing a bit more and put us under pressure."
After McRorie cut the deficit to 10-6 in the 62nd minute, Tuclet scored on a wonderful solo effort five minutes later to extend the Argentina lead to 17-6.
"We win the ball, kick it into open space and he's beats four guys down the sideline. You're not going to win games like that," Anscombe said. "We weren't patient and went away from doing anything with the ball we had," Anscombe said. "It was individuals doing their own thing rather sticking to our structures. We just made some poor decisions and that played into their hands." Not exactly the words of a happy camper! For this pundit, given what was described in Rugby Canada circles as a "young Canada side", yet containing a number of players in their thirties, it seems to be more of the same as we hopefully, set sail for Japan.
SCORES GALORE
CW U23 d UVIC SAXONS 29 -12; CW 2nd DIV d COMOX KICKERS 37 – 10; UVic VIKES d JBAA 21 – 12
SIX NATIONS: Scotland d Ireland 27 – 22; England d France 19 – 14; Wales d Italy 33 – 7
VALE Joost Van der Westhuizen, succumbed to ALS after a lengthy battle.
---