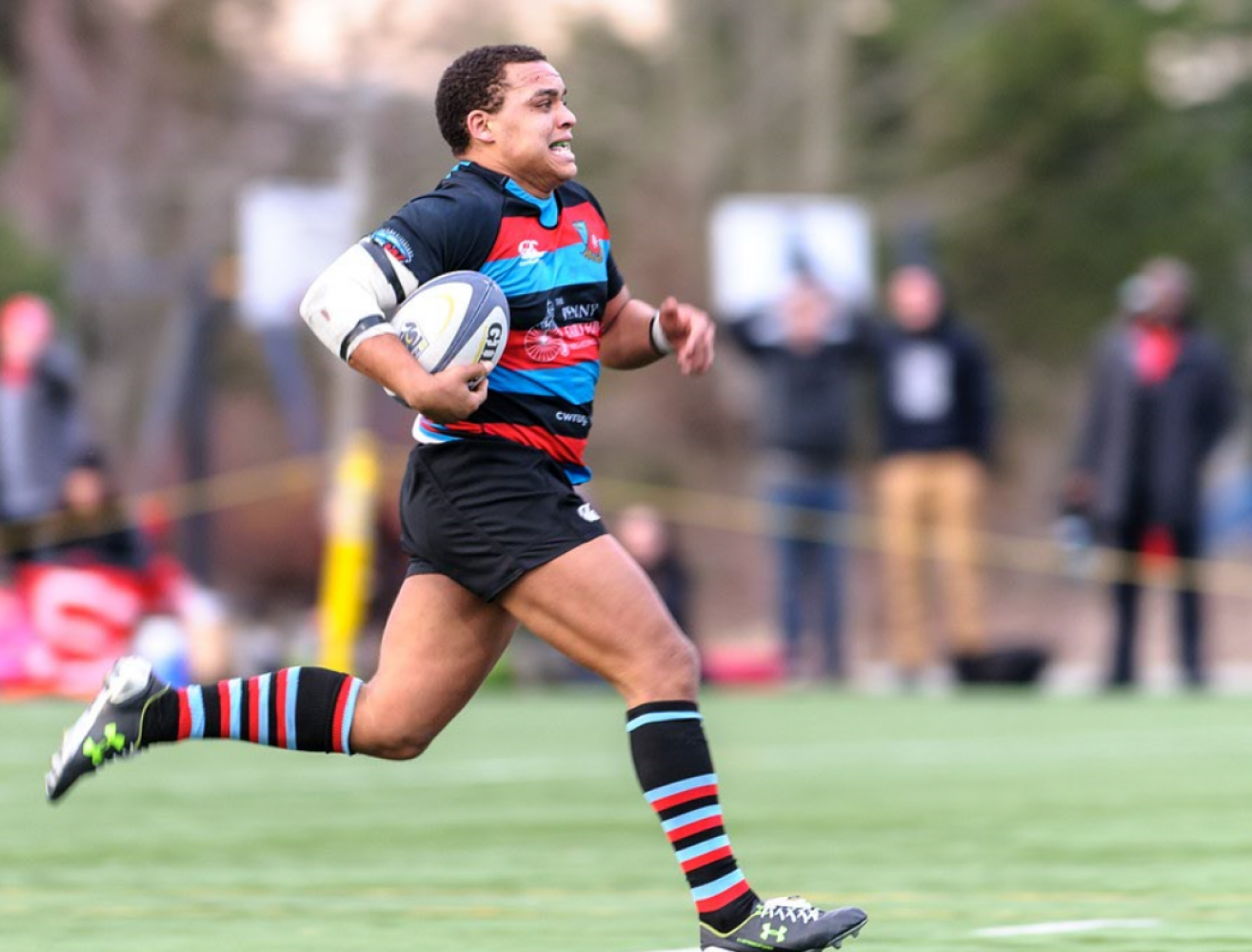 Doug "The Iceman" Fraser Cometh (the hour, cometh the man), pins his ears for a ninety meter scoot to cinch victory.
** Very poor crowds at Wellington Sevens, once the highlight of the circuit, the past two years have seen a diminishment of notable proportions. Maybe IRB will review this venue?
** Zaruba and Fuli score crackers in Sevens victory over Argentina.
**As noted elsewhere on this site, CW nuzzled Seattle on Saturday. The match opened with a Seattle try only seven minutes in after CW was issued a yellow. A strong run by a big unit, #8 Tuisue, did the job. This man was a handful all day for the visitors. CW came back with Fraser putting Stewart away, only to be called back, Anton making a useful break, only for ball to be lost at breakdown, an aspect of play that was less than stellar on the day for CW. However, at 32 minutes, an errant pass came Dala's way and he put Moor away in the left corner and Dobravsky converted for a tie at the half.
The second half was full of intrigue with both teams battling hard and CW is to be commended for their defense. At about the mid-point, Rasilaka, cut back, evading tackles to score under the posts, 14 – 7, hosts. About 23 minutes in, Ngongo was away again (this man has become a very handy winger), some good series of retention and wide ball movement, eventually allowed Dalsin to throw a huge dummy from the base of a ruck and stroll over under the posts, 14 – 14. CW got themselves back into strife with the ref and gave up six points in penalties with time waning. There seemed to be issues all day and Riley was often seen asking for interpretations. With minutes left, the Seattle winger broke out from under pressure with a seventy meter ramble and it was all hands on deck as the ensuing ruck was won cleanly and ball moved wide. Unfortunately for Seattle, the final pass was somewhat "telegraphed" and Dougie Fraser, alertly picked it off, going ninety meters for the try to be converted for the W. Phew!
For CW, I liked the FRF who got through a tremendous amount, probably highlighted by Sponarski. Turner was an amazing ball-carrier and the lineout was very solid. Nanyak was highly visible in all aspects. Dalsin did a good job at nine and he is definitely "back", as for the rest of the backs, they all had their moments but I liked both wingers, Ngongo and a late sub, Moor, returning from injury. I am sure the boys would not hesitate to give M-o-M to Fraser!! (p.s.The Sage told me the boys actually voted Schellie for two mammoth tackles, the last vs 'the breakaway' which gave them the chance....so, 'onya, Schellie!)
Other opening round results, saw both UBC and Burnaby with handy victories and Caps won a squeaker at Klahanie over a depleted UVic. Based on this, it looks like UBC are the boys to beat, with BLRFC set for second and the other two making the playoffs will be up for grabs. Next games – Canada VS Argentina, Saturday @ Westhills.
Tacky tourists in Seattle!
Tour/match photos can be viewed HERE, compliments Bob Scoverski, Seattle RFC.
---