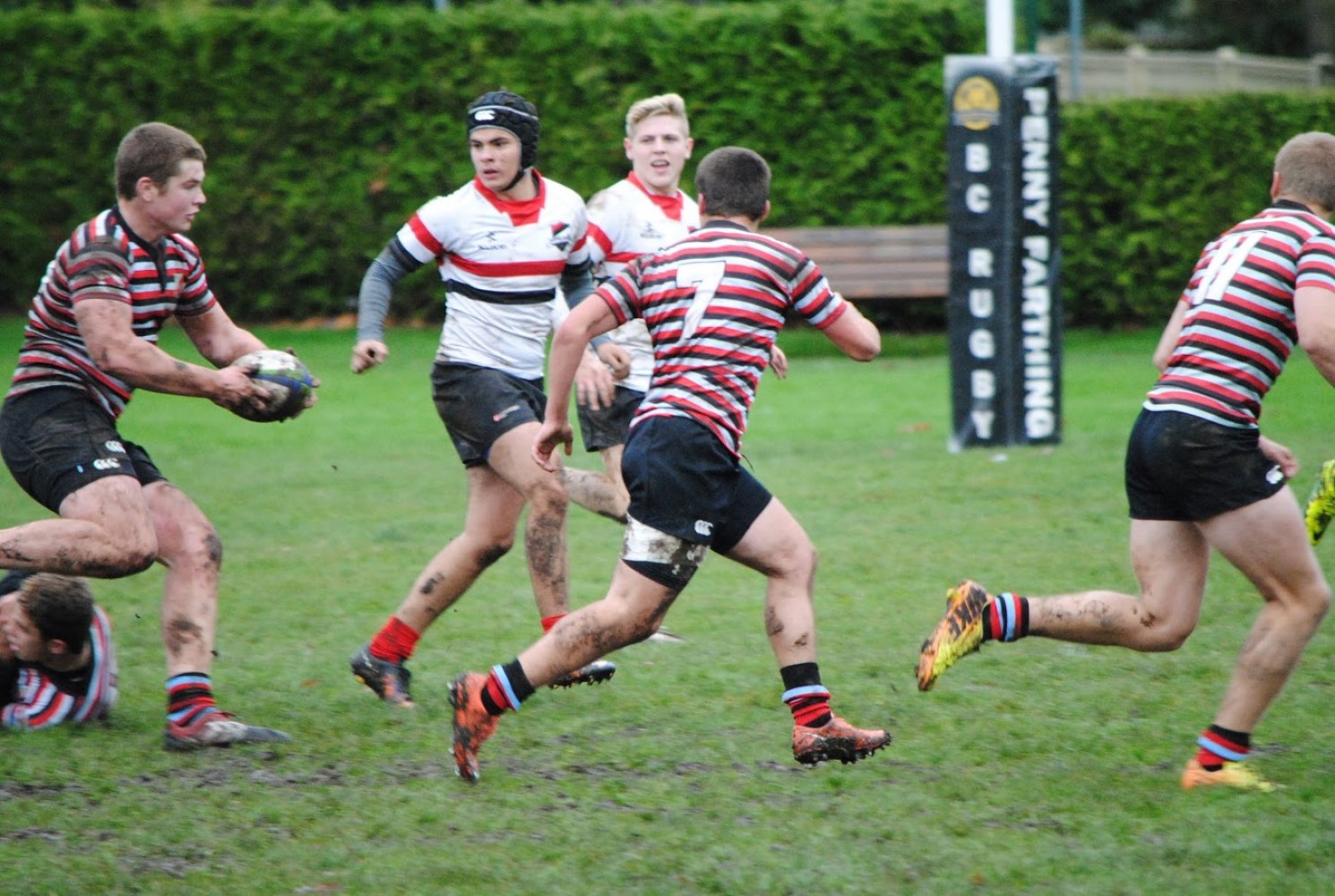 Nicholas bags a hat trick!
CW U18 Boys have once again made their way to the B.C. Championship Finals. CW is defending Champ and this year's version will seek to follow last year's feat when they play Cowichan RFC in the Final next Sunday at Windsor Park. Yesterday, the lads defeated Abbotsford and Cowichan defeated Capilano. It is a feather in the hat of these four clubs as they seem to be perennially in, or close to the final four mix. In CW's case, we are indebted to Coach, Spencer Robinson to whom we owe a great deal of the credit. In a season that has been very disjointed with cancellations and postponements, it is a credit to the lads that they kept training hard and stayed focused on their goal.
We bring readers the following erudite report of yesterday's match from an eloquent and unbiased fan: "There are a few famous quotes about the relationship between hard work and talent, but if this season is anything to go by, the CW U18 team is showing their greatest talent to be hard work. Yesterday, the boys played a hard fought semi-final against perennial powerhouse, Abbotsford RFC and secured a berth to the BC final with a 34-17 win at the House of Windsor. The game was not for the faint of heart or the weak of will as the farming stock from the Fraser Valley is always solid, but CW were able to match their commitment through our own heavy timber; namely Nicholas Carson. Playing at #8, Nick had a barnstorming match and crossed the line for three tries, uprooting many Abbotsford players along the way. Nick was aided and abetted by the ferocious play of Alex Hutcheson and Edward Down. These three forwards were responsible for all of the tries CW scored. Once again the team was intelligently lead by the sharp skills and sharp mind of captain, Gareth Sandner and scrum-half, Sam Kahn. A number of players were asked to play out of position, but special recognition must go to Carlos Esquivel who is normally a winger but he played a fully committed game as a flanker. His relentless work rate was the epitome of this team's motto: Hard Work is Our Talent."
(Photos: Credit to Val Carson.)
Whilst on the topic of age grade rugby we offer kudos to the Boy's U16 coaching staff – Brendan Gerhardt who took the lead role this year, capably supported by Doug Hepp and Jason Jones. The teams was most capably managed by CW stalwart mum, Anne Jones. The club offers a HUGE THANKS to all.
Girls Just Wanna Have Fun!
This photo was taken after a practise last week with age grade players joining our Premier Women.
Speaking of senior women, it is this blogger's opinion that our NSWT was recently very hard done by when they had to play three hard matches in eight days. Saturday's result, a 39 – 6 loss to England and a probable loss of their #2 spot in world rankings seems a travesty. England will no doubt climb to the second spot. Last summer Canada defeated England, 52 – 17 playing on neutral territory in Salt Lake City. The next meeting will probably take place at RWC, hosted by Ireland and kicking off, August 9th, 2017. England are the reigning Champs, so we'll get to see who's boss then. CW congratulates Tricolours, Britt Waters, Julianne Zussman and Julia Folk along with their team mates on their recent efforts.
Just a brief note of credit to John Richardson for Saturday's game photos. John's sports portfolio can be viewed HERE
Shout out to those volunteers who answered the call from organisers, Marlene Nedved, Riley Ilnicki (who also played a good game on Saturday) and Tish Hill, for the weekend's Oak Bay Christmas Lights Switch On. We would be remiss not to include Mine Host, Matt McNeil of Penny Farthing Fame for his support for CW, 'onya, Matt!
Giving back to community.
---