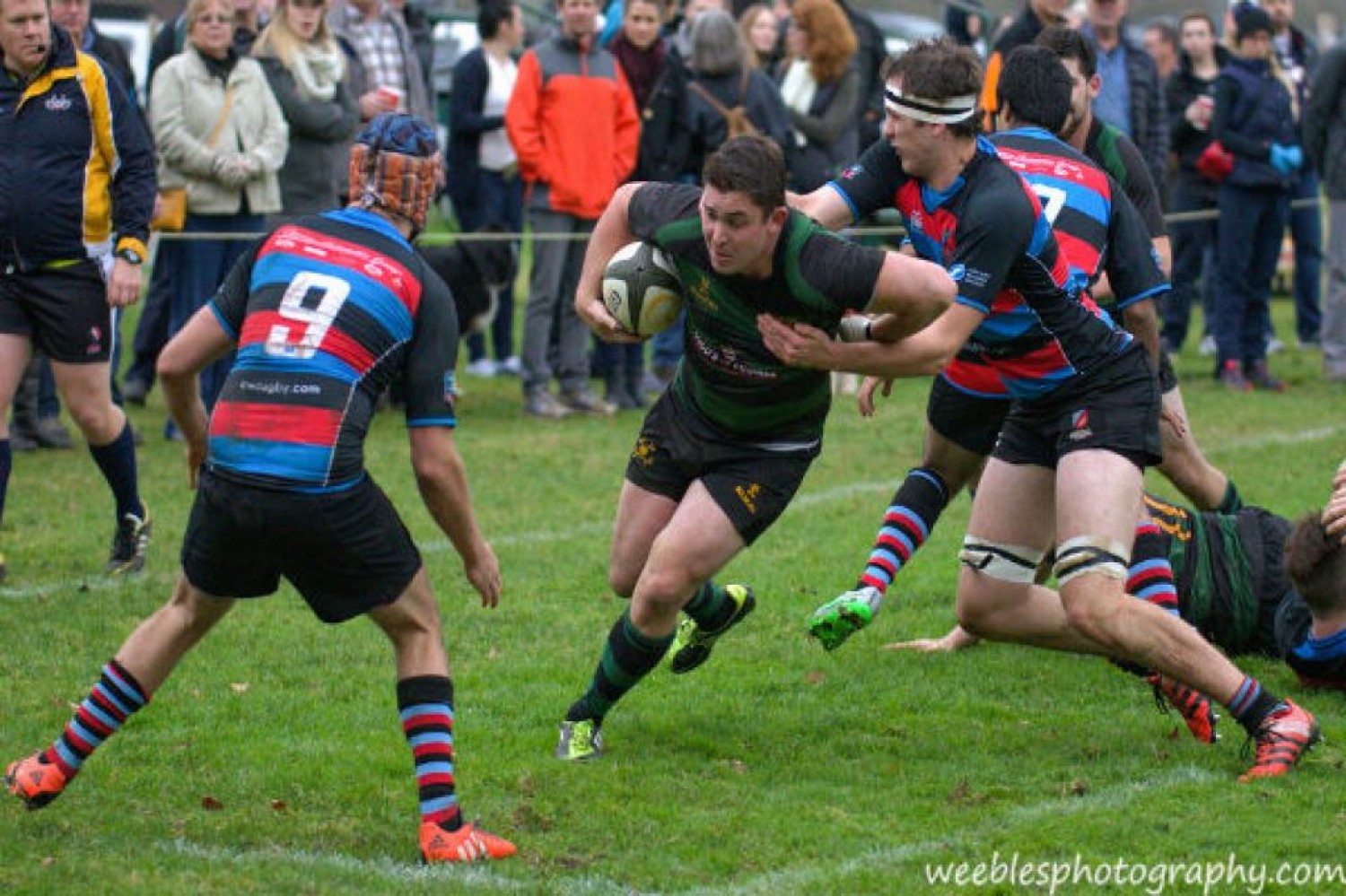 Andrew Goodmunseth on the go....
Cowichan RFC Ambush CW!
Cowichan RFC laid a reality check on the visiting CW Ones last Saturday at Herd Road. The Piggies were full value for a convincing 46 – 19 win, rounding out an "up-Island trifecta" for the weekend. At one point, Cowichan had two men in the bin, yet still managed a tally, disappointing stuff for The Tricolour and joy for the hosts. The Div 1 table, really is Nanaimo and the rest. The Hornets are undefeated, with arguably, only CW giving them a scare at home in a 24 – 25 loss, then comes Port and an ample break to the Norsemen and the remaining four teams have losing records with only two wins each. So, despite a worthy win over Westshore, it's back to the drawing board for The Ones. No game reports have filtered through to these eyes, perhaps understandable with this score line. Hopefully this schooling will serve as motivation for bigger and better. Go, Ones! Thanks to CRFC for hosting and to the game officials.
Whilst writing about Cowichan, I take a liberty to paste verbatim (with thanks), their recent announcement of the passing of Cowichan, VIRU, BC and Canada, a great rugby man, Ivor Ford. Ivor did scads of great work for Brentwood College and Cowichan, earning National team honors as a player, along the way. For those of us who played against Ivor, we will remember him as an uncompromisingly hard but fair player and always a thorough enjoyment off the pitch, more often than not treating us to his piano playing prowess as he led the teams in song. Ivor, may you rest in peace and thank you for who you were and what you stood for.
Remembering Ivor Ford – a true Cowichan gentleman.
Last Saturday, October 22, long time Cowichan player, supporter and mentor Ivor Ford passed away while playing his beloved piano.
A graduate of Oxford University, Ivor taught English and Latin at Brentwood College from 1963 to 1996. Shortly after his arrival at Brentwood, Ivor was quickly recruited by the school's Headmaster David Mackenzie to play for Cowichan.
Ivor was not a "Castaway" and stuck with Cowichan through all the lean years as a player, first fifteen coach, and the infamous Jazz Band leader that played every month at the club for years!
Ivor was a true gentleman with a wonderful way with words. His life long love of rugby was manifested in his generous support of the Cowichan junior program through monthly donations to the program every month till his passing for many, many years.
Ivor was our first piano man and taught us the value of the post game singsong. Which is now, undoubtedly, one of Cowichan RFC's strongest traditions.
We send our thoughts and condolences to his wife Dunca and children Sasha and Nicholas.

Further CW results relate to yet another loss on Saturday by the women Prems to Capilanos, 31 – 17, keeping the ladies at the bottom of the table. Injuries and combinations are not treating the team that kindly this season, not to mention the strength of the oppositions. All clubs have bolstered and stepped up their games and Seattle are atop the table, a position that they felt they should have had last year. Both Westshore and Cowichan are very strong and Caps and Burnaby cannot be counted out. So, for The Tricolours to notch wins, they will need continued hard work and an ounce of the blarney. Go, Girls, go!
Next scheduled matches; Senior Men Prems Vs Westshore @ The Park, this coming Saturday at 2:45 p.m. Under 18 Boys - Island Semi-final, Sunday @ Windsor, tba.
Nats Sevens
As expected both Men's and Women's Sevens went undefeated in Trinidad and Tobago in the weekend's RAN 7's with game scores showing that the matches were little more than a workout against opposition, rather than intersquad. That being said, it is to be hoped that combinations were spotted that will bear fruit in The Bigs, upcoming. Go, Canada.
We did give a shout out to the men for their work against Ireland, although when Canada had to go to the bench, the pedal was depressed and the hosts ran away with it at the end of the day. Hopefully, all are available for selection against Romania this weekend. I liked the work of the FRF with Raymondo in the loose being special, as well, Olmstead impressed as did Rumball in patches. McRorie had a much better game with Connor Braid, long time missing not being out of place by any means, as for the rest, DTH was always a threat and works so hard and Hassler's try was sheer determination with Evans at custodian being noticeable.
Baptism to Rugby!
We welcome, retiring treasurer, Brett Jackson's daughter, Emily, to the CW Rugby Family. Brett was spotted recently at Carnarvon, not just introducing Emily to rugby but taking care of business at the same time. Brett has been a beauty, giving us yeoman's service over the past four years. 'onya, Brett!
ADDENDUM:

CW RFC AGM Thursday, 17th, 8:30 p.m. at DSC. Food provided.
---