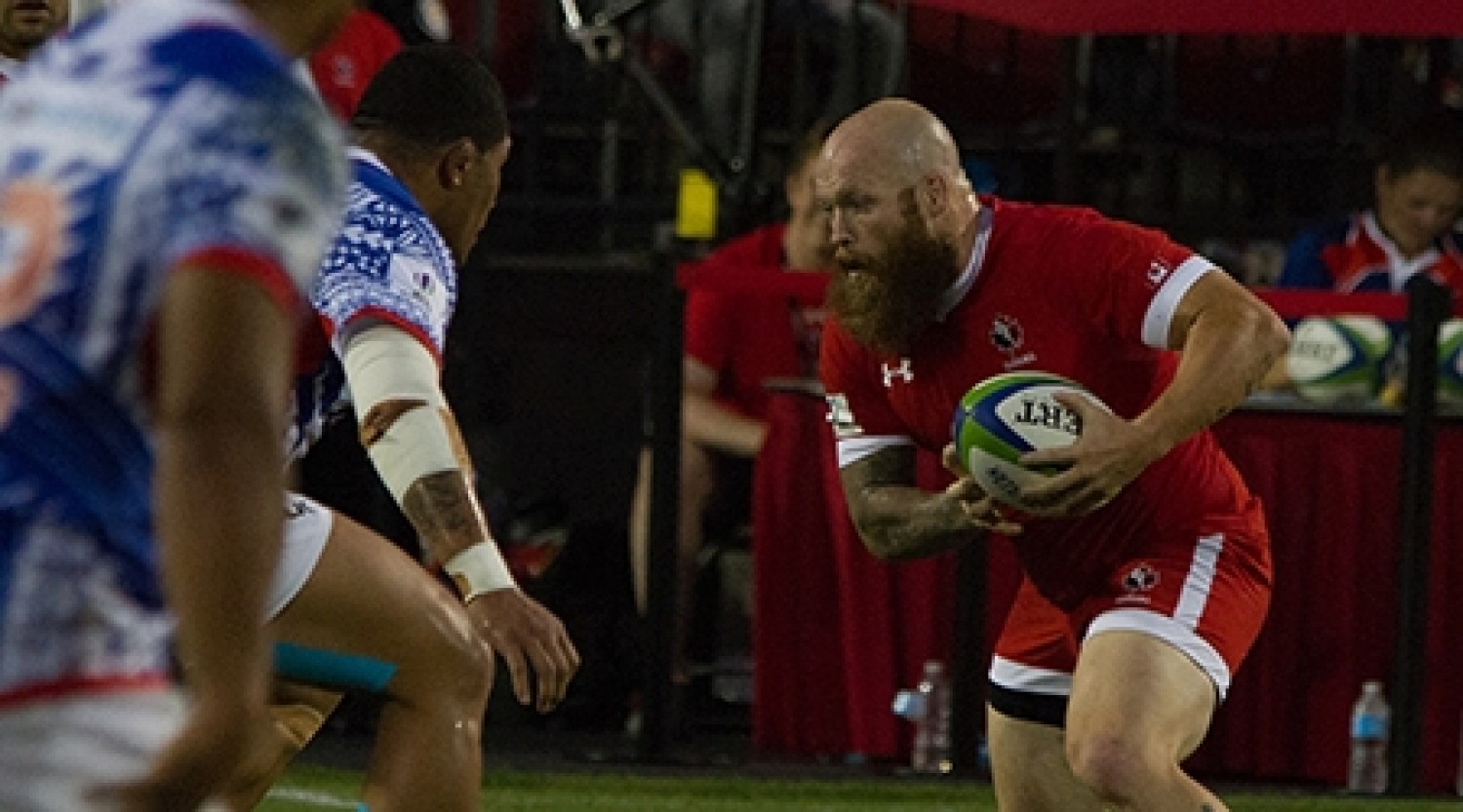 From Rugby Canada website.......
MONTEVIDEO — Canada 'A' lost 27-22 to Samoa 'A' Sunday to conclude its Americas Pacific Challenge campaign.
Canada got a first half penalty try while Ben LeSage and Gordon McRorie also touched down in the second half. Samoa took an early 7-0 lead before Andrew Ferguson got Canada on the board in the 12th minute with a penalty. After a second Samoan try pushed their lead to 14-3, Canada grabbed a penalty try in the 32nd minute with Ferguson converting. However, Samoa scored their third converted try just before the break to take a 21-10 lead into the interval.
LeSage would score his fourth try of the tournament in the 51st minute after great work by Rory McDonell and Kainoa Lloyd out wide set LeSage up to take a pass inside and race in under the posts with Ferguson again converting. Canada would then close the deficit even more with McRorie touching down after taking a Lucas Rumball pass from a scrum, throwing a show-and-go to pull in the Samoan defence before exploiting a hole to run in untouched to give Canada a 22-21 lead with less than 10 minutes to play. A penalty two minutes later restored the Samoan lead before a last gasp drop-goal sealed a 27-21 victory.
Canada were winless in their two other APC games after defeats to Argentina XV and USA Selects. Canada's senior men's team returns to action next month with test matches against Ireland, Romania and Samoa.
Canada 'A' Team to face Samoa 'A' (Name, club, hometown):

1. Rob Brouwer – (Lindsay RFC/Ontario Blues) Lindsay, ON
2. Ray Barkwill – (Castaway Wanderers/Ontario Blues) Niagara Falls, ON
3. Ryan Ackerman – (Burnaby Lake RFC/BC Bears) Regina, SK
4. Lucas Albornoz – (Burnaby Lake RFC/Prairie Wolf Pack) Vancouver, BC
5. Adrian Wadden – (James Bay AA/Ontario Blues) Mississauga, ON
6. Lucas Rumball – (Queen's University/Ontario Blues) Scarborough, ON
7. Matt Heaton – (Darlington Mowden Park/Atlantic Rock) Godmanchester, QC
8. Admir Cejvanovic – (Burnaby Lake RFC/BC Bears) Burnaby, BC
9. Andrew Ferguson – (Oakville Crusaders/Ontario Blues) Mississauga, ON
10. Patrick Parfrey – (James Bay AA/Atlantic Rock) St. John's, NL
11. Sean Ferguson – (UBCOB Ravens/BC Bears) Vancouver, BC
12. Guiseppe du Toit – (UVIC Vikes/BC Bears) Maple Ridge, BC
13. Ben Lesage – (UBC Thunderbirds/Prairie Wolf Pack) Calgary, AB
14. Kainoa Lloyd – (Queen's University/Ontario Blues) Mississauga, ON
15. Rory McDonell – (Brantford Harlequins/Ontario Blues) Brantford, ON
16. Martial Lagain – (Club Rugby de Québec/Atlantic Rock) Sherbrooke, QC
17. Peter Houlihan – (Strathcona Druids/Prairie Wolf Pack) Calgary, AB
18. Ryan Kotlewski – (Westshore RFC/Prairie Wolf Pack) Calgary, ON
19. Conor Keys – (UVIC Vikes/Atlantic Rock) Stittsville, ON
20. Mike Sheppard – (Brampton Beavers/Ontario Blues) ON
21. Gordon McRorie – Captain (UBC Old Boys Ravens/Prairie Wolf Pack) Calgary, AB
22. Robbie Povey – (Bedford Athletic/Prairie Wolf Pack) Northampton, UK
23. Doug Fraser – (Castaway Wanderers/Prairie Wolf Pack) Ladysmith, BC
Addendum: In other matches, Uruguay d. U.S.A., 47 – 15 and Argentina d. Fiji in the final, 27 -26 with a converted try in the final minute with Fiji under a yellow card. From all Twitter reports – a big success although the crowds were very sparse on the few occasions I checked the downstream. A reminder to supporters that we can see Canada in action in February when they take on Argentina on the 4th and Chile in the 11th at Westhills Stadium.
We include the following announcements from the BCRU which might intrigue CW Youth who are up to the challenges of 'higher levels'.


Old Spice Recruits. Spotted in a Frankfurt Hofbrauhaus recently, Chris, spreading the good word of CW Rugby and no doubt, seeking the possibility of any players making their way to North America! 'onya, Spice!


---