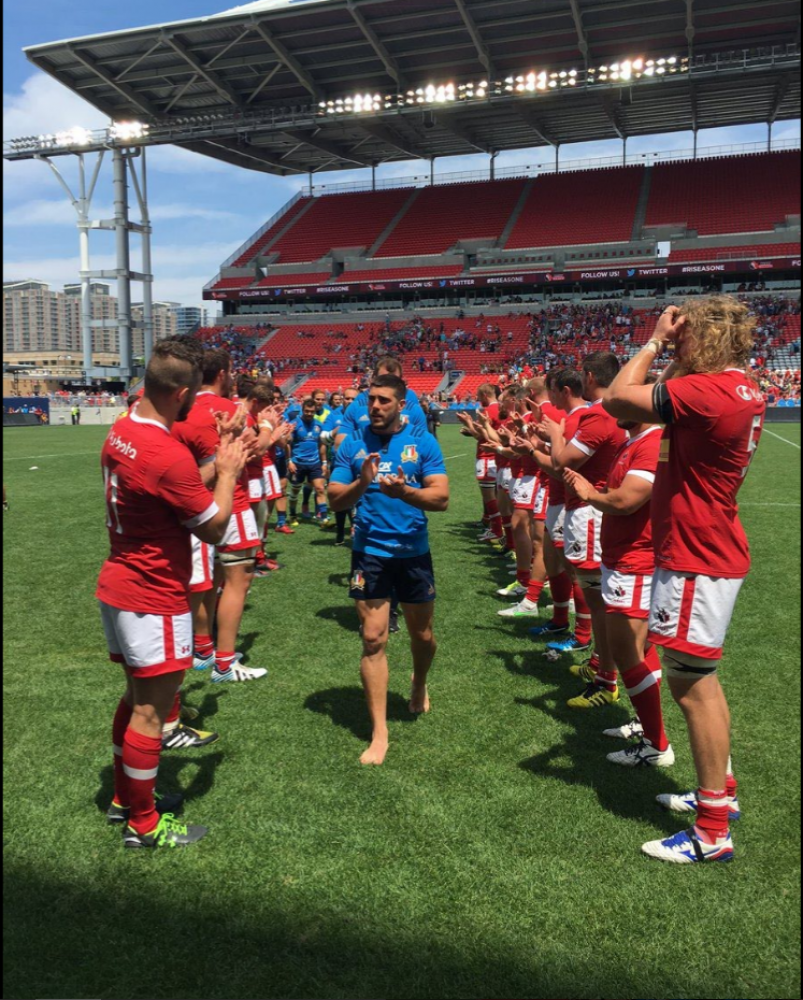 Weekend Internationals
Upsets- Georgia d. Fiji, 14 – 3; France d. Argentina, 27 – 0
To form; Samoa d. Tonga, 30 – 10; N.Z. d. Wales, 46 – 6; England d. Australia, 44 – 40; Scotland d. Japan, 21 – 16; South Africa d. Ireland, 19 – 13; U.S.A. d. Russia, 25 – 0 and Italy d. Canada, 20 – 18. To add a few reflections on the series, must say I was extremely impressed by England, Ireland and brilliant flashes from the Welsh. With the probable addition of a few French players after the Top 14 Final (Dan Carter, M-o-M), France performed far better this week against Argentina, doing much more than just reversing the result, another "feather" for northern hemisphere teams?

To Toronto. Canada performed admirably against the higher ranked Italians, almost stealing the W. Most readers would have watched the match, so I'll just throw out a few personal pov's, you can agree with or not. I like the work of Barkwill, although he would have rued his throw-ins. Olmstead was good value again and Jake Ilnicki put in a solid, full match performance. Carpenter was my man for the forwards, he just never ceases to amaze with his work rate and quality leadership. In the backs, Paris was a fire-cracker, always looking for work and make something happen. He deservedly was awarded M-o-M honors. Ciaran Hearn save a definite try and showed his stuff with limited opportunities. McRorie place-kicked very well (6/6), although it was mystifying the number of "up and unders" that he hoisted, with the retention and position returns being very low. Yet centers the likes of Hernia and Blevins and pace on the wings with Moor and Paris with Evans injection being tools which were unused and this seemed a pity to this fan. Pluses from the three tests were for the new coach to have a look at a good cross-section of those players who were available and probably the results were both realistic and to be expected if one was being honest. I thought the work of the forwards was a surprising plus but none of the three packs represented the real size that is out there when one watches the other Internationals. They showed lengthy periods of retention and defence was pretty solid. Lineout play was not consistent. Canada has some pretty lively backs around but the combinations and their use did not appear to be max-ed. It will be interesting to see if Mark Anscombe will view club rugby in any different light than what R.C. currently seems to view it. It is still the basis of producing players. The coach offered the following reflections following Saturday's match; "I'm proud of a lot of the things this team has achieved," head coach Mark Anscombe said. "We've got to understand where these guys are at and the how much rugby they've had. We'll come away from this Summer Series wiser and knowing a lot of guys have stood up. The character and resilience of the team was excellent and they stayed in the fight right until the end. We wish him well.


Next weekend, Canada's women are in action in big time play in their Super Series at Salt Lake City.
UPDATE: Many of our devoted viewers have been asking lately as to the state of Gerald Steenkamp's health. The recent appeal for funds to assist Steener through this time of his health issues, driven by Tye Spicer was very successful. In speaking with Tye, he reports the following; "Gerald is battling hard and keeping a positive frame of mind as we knew he would. His treatment regimen consists of aggressive chemotherapy which has recently been used in combination with radiation to address some specific areas of metastasis. Let's keep him in our thoughts as he continues this fight - the support of the rugby community means a lot to both him and his family."
PRC's: We don't have specific info about CW players who were representing on these teams however, it's a tip of The Ruggernut's cap to the South Island Tide, U16 Boys and U18 Boys, Provincial Winners and to the Tide U18 Girls who finished in Third place in weekend competition.
---