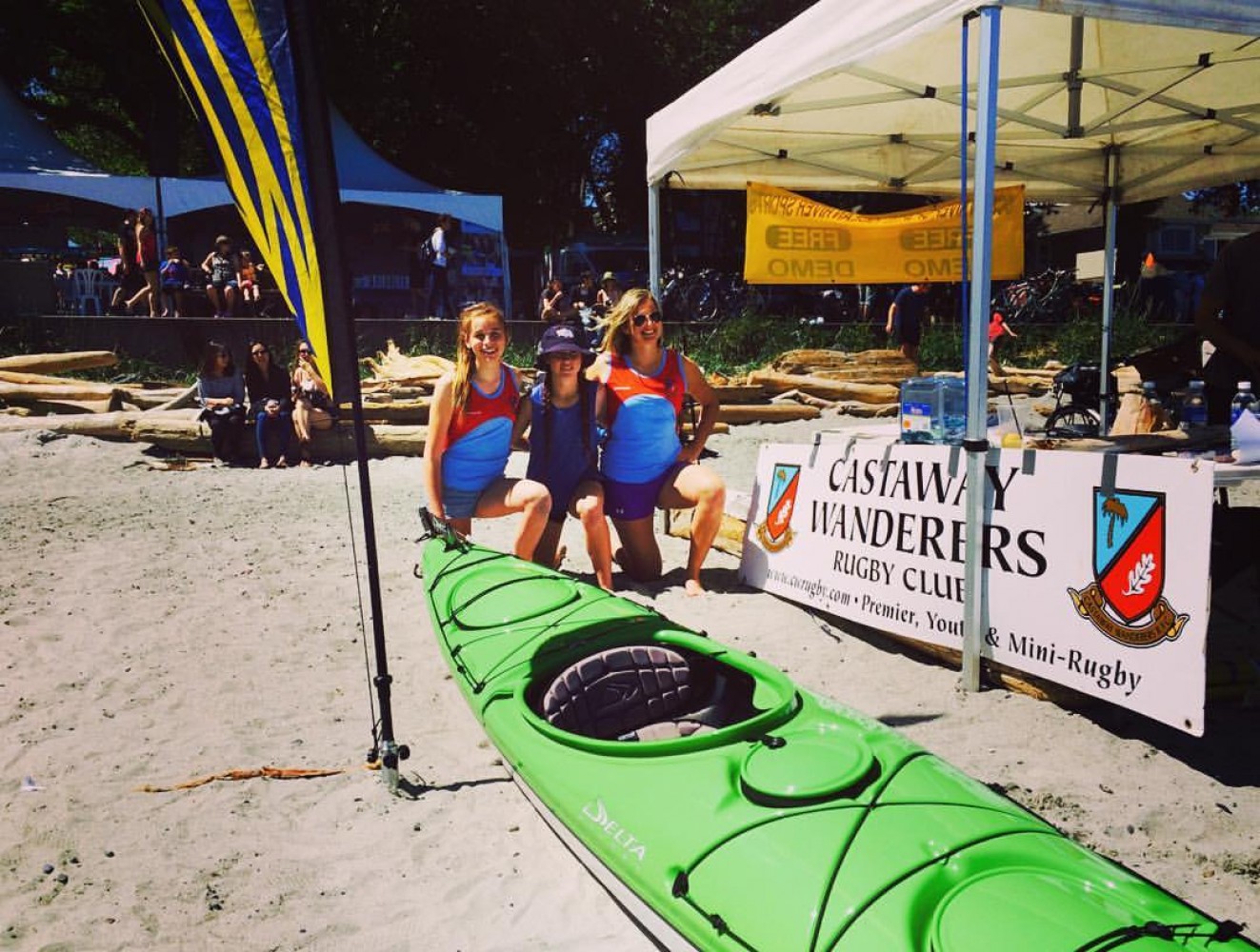 Fun Facts: Giving Back – CW in the Community
Tip of the Ruggernut's cap to; Women's Prem, Marlene Nedved who organized Chloe, Maelle, Adrienne, Amelia and the Knaggs party of four, to volunteer at the Oak Bay Tea Party this past weekend. This group worked with Ocean River Sport who had a good thing going on this rather warm, summer's day. The treat was to hop into a kayak, jump on a SUP or even take in an hour-long, Island Eco Tour from Willows Beach. Participants offered a 'donation' to CW Youth Rugby for the experience. This year was very successful in terms of fund-raising, our best ever over the past three years. Of course, for Ocean River, many people said they would follow up the experience with purchases, trips or rentals in the future. So, a 'shout-out' to all CW types, this is the place to go for your outdoor experience.
Fun Fact #2
Sunday was CW Advance Day. This meeting is an annual day-long planning and goal-setting exercise when the Board "looks back" and "seeks forward". Keeping our long-storied club, an amalgamation of two fading clubs back in 1989, at its optimal performance level, is an ever demanding task. Fund-raising for increased insurance costs, increased travel expenses, equipment needs, implementation of safety protocol, notably related to concussion, the morphing from an amateur to a 'pseudo-professional' operation with a volunteer operational crew are a just a few points that go along with the difficulty of retaining and expanding our player base and are all huge challenges. These challenges do not solely belong to CW, they are challenges for all senior men's and women's rugby clubs in B.C. After thrashing out many ideas and strategies the following are goals for the coming season and years ahead;
1. Help protect players from the risk of recurrent injury and concussion.
2. Improve the standard of rugby at CW as we grow. (To effectively manage the growth of mini/junior programs maintain high standards and inclusiveness. To increase competitiveness of senior programs – developing and monitoring CW fitness standards. To improve player recruiting and support network. To improve access to winter training facilities.)
3. Build CW "off the pitch". (To encourage player volunteerism. To improve "cross-club" connections. To increase the fun factor. To build the supporter, volunteer, sponsor base.)
As a footnote to this report, the Club wishes to remind viewers of this site that we are seeking interested people for the positions of Head Coach Men and Technical Director Rugby. Applications will close on June 15th and a committee will announce the successful candidates on July 6th. To view the process, background and skills, expectations and outcomes for CW Head Coach Premiership Men and for CW Technical Director. Resumes of interested applicants can be sent to; Attention – Selection Committee, [email protected] and [email protected]
Final musing of the day is related to a rather abysmal showing by the B.C. Bears against England Counties in their opener for the upcoming CRC campaign. Not to take anything away from a quality visiting side, this pundit did hold out hopes for a better performance than six years ago when Counties defeated B.C. 46 – 7. It was not to be, as the final line was 41 to bagel for the visitors. I did watch some minutes from the feed and the snippets showed a definite difference between the packs in the tight and the loose and a couple of rather poor attempts from B.C. players in the tackle. The English backs were much more "pacier" and competent with their attack variation. There were ¾ selections that did not start for B.C. and late replacements on a side that already was, arguably, 'under-cooked' were not positives. So, despite things on paper looking a little better for B.C. this season, facilitation and implementation need to be forthcoming. On an interesting note was the victory by The Rock over Ontario Blues, 22 – 12 in their CRC season opener. B.C. take on the defending Champs, Prairie Wolf Pack on July 2nd.
The real rugby on this day was evidently played between the women's teams from Vancouver and the Island when the Island eclipsed their mainland opposition, 29 – 26 to win the Cup by a mere two points over the two-match series. Close all the way with punch, counter-punch, in the manner of an Ali Epic! Congratulations to all players and a special one to the many CW players selected.
We add as a footnote to this, the announced selection of the squad of NSMT players from which the team will be chosen to play Japan on June 11th at B.C. Place, kickoff, 3:00 p.m. (nb).
CW offers its congratulations to the following players: Kyle Baillie – (Ohio/Atlantic Rock) Summerside, PEI; Ray Barkwill – (Sacramento/Ontario Blues) Niagara Falls, ON; Nick Blevins – (San Francisco/Prairie Wolf Pack) Calgary, AB; Hubert Buydens – (San Diego/Prairie Wolf Pack) Saskatoon, SK; Aaron Carpenter – (Cornish Pirates/Ontario Blues) Brantford, ON ; Paul Ciulini – (Aurora Barbarians/Ontario Blues) Vaughan, ON; Alistair Clark – (Bay Street Pigs/Ontario Blues) Oakville, ON; Jamie Cudmore – (Oyonnax) Squamish, BC; Tom Dolezel - (London St. George's/Ontario Blues) London, ON ; Matt Evans – (Cornish Pirates) Maple Bay, BC; Andrew Ferguson – (Oakville Crusaders/Ontario Blues) Mississauga, ON; Matt Heaton – (Darlington Mowden Park/Atlantic Rock) Godmanchester, QC; Eric Howard – (Brantford Harlequins/Ontario Blues) Ottawa, ON; Jake Ilnicki – (San Diego/BC Bears) Williams Lake, BC; Ben LeSage – (UBC Thunderbirds/Prairie Wolf Pack) Calgary, AB; Jamie Mackenzie – (UBCOB Ravens/Ontario Blues) Oakville, ON; Gordon McRorie – (Calgary Hornets/Prairie Wolf Pack) Calgary, AB; Dan Moor – (Balmy Beach RFC/Ontario Blues) Toronto, ON; Evan Olmstead – (Newcastle Falcons/Prairie Wolf Pack) Vancouver, BC; Pat Parfrey – (Swilers RFC/Atlantic Rock) St. John's, NL; Taylor Paris - (Agen) Barrie, ON; Cam Pierce – (Section Paloise/Kelowna Crows) Vernon, BC; Lucas Rumball – (Balmy Beach RFC/Ontario Blues) Scarborough, ON; Mozac Samson – (Calgary Saints/Prairie Wolf Pack) Calgary, AB; Djustice Sears -Duru – (Glasgow Warriors/Ontario Blues) Oakville, ON; Brock Staller – (UBC Thunderbirds/BC Bears) Vancouver, BC; Matt Tierney – (Section Paloise/Ontario Blues) Oakville, ON; Jordan Wilson-Ross - (James Bay AA/Ontario Blues) Alliston, ON.
---