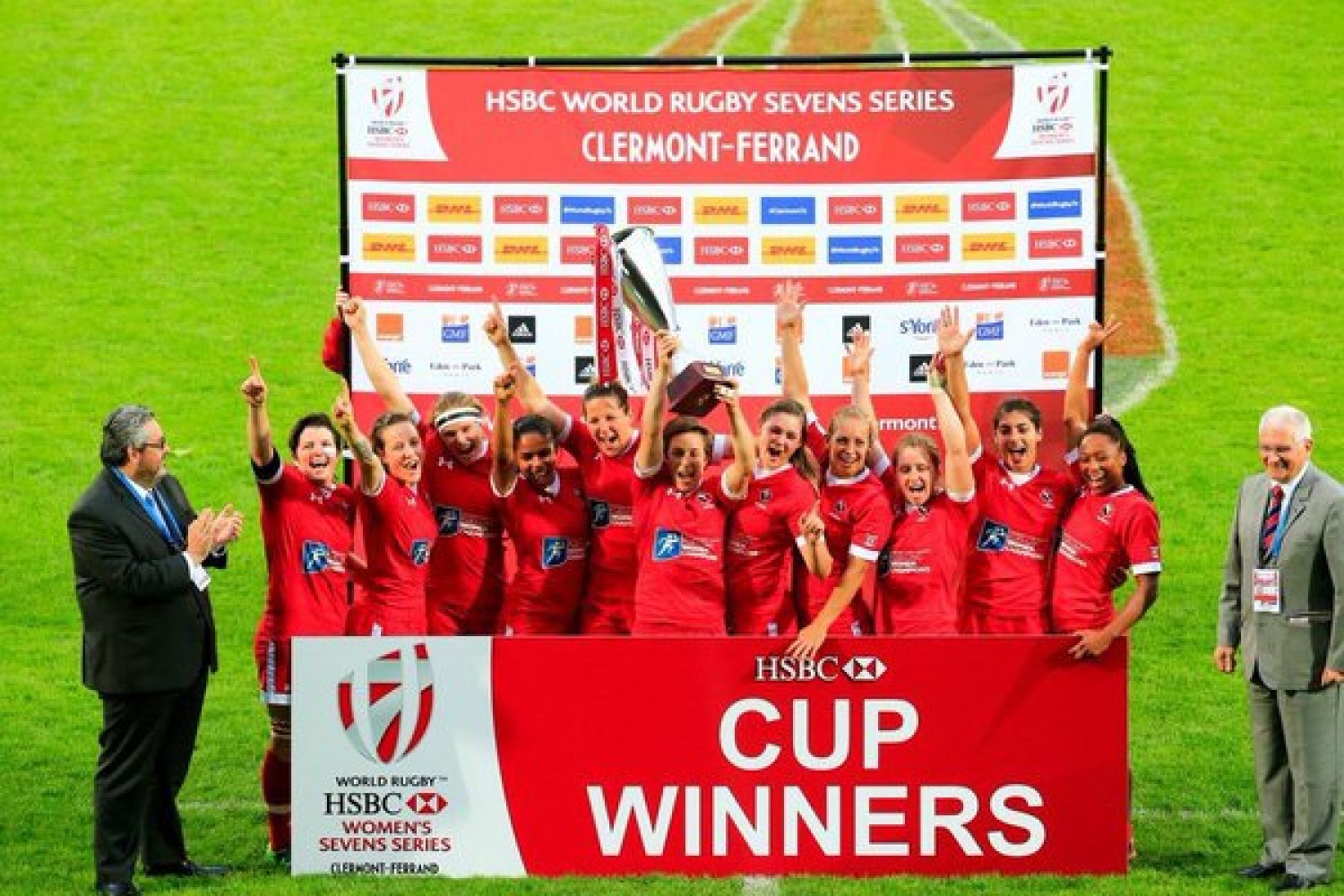 Seven's Heaven:
The Sevens Show for both genders again proved it's 'never over 'til it's over'! What an epic finish for our Canadian Women. Where does one come up with enough superlatives for this magical 29 – 19 win over the Aussies? Canada, after dropping a pool game, 17 – 19 to N.Z. had a challenging second day, squeaking by Fiji, 12 – 5 and then going into the semi against an English team that looked unbeatable last tourney, convincingly overcoming the Kiwis in the Final at Langford. To defeat England 31 – 10, minus Captain Kish, amazed this fan. After watching the Final live, it was very evident as to how this had come about. This was the ladies' second Cup Final this season. Getting revenge over Australia and finishing the circuit in third place and leaving the stage with fantastic momentum for Rio and a huge chance for the podium, was some feat. In most Canadian minds, this has never been in doubt but to see the very real parity between the top four, with France, Fiji and even Japan with the ability to surprise; again points to the extreme interest in the sevens game. The Aussie, Williams-Greene-Dalton combo was shocked when Canada blasted out of the blocks with four first half tries. Kudos to the Green & Gold for a good fight back in this classic and winning the overall Series Championship. To John Tait and his wonderful team of players; marvellous achievement! Special bouquets to Player-of-the-Final, Kelly Russell and Dream Teamers, Ghislaine Landry and Britt Benn. One just knows that these three would deprecate any personal honours in favour of The Team achievement.



HUGE CONGRATULATIONS TO ALL ON THIS MASSIVE STATEMENT
B.C. SUMMER GAMES - GIRLS' TRYOUTS
BOYS B.C. H.S. RUGBY CHAMPIONSHIPS Congratulations to Victoria teams, filled with a healthy composition of CW U18 guys at the recent B.C. Championships. In AAAA competition, Oak Bay finished third behind eight time winners, Shawnigan. Special congratulations to Brandon Schellenberger being named on the Commissioners XV. In AA action, St. Michael's U.S. ended up taking the gold.


Last Hurrah:
Where better to find out about CW Old Boys than;
www.cwrugby.com
? Stalwart, Scotty 'The Bus' Franklin will be leaving town. Scott is off to Ontario, an event that has been precipitated by his pending nuptials. Scotty invites all his friends, team mates, opposition mates and fans to stop by The Temple, this coming Saturday, 4:00 p.m., onwards for a cold one to celebrate with him. Best of luck, Bus.
Brandon Schellenberger again! Schellie accepts the trophy for The Thunder, Bowl Winners.

Langford Sevens: Huge shout out to organisers and players who participated in this successful event, now fully etched on the B.C. Summer Sevens Circuit calendar.
CWFRF @ The Sevens
---