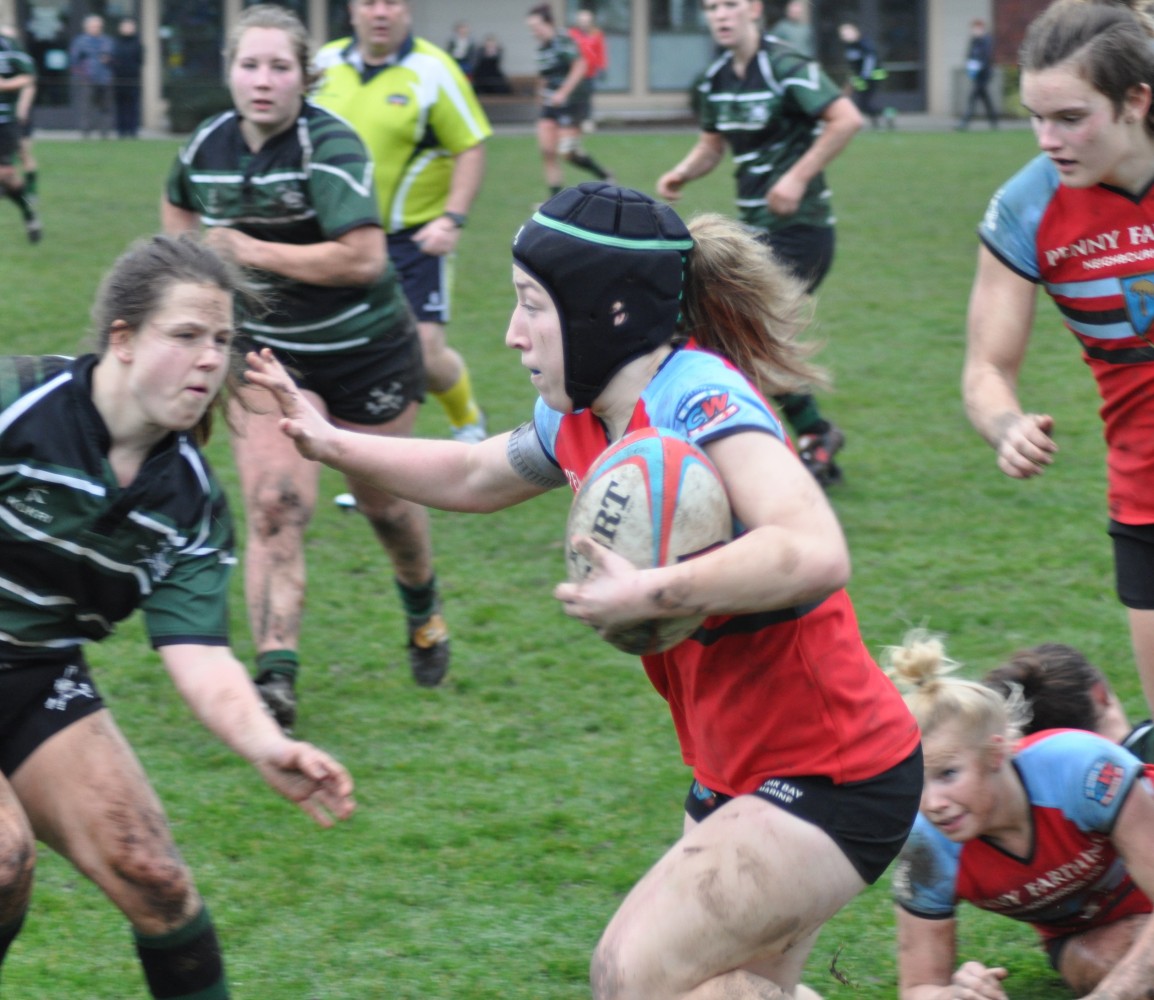 Unsung Hero – On the Field – Lauren Sargent
Lauren, CW Women's Rugby is a new page for many CW supporters and male players. Fans are not aware of the background of most of the players, although in time, we hope that players will become as familiar as those on our men's teams. We have seen you as both a "starter" and a "super sub", this season and we would like to introduce you to our CW fans.
CW: Lauren, how long have you been playing rugby? When, where and by whom were you introduced to the game?
LS: I have been playing rugby for five years, starting out in grade 9 at G.P Vanier and I was introduced to rugby by a friend who didn't want to go to tryouts alone. So I thought it would be fun to tag along and try something new. Unfortunately she was unable to continue on due to injury but I kept on going and loved every minute of it.
CW: We note that from your "e-address" that #9 is probably your favourite position! Early in the season, we saw you start at #9 however, after Jess arrived, we saw you come off the bench in a couple of slots but mostly, on the wing. Against Seattle you scored a 65 meter tally shortly after your infusion. In the final, you just fell short of repeating that feat. What is your favourite position and why?
LS: Definitely #9 is my favourite position because that is where all the action is. After Jess arrived I didn't get as much time at #9 as I had hoped but I did have a lot of fun learning new things being in the back three. It never hurts to try something new.
CW: Lauren, it might be said that you do not possess the physical size of some of your team mates. How do you compensate for this challenge and how do you view your game?
LS: I see it as a bit of an advantage because of my height being only 5'1" that it isn't hard for me to get a good hit in. My fitness definitely helps me out though and because I am so small it's hard for people to get low on me therefore I get high penalties on me all the time. This works well for our team!
CW: Just what are your rugby goals?
LS: I have succeeded with some goals already. Playing on rep teams including Tide, Tsunami and B.C. I try to make new goals every year for different age groups, such as; I have tryouts for the B.C. U20 team in a couple weeks, therefore it is a goal of mine to get selected to represent our province. A long time goal would be to represent Canada.
CW: Lauren, we have talked about the game you love, now to your life off the field! What is it you do? What are your "life goals"?
LS: Currently I am working at Winners in Courtenay, however I was a student down in Victoria throughout the season at Camosun College, while working at Marshalls. I am taking next year off so that I can apply for a full time job and focus on improving my skills whilst saving up money to go to Australia next spring.
CW: Finally, reflecting on such a fantastic season, what/who was your most challenging experience/opponent? What was your most enjoyable experience and who is your most valued team mate?
LS: The most challenging opponents for myself was definitely Westshore, I sometimes felt intimidated by their size and ability to play good rugby and they always seemed to put up a good fight. I am definitely looking forward to next season. My most enjoyable experience would have to be our first game as a team, for players that had never played together before having only a couple practices and then we came out and dominated the game; it was just such an unreal experience. After that I was way more excited for the rest of the season with such an incredible team. My most valued team mates would have to be Alya Govorchin and Stef Hansen, I couldn't choose just one. They are both just as passionate as I am about the sport and such great teammates and I have just always enjoyed playing with them. They definitely bring their A game every time they are on the pitch and are such powerful players, I definitely look up to them.
CW: Lauren, what teams have you played on?
LS: I played four years with G.P Vanier (7's and 15's);Tsunami U16 (15'S); B.C. U16 (15's); Tsunami U18 (15'S ) 2 years; B.C. U18 ( 7'S and 15's) for 2 years; Tide B.C. Summer Games (7's); Howlers U18 Tour to Colombia; Castaway Wanderers Prems; B.C. U23 (7'S); Tide Senior Women's (15's)
Ed. Quite the resume for only five years at the game!

Thanks so much for taking the time to answer our questions and share a little of Lauren with our web supporters. The Ruggernut dips the lid to you and your first season as a Tricolour.
LS:Thank you for letting me have the opportunity to tell you a little about myself!
---