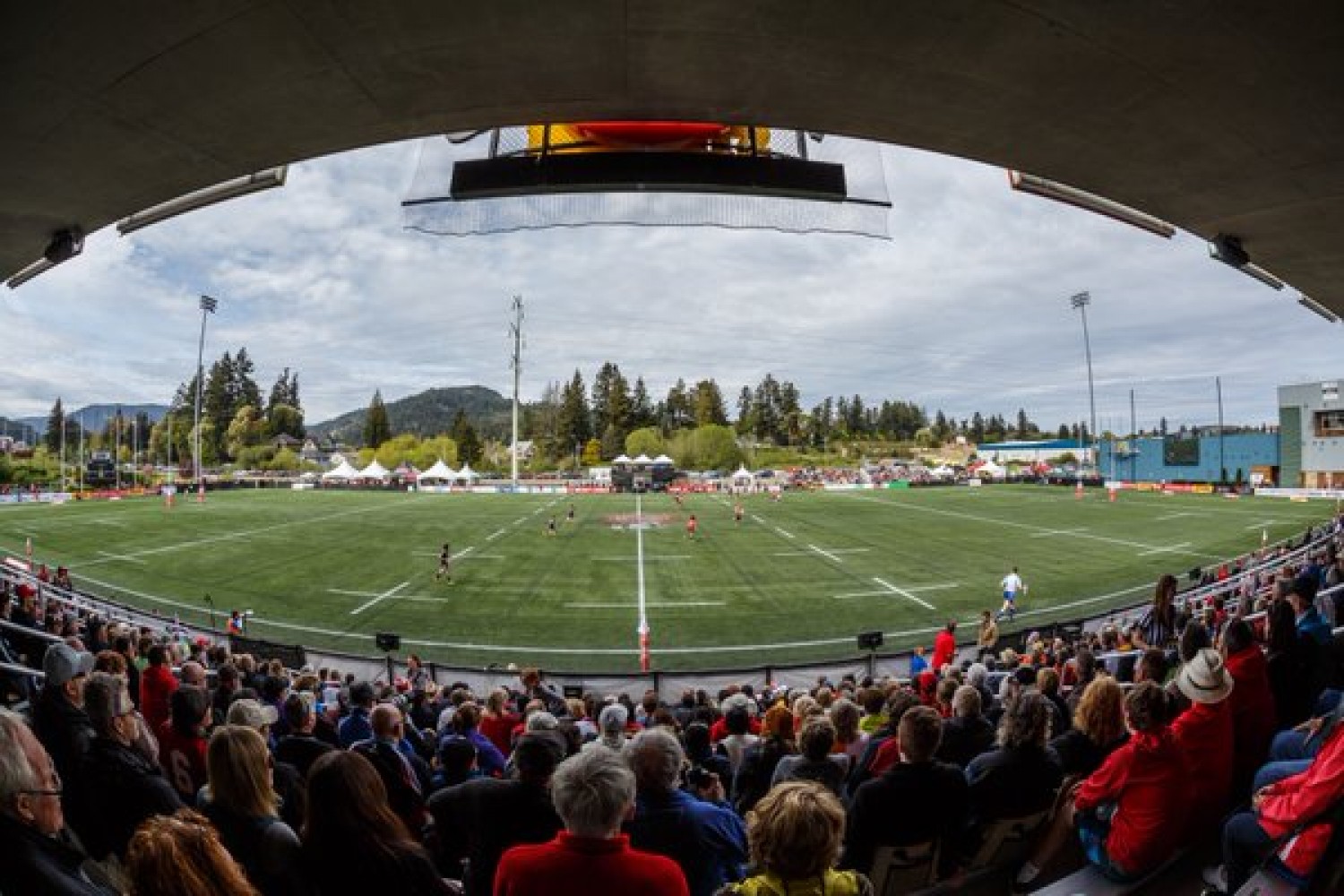 Everything's coming up Sevens!
It has been seven days since the keyboard has been tapped and what a week it has been! Must start with Langford. Did the English women ever look the goods in that Final? England's full-on professional approach is starting to pay dividends. Canada's performance on Saturday, highlighted by their final game, 5 – 0 win over England was magnificent, an almost unheard of seven's score with both teams absolutely playing themselves into the turf. Sunday, again this year, was not rewarding for the host when they let one get away against France in the Cup Quarter Final. Having survived a yellow card and up two tries to nil with mere minutes on the clock, a most unusual substitution was made, three players including Captain Kish, came off for fresh legs and it proved to be the undoing, with the fluency and ball-winning suddenly gone awol and a couple of missed tackles, France took their opportunities well to convert their second try, two minutes into "no time" and 14 – 12 win. This was a bitterly disappointing result for the players and fans. This writer is not blaming the coach solely, for he had his reasons and Big John has proven himself a student of the short game, not to mention the psychology of working with this group and in fact, credit must be given to Tate's own admission of pointing the finger at himself, saying in hindsight he would not have substituted three starters including captain Jen Kish with 2:15 to play. Hats off to the players as they came back to trounce a much improved Spanish team, 21 – 5 to win the Plate and finish fifth. England has leap-frogged over Canada into overall third as a result of this leg. England was all business in convincingly bowling over the Silver Ferns, 31 – 14 and an Australian team which looked a little lack-lustre at this tourney finished third, nipping France, 19 – 12 however they still have an almost insurmountable lead on the title, moving on to Clermont (France) for the final show.
To conclude with a few reflections. Having seen most of the series games to date dowstreamed from around the world, I must say that England's improvements have been the most noticeable aspect. A number of other teams have really picked up their play, notably, France, Russia, Spain, U.S.A., Japan and Brazil, with most teams now featuring a real "burner" or two. There is a gap between the top echelon but any team not at their best can expect an upset. As for Langford, 1000 points in two days by ladies that appeared stronger, faster and fitter than one year ago was impressive under grey, cool skies on Saturday and brilliant sunshine for the closer. Must say, I thought the attendance was disappointing. The stadium being small, does show better than an empty Dubai or Sao Paulo but one suspects that unless Westhills can be filled, the venue's future here could be in doubt. It is hard to ascertain just why it was not a full house. There was plenty of pre-sales, only minor hiccups at the venue, solid sponsorship, 170 volunteers and the game is on the rise. Local press perhaps could have given greater build-up with only a smattering of articles for a truly International event. 90% of the crowd will be local, being on an island and the local hype is vital, etc., etc. The future will be interesting. CW wishes the Women all the best as they finish in France. Being frank, the past two tournaments have shown an ever so slight, confidence deficit in this observer's opinion, being able to hang on and close has been an issue. It looked in the England match that this hurdle had been cleared, not to be so on Sunday. Of course, injuries have not helped but that applies to all teams and you need to be deeper than twelve. Go, Canada!
Back to Saturday's Sevens, another close to home success story was written by Oak Bay H.S. proving to be a "sleeper" with their 15th place ranking in the Girls' B.C.H.S's Championships. Controversy seemed to surround the ranking not to mention the semi-final game, a very tight win over previously, undefeated Brentwood, by a 10 – 7 score. However, at the end of the day, perhaps rugby was the winner with the semi-final match being an outstanding game of sevens which could easily have gone "either way". The Final was one-way traffic as the "Barbettes" (??) gave a clinic to a brave squad from Lake City H.S. in Williams Lake. L.C., obviously an inspired group by their NSWT's Kayla Moleschi had a very good tournament. OB was coached by CW's (and Vikes), Jess Nielson and Dave Crossley and a majority of team members came from the cub's age grade programs, some started playing the game as mini players as long as eight or nine years, so, all "locally grown" and very capably led on the field by outstanding athletes, Imogen White, Caroline Crossley and Soph De Goede, U18 National team sevens and fifteens players. Well done, Barbs!
Out of Town. Canada's Men were in action at the Singapore Sevens. Day #1 was not good with the lads going 0 – 3, admittedly, fourth ranked in a tough pool but apart from some late glimmers against New Zealand the play was not inspiring. In response, Victoria's pride and joy, Philly Mack offered words to The Ruggernut at Langford; "We'll be back". Seeing Phil on Sunday, he was slightly more introspective after a further two, day #2 losses! This was not a good outing for the Men in Red at a meet which saw plenty of upsets, notably; after barely beating Scotland in pool play, Kenya went on for a magical day #2, eventually winning it all, beating Fiji, 30 – 7 in the Final; Samoa defeated Fiji, France and N.Z.; France d. N.Z., 24 – 0, to name a few. Canada look to stay in 13th place after their heady finish in ninth, last year, ahead of Samoa, France, Wales and Kenya. The last two series outings seem to have put the Olympic dream just a little further out of reach. This is a squad that has been heavily taxed with injury, Jones being the latest but as they move on to Paris in three weeks, not all seems to be right. We back them but their task will be tough.
South of the Border, Rayzor Barkwill's Sacramento boys won their opener against Nick Blevins and his San Francisco team, 37 – 25, cheered on by about 4000 sun drenched Californian fans. Meanwhile over in Denver after a severe snow storm, the locals nutted the visiting Ohio squad, 16 – 13 in overtime, in front of a very sparse crowd. In all, not a bad start however and it will be with great interest to see how the fan base grows.
Finally, CW offers congratulations to Island teams in BCRU Playoffs – Cowichan in Div 1 Times Cup; JBAA in Div 1 Library Square; UVic and JBAA in Premier, CDI and Westshore and CW women in Premier Women. CW will play Seattle on Saturday at Windsor Park. Stay tuned!
---