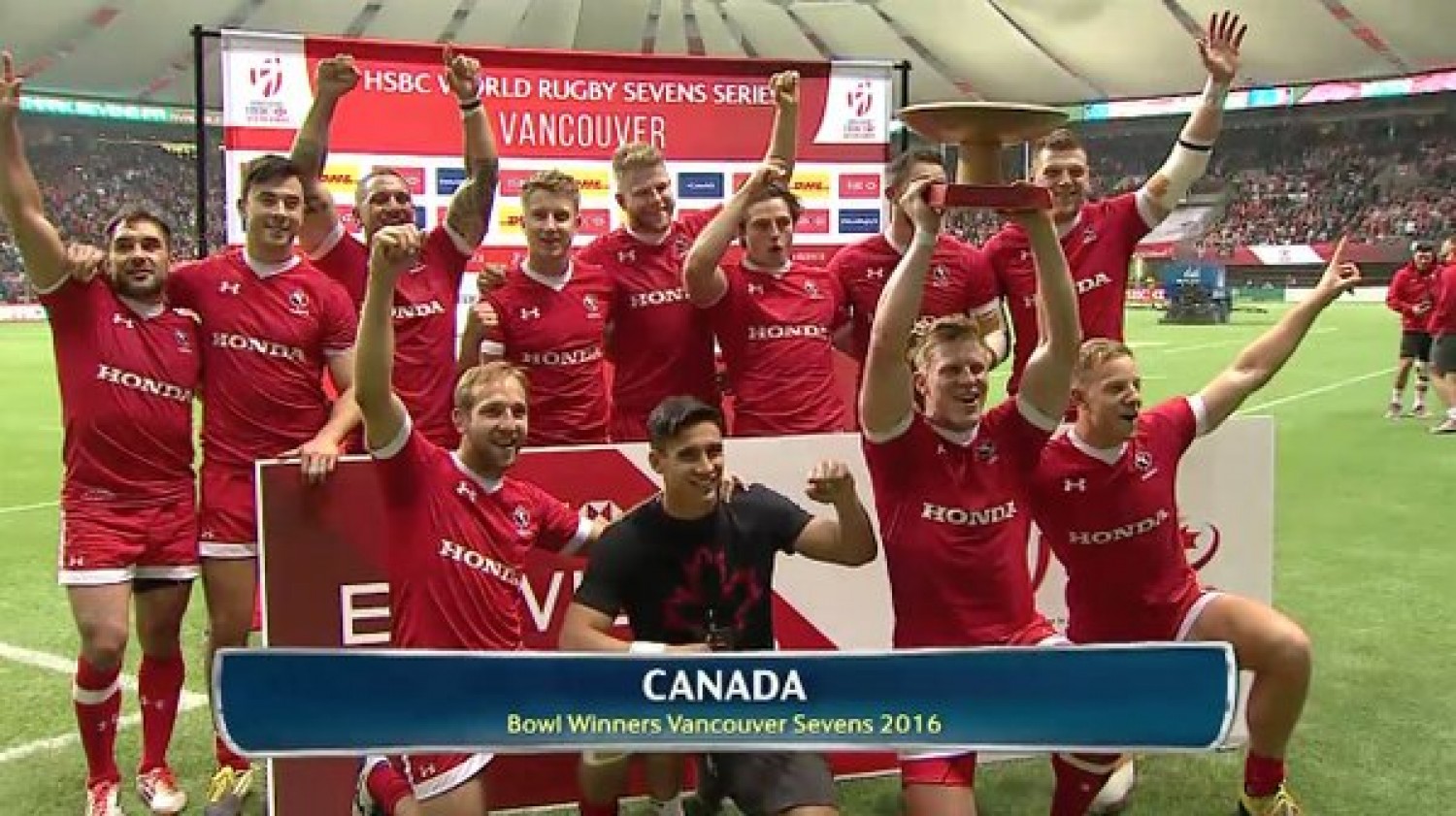 LASTING MEMORIES
Can you forget?
The Captain's super-human effort to snatch victory from the jaws of defeat in "extra time", 19 – 17 vs France in Bowl Final? 'onya, Mooner!
Nate's conversion of this tally to seal the deal, take him to 51 points and the tourney's #2 scorer?
Same man's 80 meter scamper after fending off an Englishman, burying The Rose and add another feather to this man's Canadian MVP cap? (In this fan's opinion).
Fuli's brace vs England?
A distraught and pained Phil Mack, sustaining yet another knee injury after having given his all to the cause?
AND THE REST OF THE STORY.......
R.C.'s Women's' Maple Leafs giving a consummate display of power sevens in their win in the final over France?
B.C. Boys and Girls U18 teams winning National Finals with a healthy sprinkling of CW players?
Bouquets to U.Vic's Vikes men, upsetting their more vaunted rivals, UBC, to win the National University Championship?
Back to the BIG SHOW…….
Brickbats to those boorish few who over-imbibed, as well as the vendors who were permitted to sell product rather late in the day.
Hats off to ALL involved in securing the bid and organising The Show. Slick from Go to Whoa, putting Vancouver out there once again, as a GREAT hosting city.
Home field meant a lot but the boys played commensurably, each and every one giving of their all and going 5 – 1 on the weekend. It seemed a travesty that their only loss to Wales, enabled that team to leap-frog Canada on the overall standings ladder.
Plenty of upsets, not the least being the Kiwis having too much for the Bokkies to take the Cup. Nearly all good rugby for two days, excellently and consistently officiated, enjoyed immensely by a fairly knowledgeable and well-behaved, record attendance.
Tickets for next year are already being sold!!
FOOTNOTES: CW congratulates…..
Victoria's, Andrew Spray, for being selected for Sport B.C.'s President's Award. Andrew was VIRU Pres for a seven year term during which time he worked hard to objectively steer rugby on the Island on its best course. His pov's, patience and values were highly respected by all and he is very deserving of this recognition. The Award will be presented at the 50th Annual Sports Awards Dinner. 'onya, Andrew – well done.
Our "own", Ray Barkwill on an official inking of a North American Pro Rugby contract. Raymondo announced this on his twitter feed and we were able to catch up with him on the weekend and will have more for our readers on this extremely interesting story in Wednesday's Ruck & Maul. Stay tuned.
---