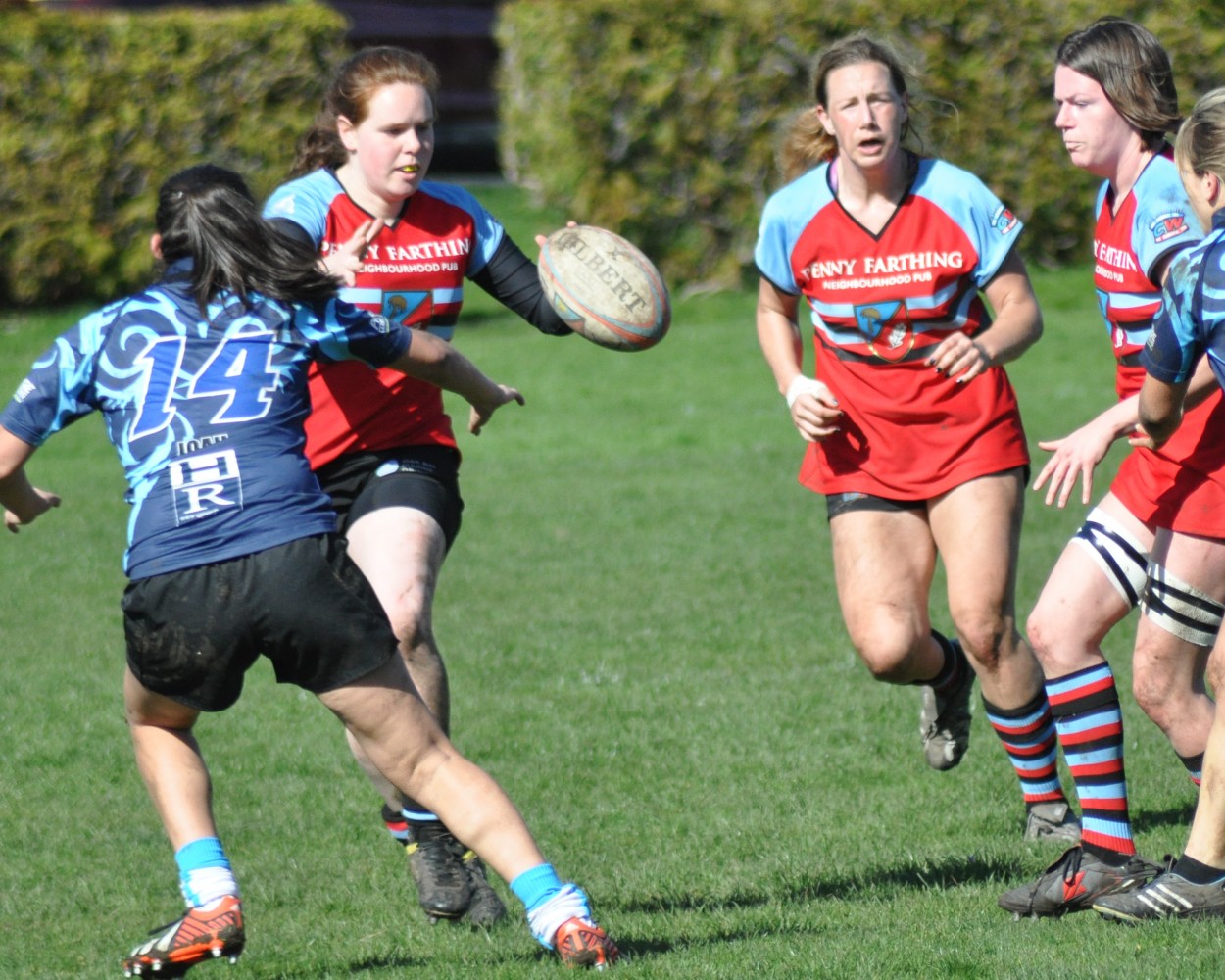 Bouquets to Bayside. A long lost affinity with the Bayside club was re-established by CW Women on Saturday last. CW & Bayside had many a respected battles over the years with men's rugby as well as age grade B.C. Finals and they always ended with mutual respect and comradery. This writer recalls the likes of Joe Haley, Mike Pajic, Adam Van Stavern, Cas Conkin, Adam Roberts, Jason Blaak, John Thiel, Brodie Henderson, Pat Riordan and Tony La Carte, with probably an equal number of "forgets". All of this talent and Bayside unfortunately, has been unable to survive Premier rugby and currently linger in the cellar of Div. 1 and Div. 2 on the mainland, almost tragic. The Bayside women have managed a Premier program for a few years however signs of its health were not too good on Saturday. Only eleven women were able to make the trip and this is where the bouquets come in. Many clubs would simply have not made the commitment. The Bayside Women, caught the 7:00 a.m., forfeited the game and then "split" numbers with CW for a valuable exercise, enjoyed by all. I dip the lid to the club and team for this one. Good luck for your future. CW move a little further in front as a result but will certainly have pricked their ears up when they heard the one-sided score from Westhills with VV over visiting Caps.
Men's Rugby. The Sage was on the sidelines at Burnaby Lake on Saturday and reports Burnaby as being scary good. The final results were almost mammoth, The Ones going down 58 – 20 and The Prems had it at 10 – 21 at the half but The Lakers won, going away, 47 – 15. Next contest for Ceedub vs Rowers at Windsor.
NSMT ARC. Hats off to Canada for a nine try performance and 64 – 13 win over Chile to finish in third place behind Argentina and the U.S. This result did take some of the edge off disappointing outcomes at Las Vegas. Canada actually tied the U.S, had a 3 – 2 record vs 2 – 2 – 1 however their loss to the U.S. was the kicker. Canada scored the second greatest number of points between the six teams. The outcome certainly has some measures of success, although the loss to the U.S. and a wide disparity vs "Argentina III" must be causes for concern. No matter, CW offers congratulations to all concerned.
Men's Sevens.
Saturday was not a great day for Canada although the effort in the second half vs U.S. was memorable and featured the best seven minutes of Canada's play over the weekend, being rather unlucky in not getting the rub of the green from a debatable decision which may well have won the game. Then came a 10 – 17 loss to Wales which was really the end of the weekend for Canada. There was a rally with a win over a depleted England team on Sunday, then there was yet another loss to Samoa in the Plate Final, a team which statistically has Canada's number or so it seems. As usual there was some interesting upsets, Samoa defeating eventual winners, Fiji in Pool play, Kenya walloping N.Z. being two examples. Canada's mere two points has kept them at 12th place however, Wales is only one point in arrears. In all, this could be deemed a "foray to forget" and so it is on to Vancouver, later in the week. The success of the event is already in the books with the need to open yet another 5,000 seats for Sunday and all seating sold out for both days, with an anticipated 28,000 on Finals Day! Canada has drawn about as good a Pool as there might be in this ever-changing scenario. The Home team will vie with the Aussies, Finalist in Vegas, a much improved Russia and Wales who no doubt have their tails up. A chance to atone. Nothing comes easy in this competition. Hopefully, home crowd support will be a factor. We wish the boys good luck as they prepare for this he event in Canadian rugby history.
In the shadow of the BIG SHOW, a number of B.C. teams, including a large number of CW players, achieved commendable successes in a number of parallel sevens events. The B.C. Women's U23 team, with Laura Crowe-Hutchon, Kara Galbraith and Laura Sargent won six games and all the marbles. The B.C. Boys U18's went 6 – 0 to win the trophy, a team which included Brennig Prevost and Brandon Schellenberger. Not to be outdone, the U18 Girls repeated this feat, a team which included Camille Irvine, and Shaye Tudor and CW newcomers from Brentwood, Mckenna Haz and Denise Roy. Several CW girls were part of the 2nd BCEY7S team that placed third in the Open Girls U18 divison - Sofie Kennedy, Avi Shariba, and Danika Elias. Finally, the B.C. Girls U16's (pictured), with Kelsey White, Amelia Gordon and Peyton Manning replicated these winning achievements. The U16 Boy's went 4 – 0 only to lose their final – Lachie Kratz and Hector Jardine on the team. Fine achievements for all of these teams and players. The future of Sevens on the west coast looks pretty rosy.
The Magic of Minis – action from Sunday's Jamboree @ The Park, featuring teams from Nanaimo, Cowichan, Velox and the hosts. A tip of the lid to all volunteers, coaches, organizers and parents who fed the players!


---