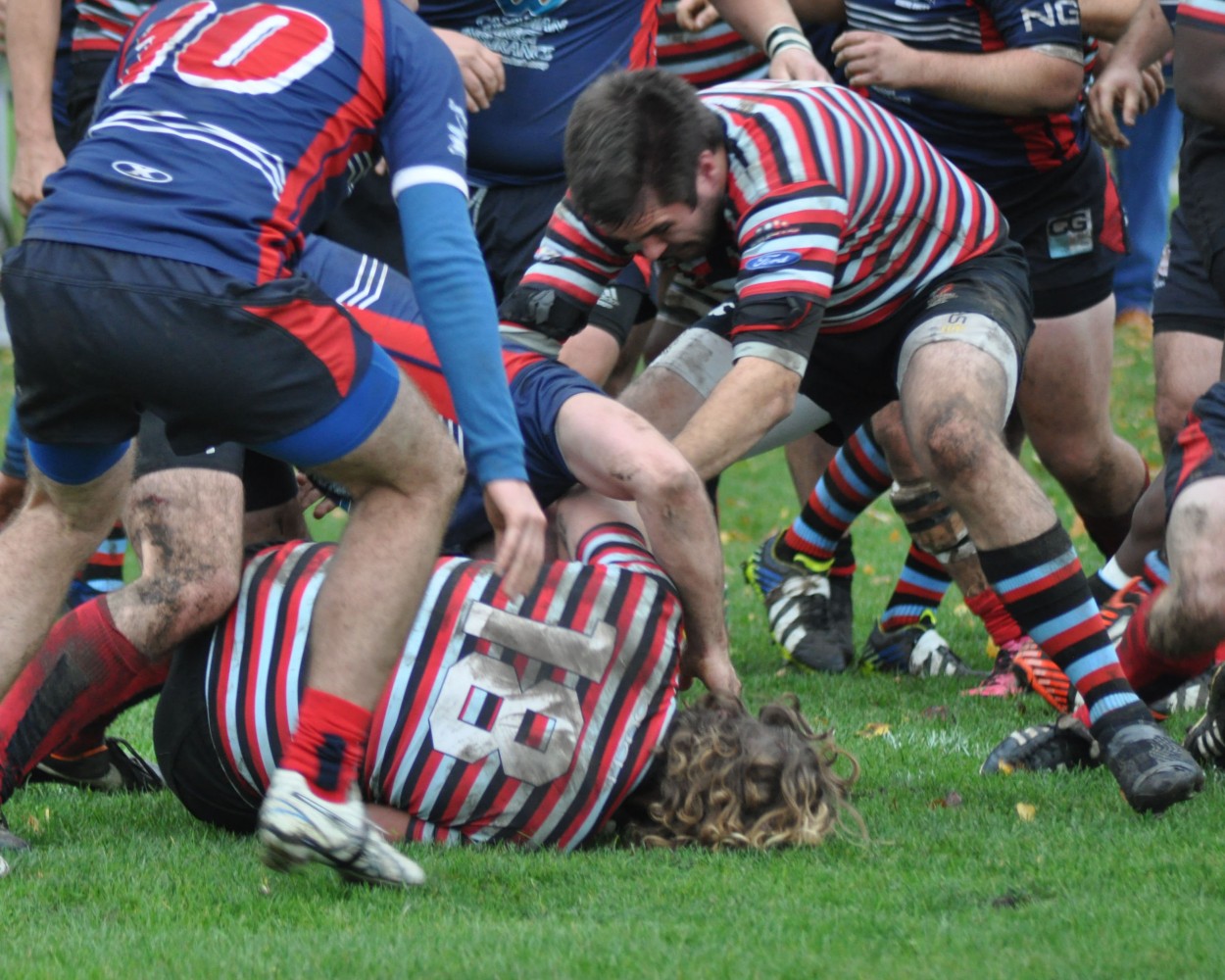 The Captain leads the way!
Our hearts go out to our Fijian brothers and sisters, during this time of strife from Mother Nature.
The Sage returns today with a review of Saturday's showings at Jericho Park.
Blue sky and a dry fast pitch welcomed the CW Ones, fresh off the bus, at Jericho Park Rugby Field last Saturday. Good energy right off the bat was rewarded by a quick five points. Pressure in the backs, led by Fletcher Evans, caused a penalty and the resulting scrum pressure and #8 drive by CW led to the second try. Another try followed as Gerhardt placed a deep kick into the home team red zone with all backs chasing, the ball was recovered and an impressive drive by Captain, Kiel Horan and offload to Evans, #3. Both of these senior players are to be congratulated for setting a somewhat new "tone'' with The Ones and I give my M-o-M to Horan. CW led 26 – 0 at the interval. Newcomer, Chris Browne performed well this day and with good ball retention in the red zone and extra leg drive in contact was able to secure his first try for CW. Joining Browne with a first was Brennig Prevost, a player who started his rugby in minis, some ten years back. Brennig has athletic skill for sure, but his view and read of the game is what will set him apart from others. His vision and anticipation resulted in his first try in senior rugby. He alertly picked off a pass and went the length of the field. This was an improved CW Division 1 team with some new personnel, a more positive attitude and better cohesion amongst the players. Captain Horan noted during the ferry ride home; "The team today showed the results from hard training over the last two weeks. The lads took several points into the game and produced. We still have a long way to go, but today showed we are together on the journey headed in the right direction". Final score; CW 36 – UBCOB 17.
A confused start didn't help the CW Prems during their visit to Jericho. Warmed up and ready to go at 2:30p.m., the scheduled starting time, the Ravens continued preparation on a distant training ground while the referee waited on the sideline. CW was informed an Assistant Ref was making his way. The request for the match to begin with a Ravens appointee running touch didn't gain favour and the game started at 2:45! (Sounds like days of yonks ago! Ed.)
CW found themselves under the cosh due to very good Ravens energy….big men running hard and off loading at will. This style and a good tally from a lineout soon had CW down 0 – 15. CW began to regain some form and after a couple of red zone efforts, converted a penalty, 15 – 3. Ravens came back on attack but the defense stiffened, won the ball and drove play back downfield towards the Ravens' end. A line out attack by CW from close to the Ravens' line, resulted in a try for the visitors whose work rate had increased in an effort to claw back into the game. With a 15 – 11 difference at the half, the chances looked much better.
Unfortunately, the Ravens opened scoring early after the interval and to boot, CW took a yellow card and the 22 – 11 offered a huge challenge. To their credit, the boys marshalled several good phases and a couple of nice tries. One by Clayton "Burger" Thornber using his size and pace in contact and the other by young winger, Anton Ngongo who makes improvements every game with his hard work. Ravens added another for the final score, 30 – 21. Must mention, Jack Sponarski who was impressive with his scrummaging and general play – one to watch.
On the ferry ride home, Captain Riley Ilnicki noted; "Seems we had ferry legs but once we got going we put together a very good 60 minutes…but that is just clearly not enough to match up and defeat the good teams we are facing. There was much improvement on offence from last week. Players like Burger, Anton Ngongo and Regan Crosland were backing themselves more and with good results. The first fifteen minutes really hurt us and so we spent the rest of the match climbing out of the pit! Credit to the guys for not quitting and for sticking together throughout."
Saturday, it is away to the UVic. Both games at Wallace; 1:00 p.m. and 2:45 k.o.'s.
---