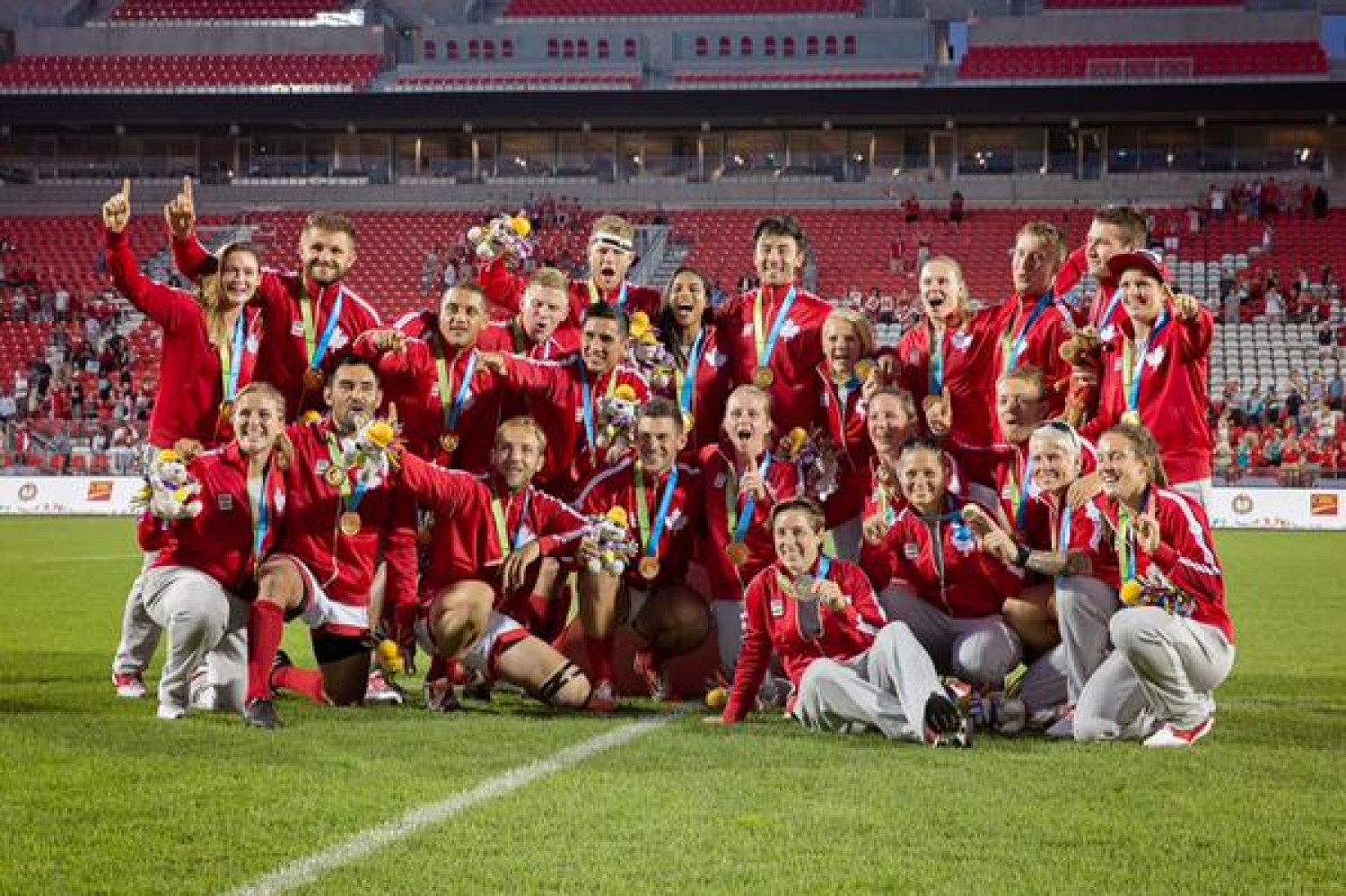 Medal Mania at Pan Am's.
Canada's Women's Sevens second home-soil appearance for this season, was pure gold as they routed the U.S., 55 – 7 to win the first-ever Women's Pan Am title. The side surrendered only a mere nineteen points over six games in the competition. One simply cannot find enough superlatives for the team's performance, as they led 27 – 7 at the interval in the final and from the second stanza opening which was superbly fielded by Kish and three passes later, Harvey jinked past two defenders, turned on her sheer pace, the rout was on. Just a bunch of bouquets to all of the players and staff. I guess Landry's exclamation point of her gathering from her kick and chase to bring up the half century said it all. The skill level demonstrated was simply breath-taking. This performance could well have netted an Olympic gold but much water to pass under the bridge – savor the moment and well done, you made every Canadian fan very proud today!
Not to be outdone, long story for the day, short, Canada Men defended their title from Mexico, this time round, defeating Los Pumas by three points in the final, 22 – 19. Like their female counterparts – it was a monumental effort. The men's day #2 started with a precarious "over-time" win against lowly Chile, 17 -12, who really played the role of giant-killer, later in the day defeating Rio hosts, Brazil. The men next faced nemesis, U.S.A. This game was amazing in so many ways. In fact, with time running out and a needless yellow card taken, it looked like it was "all over" but the unforgiveable brain eruction went a long way towards forgiveness when the culprit, Cejvanovic, scored under the sticks with time almost off the clock, to put the hosts back in front. The match ebbed and flowed with Canada having an amazing start but no real benefits accrued as the team tried a little too much, knowing that set play mastery might be tough. Carlin Isles whose speed has no substitute, kept it close at the half, with the hosts up 12 – 5. The Eagles then soared ahead to a 19 – 12 lead and looked good but Nate spotted a gap blind-side and hot-footed it, not to be reined in on this occasion and the sides drew even. The final, winning try was nothing short of miraculous but deserving. And so, the Final, a repeat of four years ago.
This was a Herculean effort, led primarily by Trainor (2 tries), Mack, Nate, Mooner and Jones' mammoth try to break through what looked like a match-winning tackle, was a moment this man will take to his grave! It was all very gob-smacking and like the gals, one cannot really select heroes. Mack's return, fully fit and loaded for bear was very noticeable. This Mighty Mouse offers heaps more than his listed 165 lb. Every team member had his moment on day #2. If I was to choose one and no doubt his team mates would probably concur, it has to be John Moonlight, whose poise under pressure, leadership, consummate skills, strength, speed and fitness surely ranks him in the top five of International Sevens players. Thanks to all you guys, what a day of rugby.
Kleeberger Hangs Up the Cleats

It is with respect we report the announcement of Adam Kleeberger's retirement. Adam represented Canada at RWC's – 2007, 2011 and more recently, captained the B.C. Bears in the CRC Tournament this season. Unfortunately, after a long-serving career to B.C. clubs, the Province and Canada, Adam has had to call it a day. Adam's rugby career really blossomed at UVic and with his play at the 2011 RWC however it was at this tournament where he suffered serious shoulder injury that required surgery. Despite vigorous and diligent repatriation, injuries seem to have plagued him from returning to his previous form and a personal desire for a third RWC appearance must be deemed by him to be falling short. CW was fortunate to have Adam don the Tricolors after a wonderful career at UVic and his play has always been scintillating. We congratulate him on his rugby career and wish him well for his future. 'onya, Kleebs.


INTERNATIONAL RUGBY

There will be CW action this coming Thursday @ Windsor, kickoff, 6:30 p.m. CW U18 Boys will be playing a visiting Wallington Grammar School from England. Wallington will be playing a B.C. Under 18 team on Tuesday. Wallington Grammar has been in existence since 1927 when it opened with just 71 students. CW welcomes our guests and look and forward to a return encounter when our U18's tour the U.K. in September. It is always good to test ourselves against a quality International benchmark. Good luck to both sides. Our boys and parents will host Wallington at The Temple @ 8:00 p.m. for post-game food and socializing. The photo below, to make us all envious, is the school's "rugger pitch"!


---