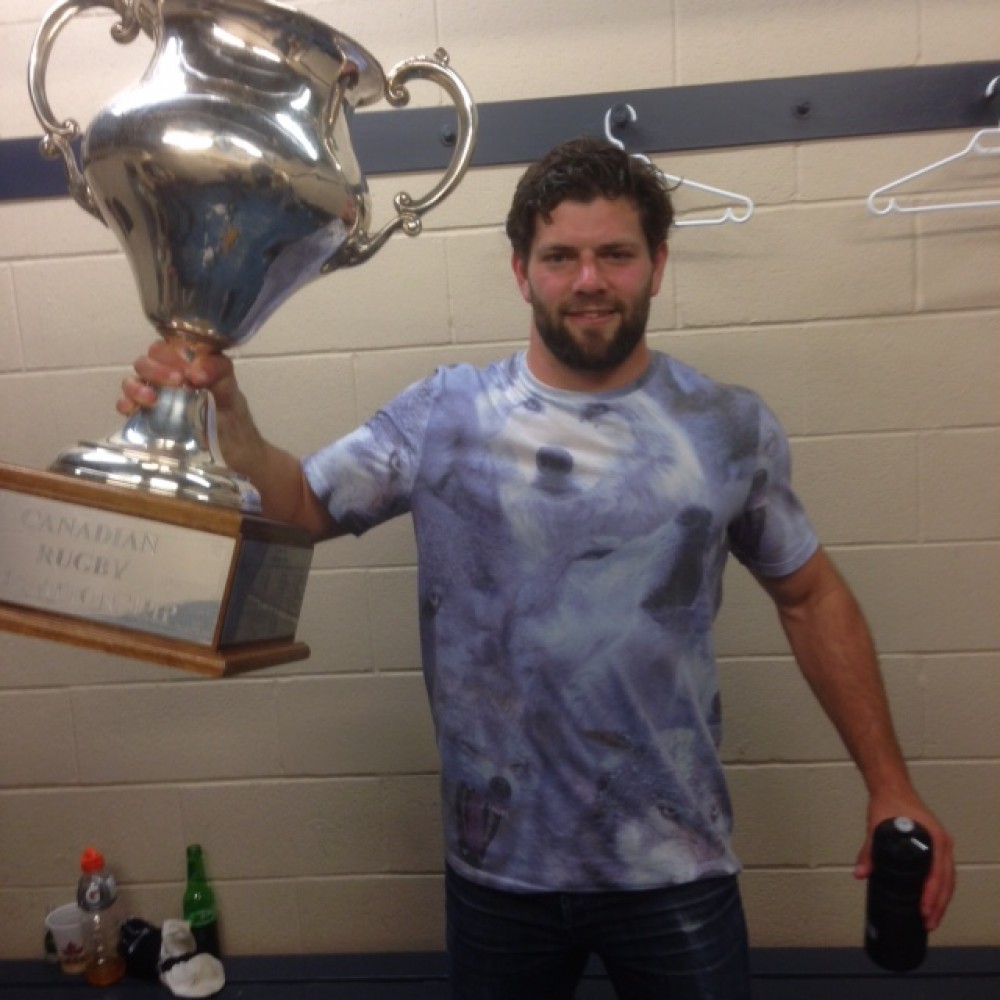 CRC's MAC TIER CUP CHAMPS
Prairie Fire and CW's, Adam Bontus Hoists the Trophy High
Despite it being "old news" we will offer our two bits on the recent CRC Championship. Congratulations to the Prairie Fire who knocked off four time winners of the MacTier Cup, Ontario Blues, 33 – 25. Under the conditions (heat and a severe one-sided wind), it was not a bad contest. There was plenty of niggle with Buydens, Tiedemann, Olmstead and Gilmour up against Barkwill, Woolridge, Carpenter and Pearson and often this got in the way of the rugby! Congrats to Coach Moffatt and his Fire, full value for the win. B.C. eked out a one point victory over The Rock for third place in a contest that offered very little.
For this viewer of the down-streamed contests, I thought, for the winners; Captain Gilmour, McRorie, Buydens, and Dala had their reputations untarnished and Mozac Samson staked a solid claim for National team honors. For the Blues; Barkwill, Carpenter and the brothers MacKenzie were the picks. As for the rest Chauncey O'Toole, particularly when he kept his nose clean, showed his value and although there were other "big names" on show, they really didn't do it for this watcher. We will eagerly look forward to just who is invited to Team Canada training camp.
FOOTNOTE: Pointed out to us by reader, Mike Nolan, that the team is the Prairie Wolf Pack. Well they certainly did have fire in their bellies over the two games! 'onya, Howlers and thanks, Mike.
Canada Women in Super Series.
Despite losing all three matches to finish at the tail end of the four team tournament, there was much to take away from the contests for the Canadian Women and their final match, which they dropped 14 – 15 to England was rather unlucky. They scored the highest number of points against the Black Ferns, winners of the tourney and also kept the differential against them to the closest of the three teams. It was an opportunity to "microscope" new blood at home, thus at minimal costs to the program. This crew of "understudies and marginals" has a competent coaching cadre, so it could be assessed that there was great value in the exercise.
Canada NSMT Sevens for Pan Am Games.
Phil Mack and Matt Mullins have been joined Moonlight's Men at the expense of Pat Parfrey and Pat Kay for the July 11/12 Games. The defending champs will face Argentina and Brazil in their pool, teams that have already qualified for Rio. CW wishes the team well. Go, Canada.
B.C. PRC's U17/18 Men; U18 Women.
Congratulations to the S.I. Tide Men's U17 team who knocked off North Island to win the U17 Division over the weekend. This is a CW-laden group and we will follow the rugby future of these boys with great interest.
---