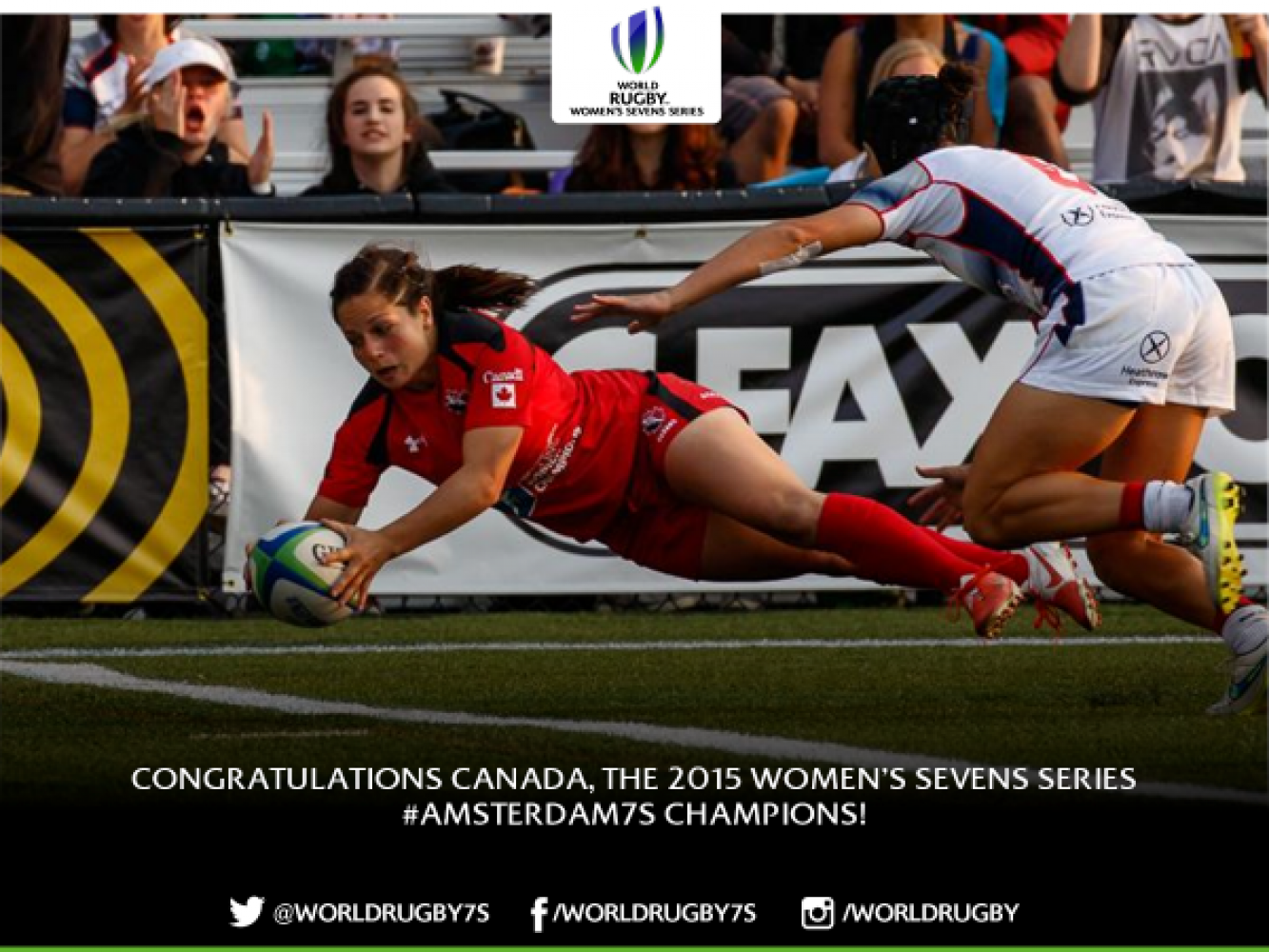 Can't get enough!
The euphoria continues…. heady stuff for Canadian women with Paquin and Landry being voted on the Dream Team from Amsterdam. The Women's Series season All Star Team has Paquin and Steacy on it as well. Congratulations to these three ladies, specifically and their team mates, generally, to celebrate these announcements.
If you missed the final, take time to view it here, as it is rugby worth watching.
Canadian Men's U20 team lost rather one-sidedly to Georgia in yesterday's final. We start with a congratulations on the achievement in getting to the final but in this pundit's opinion, the final was very much in Georgia's favor. The crowd was extremely vocal for the Lelos, their boys were big, fast and surprisingly, very skilled. Canada's opening saw poor lineout work, poor tackling and poor decision making and as the big Georgian pack realised what control they had, the tries started coming. Canada was deprived of possession, pressured when they did have the ball and forced into errors. Georgia was penalised at least three times on the Canadian line, although under resolute defense, this positional advantage could easily have been further tallies. Rumble scored against the grain at the half for Canada's opening points and a 7 – 24 deficit.
The second half did see a little more possession and somewhat better usage of ball, particularly from the outside backs but whenever some heat was applied, Georgia was able to answer, running away with a 46 – 24 final score. An example of Canadian brain eruction was when a penalty was tapped and run for a couple of phases, only for the ball being "grubbered" to touch, somewhat contra to the attacking thinking of the original decision and this all at about the half-way area. Oh, well, it was not a lost cause and a vast improvement on some previous outings at this age grade level and now this group (including the coaching/management team), knows what is required to win promotion to the main core, I would think better play will be forthcoming.
Hats off ……………. To Jason Marshall and Tyler Paris, playing with Agen in the ProD2 Final. Agen finished fourth in the comp but went on to win the playoff final over Stade Montoir, with Paris being the lone try-scorer, finishing a very good season for him personally and promotion for the team to Top 14 competition next season.
Also to …………. GNS, SMUS and Oak Bay Barbs from Victoria who won first round games to move on to the Elite Eight in B.C. Boy's H.S. Finals. These school teams, stocked with plenty of Ceedub kids will now test themselves against mainland counterparts – good luck, all. Go, the Island!
---