Monday's Musings - Rugby Returns
---
---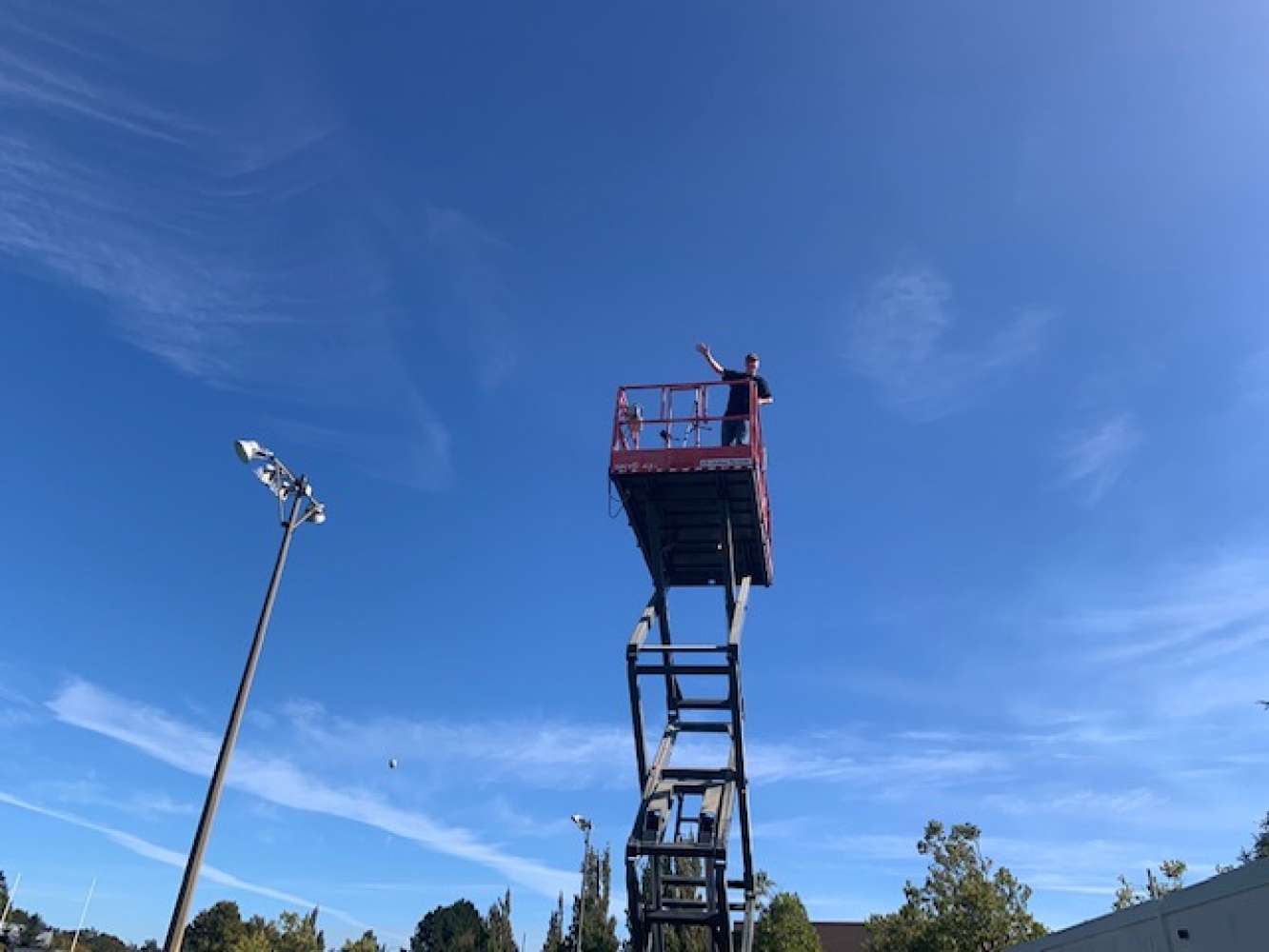 From the "eye in the sky", CW's Klash videos proceedings at Wallace Field after commandeering U.Vic's 'Cherry Picker'.
Three matches were on display under sunny skies and a large crowd of rugby-deprived, rabid fans assembled. Klash, obviously not acrophobic, taped the main matches and we may be able to get a link for our readers. This writer missed the curtain-raiser when the Jr Tide (U20), came away with a 19 -17 win over UVic Jutes.
The second contest was a spirited workout 'exhibition' between CW First Division and the UVic Norsemen. Several newbies were on display for The Tricolors and a host of Norsemen filed in and out of the contest. UVic ruggers teemed around Wallace Field, an abundance of potential for Coach Manning. CW's Coach Goodland was excited by the performances of his charges. There was a triad of new hookers competing for spots – Peters, Clarke and Towers, all showing good form – Towers and Peters being crossovers from football where they served as running backs and they joined returnee from the Navy, Irvine, in the FRF. Dan Griffiths, formerly from BLRFC now with CW in his second season was arguably, MVP for the visitors, with Dring, Smith and Winsor also catching the eye. Zach Pilgrim deputised for Schelly at #9 and was not out of place. In all, heaps to look forward to – well done, all.
Credit - Allistair Howes
KLASH VIDEO of the CONTEST
The Main Game of the afternoon was the opener of the Coastal Cup between the Crimson Tide and the Vikes. The Vikes were well prepared despite the Tide coming hard and opening a lead of 14 – 5. This score line stayed until the half. UVic opened the second stanza with zest, led by a rampaging, Nick Carson. UVic was first to score however the Tide responded almost immediately and 21 – 12 looked safe enough. Credit to the Vikes as they owned territorial advantage and added a penalty to get within striking distance and about fifteen minutes remaining. Attacks ebbed and flowed with a UVic advantage. Numerous substitutions for the Tide seemed to disrupt their earlier continuity and the Vikes found a hole and defensive lapse to go ahead, 22 - 21, with precious little time remaining. Due credit, the Tide pushed and were rewarded as the ball stayed alive after the full-time limit. Crosby Stewart, subbing on the wing, was at the end of 4/5 pairs of hands and an overlap. With a 'Mack-like' squirt and little space in his favour, he was over the line, 26 – 22. Arguably, a bit of a travesty for the hosts who "owned" the last quarter. It was a game of two halves with the Tide holding the lead for most of the match.
This pundit liked CW's, Bowd at #10 and gives him M-o-M. He was very noticeable with some particularly vigorous counter rucking energy along with deft hand-offs. Westshore's Melnyk, typically, got through a ton of work, also his loosie mate, Ollie Nott, rumoured headed CW's way, displayed a high work rate. Albertan, Waugh, rumoured to be headed to JBAA, at #9 was enterprising and newcomer, Steeves, from Manitoba at loose head showed great promise and pace for a prop, reminiscent of Burger Thornber. Steeves has been training with CW however it is rumoured he is Pride bound. It was also pleasing to see the 'return' of Conor Turner, a Tricolour prospect from three seasons back. For the Vikes whose roster had some 30% of past CW Junior or Senior members, a cadre led by Carson, Carter White, Henry Down, Benny Newhook, Captain Jonas Robinson and Ethan Hager, all played well. It was very entertaining stuff for the assembled throng and hats off to the M-i-M, Ryan Alguire who handled the sometimes-bristling affair with aplomb. He kept it as a player's game and with correct decision-making and gentlemanly presence ensured an early season, enjoyable spectacle for the fans with rugby being the winner.
In Cup action elsewhere the Pride, again with a solid CW "representation", outlasted Vancouver East selection, basically a pseudonym for the Burnaby Lake RFC by a score of five tries to four, 36 – 24. Finally, UBC was held to 34 points by Trinity Western Uni, whilst TW added two tries of their own, 34 – 14, a good outing for the newcomers who CW wishes the best of luck as their inclusion is another measure in the growth of the game. This pundit has always espoused if University rugby is healthy, BC rugby is healthy!
Over the border in Edmonton, both Canadian Men's and Women's teams 7's showed better competitiveness than last weekend. The Women went through their Pool games undefeated, only to lose to the U.S. in the playoff.
The men had a good weekend finishing in fourth place overall. Former CW-er, Anton 'The Magician' Ngongo had his coming out party against Mexico and unfortunately, received an injury that ended his weekend. Other highlights saw MVP performances from Captain Thiel, Prevost and 'Mercury' Morra, Jo-Jo's defence being "special". Unfortunately, injuries and seemingly, tiredness, lost the day in the Bronze Medal match against Kenya. I give a shout-out to Andrew Coe and Ciaran Breen also, for quality weekends. The team showed better patience, more grit and generally, better defence this weekend. It seemed that injury denied Berna and Carson from significant contribution. The future of this group looks rosy indeed. Well done, all of youse!
FOOTNOTE: 'onyas Germany and Coach McGrath who knocked off the U.S. for sixth place, 24 -19 in "Golden Point" time. This watered-down version of the Sevens Circus is providing some marvellous opportunities for many unknowns and ensuring the future attraction of the game, arguably a safer and more athletic version of the game of rugby.
EARLY DAYS BUT, CW Men will be back in action next Saturday for another "exhibition" VS Westshore RFC pre-International, Canada Vs Chile with the ultimate winner earning a RWC spot.
---