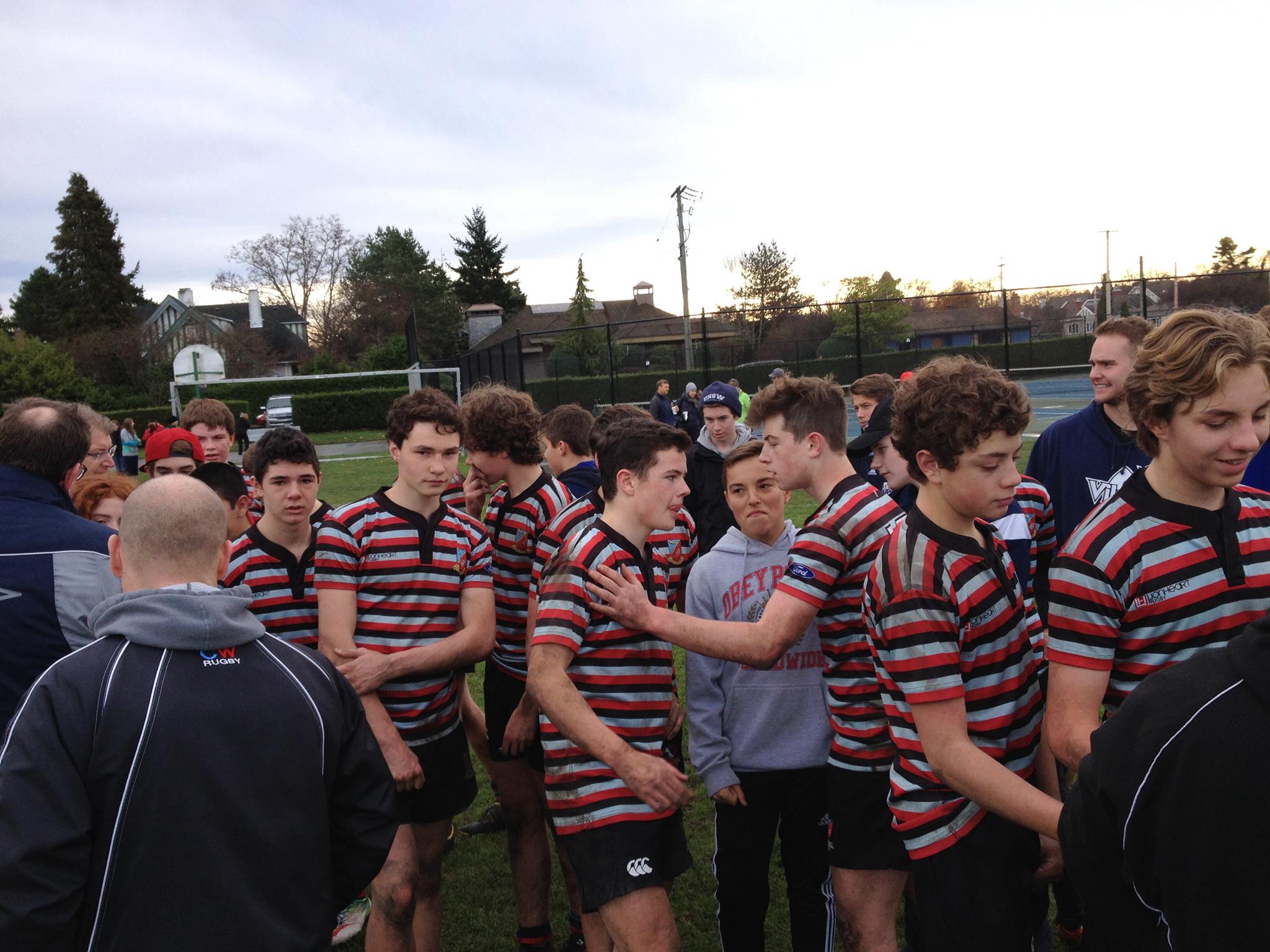 Tip o' the Tricolor Cap
TO VELOX U16 BOYS, ISLAND CHAMPS.
This was a tale of two halves yesterday at Windsor. Velox came out very committed and were worthy leaders, 21 – 0 at the half, only allowing the hosts out of their own territory on three occasions! Done and dusted? Far from it. The last time these teams played, CW nudged the VV 28 – 20 and The Tricolors came out firing on all pistons after the spell. Most of these lads have been playing against each other for some 6 – 7 years as they have wended their way through minis to age grade, so the competition is healthy! It was almost the exact reversal of the first half, although with CW on the attack, Velox won a counter-ruck, mid-half, catching CW unaware and pushed the play the length of the field for the final runner to outpace the cover and score out wide. This made the score 24 – 10 and although CW mustered another tally, the laurels went to the Velox in a very interesting, well played and well officiated match. A good win (25 – 15) and a good exhibition for junior rugby. Congratulations to Velox, our boys, their coaches, Luke, Doug, Giles and Chris and manager, Allison. Thanks to all the parents for your support throughout the season.
TO ABBOTSFORD U18 GIRLS – B.C. CHAMPS.
We have no story but CW/VV girls travelled to Capilanos on Sunday to play in the provincial final against a very strong Abbotsford team. A tip of the Tricolor cap to Abby on a solid 73 – 0 victory. A great season for this team, methinks undefeated?? However, for our first season, a good outcome for the CW/VV Mix. I am sure this will not be the last heard of our girl's teams. 'onyas, all!
TO PORT ALBERNI BLACK SHEEP.
This Island club is a great example of what can be done with hard work to develop a rugby program. The boys from Port nudged JBAA on the weekend and with only one loss to date, look the goods to take the Island title, with the likelihood of going up against Seattle in the B.C. First Div. Semi. Jas, you must still be stoked! CW always enjoys our trips to the Port, once we manage to muster the troops, as their field and clubhouse represent all that is magic about rugby.
OTHER NEWS - MENS SEVENS
Bad news to report. Phil Mack has re-injured his knee and has returned home. Ciaran Hearn has been flown out to Port Elizabeth to replace Phil. This is such bad luck and for anyone who has the slightest knowledge of anatomy, this will be nothing short of a miracle if a comeback can be conjured somehow. Mack is foremost amongst his international peers in this game and a critical cog in the Canadian wheel. The very best salve for Philly right now would be for his mates to play out of body and earn big points in South Africa. Our commiserations, Phil and go, boys!
KEITH MORRISON.
A gathering to commemorate and celebrate Keith's life and contributions will take place this coming Saturday at the Sticky Wicket Pub. It will be an opportunity for rugby types of all interests to gather. The event starts at 1:00.
---