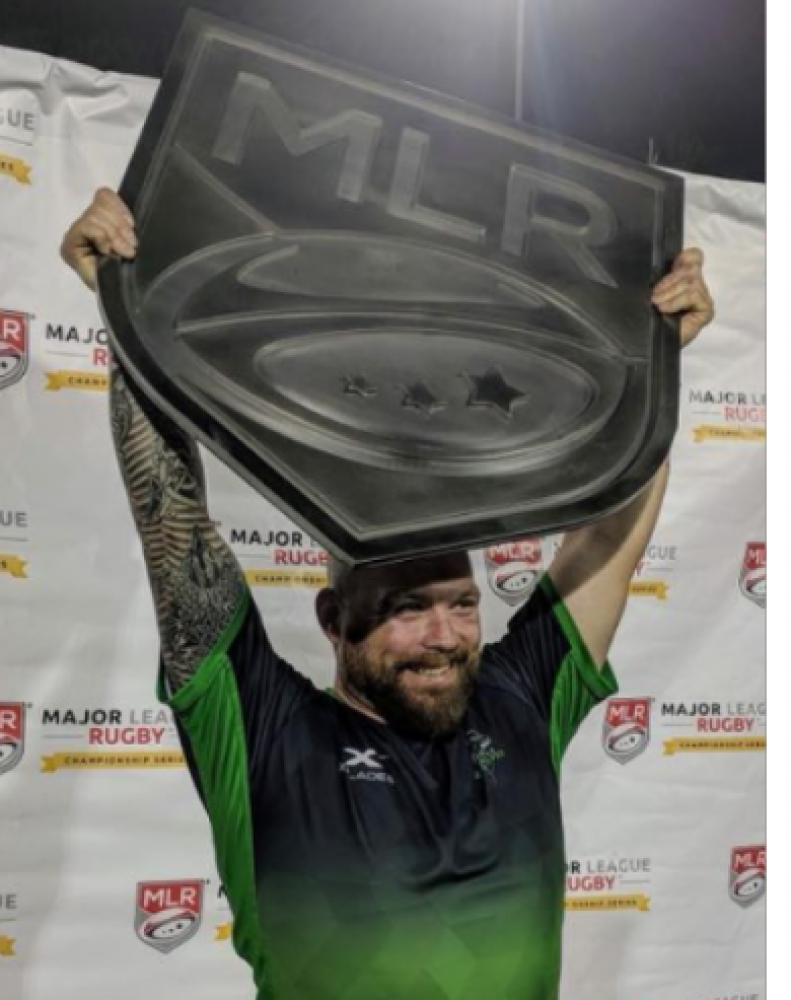 "CW's" Ray Barkwill Jubilantly Hoists the Spoils!
VIRU CRIMSON TIDE Vs SEATTLE SEAWOLVES

Seattle Seawolves will take on Vancouver Island's Crimson Tide tomorrow afternoon, 4:00 p.m. kickoff at Westhills Stadium. The Tide, an amalgam of Island Premier teams has not been assembled for some time and it is great to see players from all five of the Premier clubs in the selection. At time of this upload, it is a squad that has been named for the locals rather than starters. CW as top of the heap Premiers at 7 – 0 at this mid-point, is well represented with John Braddock (prop), Clayton Thornber (hooker), Mike Finnemore (lock), Nathan Stewart and Kelton Dawe (loose forwards). In the backs we have Cam Hall and Brandon Schellenberger in the mix. CW's Doug Fraser has recently signed a pro contract with the Austin Elite team, based in Texas and along with the signing of James Bay's, Noah Barker, will create some unexpected voids in the Tide lineup. We wish both players well as they embark on an exciting new phase in their rugby lives. For the Visitors, inaugural winners of the first MLR Championship, we expect to see assistant coach, Phil Mack in uniform along with other B.C. boys, CW's Cam Polson, Westshore's Nakai Penny, Brock Staller and Cowichan's George Barton. Ray Barkwill will be missing from the Wolves lineup as his "papers" are still being worked out. As a matter of interest, we were able to catch up with Ray this past week and have a chat about the overall picture of professional rugby in North America. Stay posted for an upcoming interview.
The Seawolves will be running a FREE Clinic for youth (10 – 15) on Saturday morning, 10:00a.m. – 11:00a.m. at Juan de Fuca Arena. There is NO registration, just show up and be prepared for FUN. Learn from the Major League Rugby Champs!
To wind up today, we include a hilarious article from American comedian, Josh Pray after his first ever game of rugby. Actor and YouTube sensation Josh Pray, from Naples in Florida, posted a video about his first rugby game on Wednesday - and it has since been viewed over 20,000 times. In the video, titled Rugby Football Players are secretly Spartan, Pray shares his chance encounter with a group of Australians playing rugby in a Naples Park.

I said, "I'm an American, I can play football. How hard can rugby possibly be? It's just football," Pray says, before listing what he calls proof that rugby is "the toughest sport on earth". These include "some of the fastest white boys in the world play rugby football", needing "shoulders like a well-built highway. This was Forrest-Gump-running-from-the-kids-throwing-rocks fast," Pray says of the speed of the players, before adding that scrummaging or, as refers to it "locking together and pushing back and forth" nearly caused him serious injury. "I realised my neck was bending in a way it had never bent before. Your spine, your shoulders, your collarbone, your vertebrae ain't built for this kind of intensity." Pray was also surprised by the size of a rugby ball. "This ball is like holding a VCR. These strong Australian, New Zealand, English type dudes be tossing it like it's a … it ain't that easy."
LAST CALL FOR STOCKING STUFFERS
---