March Madness Visits Windsor
---
---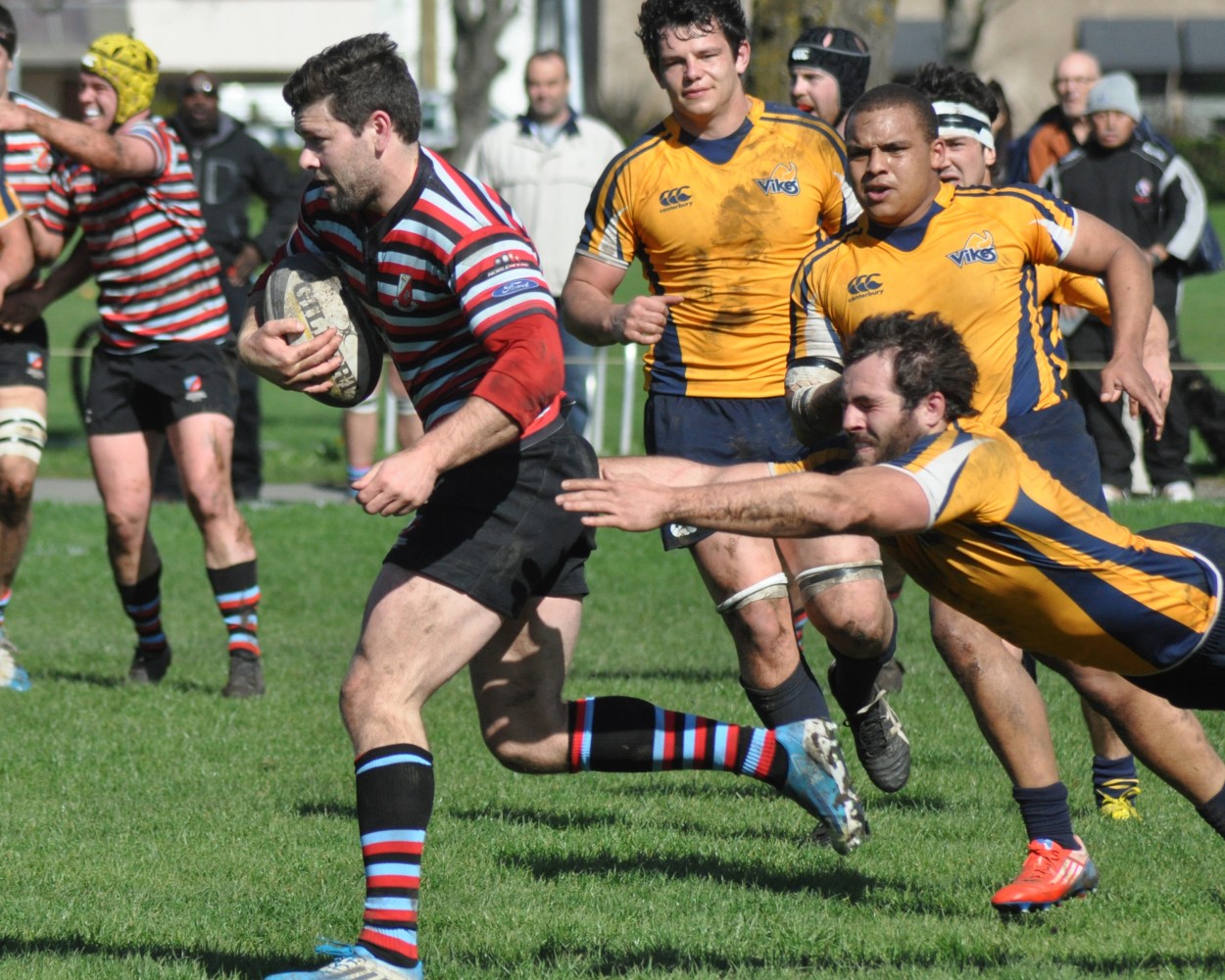 Perhaps the reader may need to be a little forgiving this week for anything deemed as "overly superlative" but the effort tugged at the strings of this old timer's heart – the very essence of the game which unfolded on Saturday. In a season that might be summed up as "tough" with yet another setback when the club could not field a First Div team, the effort from the players who were on the field in a #1 Vs #8 matchup was nothing less than superb. Even prior to kickoff there were two changes to the announced CW lineup and a morning, "light run" was organised to cobble the crew.
The early minutes saw play ebb and flo, within the ten meters either side of the half-way. CW then hoisted a high ball, perhaps with not much tactical thought but the bounce eluded the chaser and fell into the hands of Fergus Hall who broke out to pose the first threat to the defense. One should have gotten a sense of the resolve that the Tricolor would pose to the students on this day with the competency of the ensuing tackle. CW missed an early penalty shot but got on the board first when Turner dotted down in the corner and Welshy hit a nigh on impossible, sideline conversion. This score stood til the thirtieth minute when the hosts finished a quality driving maul of some 20 meters with Mighty Mite – Oliver, breaking and feeding Panga who reversed inside, for a great line from Bontus to cross near the sticks. 14 – 0.
The UVic response was immediate and with pace when they retained a couple of picks and yet another thrust from Hall threatened. Being caught, he found Pitblado inside for an alert try from the half back. CW suffered yet another setback when Thornber who had been very visible, went off under a concussion protocol. Oliver put his hand up for hooker. Next blood went to UVic when CW was penalised fifty meters out, Pitblado took a quick tap, fed his out half and Llewelyn chucked a huge dummy…perhaps in the mould of Phil Bennett, and crossed un-handed, under the posts to tie the match at fourteen, with little time on the clock. From a UVic offside, touch was found and a driving 15 meter lineout, ended with Oliver weaseling at the back and diving over for his third such tally in as many weeks – you beauty! 19 – 14 at the half. The fire in the bellies of McLean, Hohort, Allen and the inspirational non-stop effort of Riley Ilnicki had been extremely heartening. It had not really been an affair of any great grace as it had been punctuated with a myriad of whistles, both sides seeking to pinch any advantage.
The Vikes are not top o' the heap by chance and they commenced the second stanza with urgency, and within five minutes had the score knotted at nineteen after an exceptionally powerful ramble from Cavers. CW stiffened their defence, boot-lace tackles being the highlight along with commitment. CW's Turner with a kick and chase caught the defense back but somehow the students escaped. CW tight forwards were torrid in the loose and the tackling was upsetting the operation of the Viking machine. Then there was an incredible period of CW possession, lost count at fifteen retentions, inch by inch before a quick ball from Teagon Horton (having replaced Macpherson at the half), saw Panga dot down. Speaking of down – a real 'Debbie Downer' when the easy convert was missed.
CW was then truly put to the sword and Thomas who already was a sub, came off, replaced by Carroll who was good value, Morris replaced Mitchell and at one stage, hanging by a thread, with three Tricolors on the deck, the Vikes obligingly knocked on. As they saw gaps, the students created a clever overlap for winger, Stewart to score in the corner – unconverted, tying it at 24. On this day, the hosts were not to be denied nor would capitulate be part of their vocabulary and overheard on the sideline from a UVic player, as the CW pack ground away yet again; "What are we doing?" With ten on the clock, CW gathered possession and held on for long periods ever so slowly making headway, earning a tough penalty chance which marginally fell short and even though the ball was spilled on two occasions, somehow they managed to win scrums and get going again. Fans were at fever pitch as the pack ground to within two meters of the win after some twelve or more pick and drives. So, so unfortunately, a pass went back to the backs and UVic were up quickly enough to ease the pressure and potential loss! With this comment, thus endeth the lesson!
Starting with the Vikes. Perhaps their mind set was such that this was probably over before it began and probably, on paper, it should have been but today we witnessed one of the reasons we love this game. Saturday's Heroes were on duty and to a man they fronted for CW to bear witness to the premise "that on any given day…." Must admit this Viking crew are electric when they handle the ball. Many times they were within fingertips of getting loose with adept passing and fleetness of foot. Mac Bos toiled tirelessly and he always seems to get a little extra out of the tank when he plays his old club. Lease stood out and Cavers and Reed were always in the thick of it. Pitbaldo is getting some ink in the league and one puts him in a minor Morgan Williams mould – cheeky, nippy and alert. Dougie Fraser in the centers was non-stop and almost physically, was seen to lift his mates. Erlic is a smooth player and Fergus Hall at #15 has speed which kind of lulls a defender. The Vikes would not have been happy with the result but given territorial advantage to Ceedub and the very dangerous way they finished which could arguably have been a W, perhaps they were lucky with the draw.
For CW, the accolades have already been given generally and should be celebrated by all. Some individual efforts were memorable. Jason Allen played himself into the ground and was the real pillar in the FRF, against experienced, big and physical opposition. The locks, McLean and Hohort were giants, Oliver, Kelliher and Ilnicki were hounds. It was good to have Panga back and he did many good things, his backline team mates all had their moment, never shirking from any work and their defense was first class, a real tackling workshop. The task of selecting a MoM was impossible. This leaves two to go, UBC, April 11th & Burnaby an old nemesis, visit on April 14th. Perhaps with a reinforcement or two Ceedub could play some real havoc to finish off the campaign? It was good to see the crowd swell as the game unfolded and I would suggest the value was good. Well done boys and thanks to the officiating trio of Jones, Smithy and Dave Valentine (Vals lost his dad yesterday, our condolences to you David).
Footnote: The Seattle Situation. Appears to be farcical as B.C. teams currently seem to want no part of it. I read where Rowers ended up in the Emerald City with nine players yesterday for their "exhibition," what a slight! Heard at The Park, James Bay has cancelled their Prems encounter at The Mac next Saturday. Why would James Bay, having a tough go of it as well this year, losing yesterday to Ravens, endanger their players to injury with playoffs round the corner? I wonder just what the B.C. "obligations" we owe Seattle are. Neither the Mainland Okanagan Springs League teams nor the Island counterparts seem to be keen to play Seattle. It is seemingly unclear as to how and against whom Seattle will play in the Springs Brewery Div.1 playoffs. At least this appears to be the case.
In conclusion, the BCRU has issues. The University clubs have a decided recruiting advantage; club growth and sustenance is a HUGE issue; clubs are at a wide variance as to what is best going forward with this Seattle issue and the island/mainland parochialism is far from settled/understood. (Pov's of the writer.) We still have this great game of rugby that ties us together, so hopefully the politics can be sorted for the better of all, sooner rather than later.
---