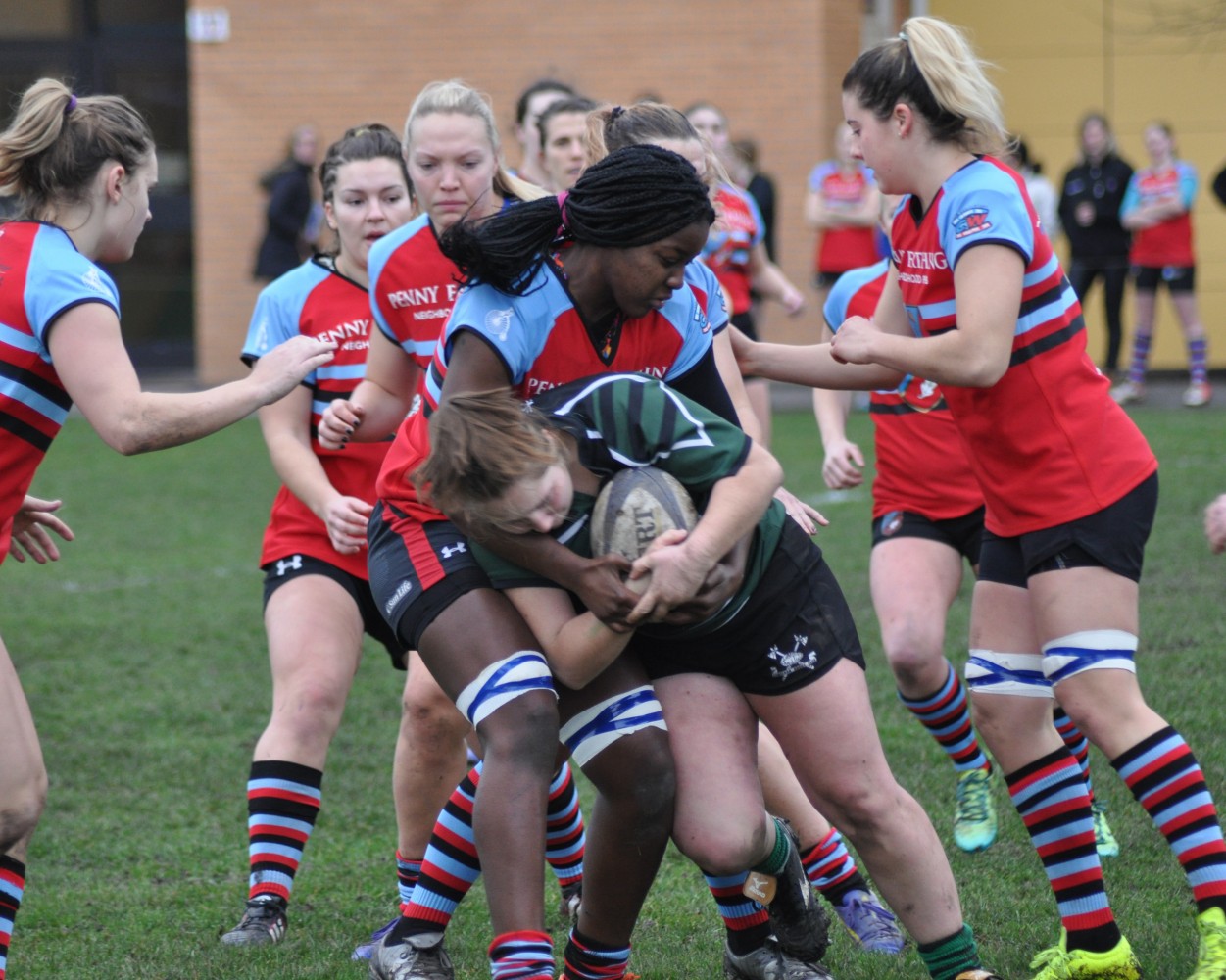 Confronted by a Sea of Red! The CW commitment to the tackle was meritorious.
A match that offered much going in, exposed some real differences on the day and by the time the mud had settled the hosts had convincingly showed their class, exposing some glaring differences between the sides. Cowichan opened with good pressure and continuous phases however numerous thrusts saw them contained by the hosts within their own half or at best, not within forty meters of CW's line. Strong showings were made by their #7, 8 and other, one and two-off runners who had power but the defenders were up to the challenge and eventually, about twenty minutes in, created a turnover to take their own turn on attack. Trafford down the right flank, initiated a thrust and 2/3 recycles later the ball was spun wide and Watters "filled" from #15 to cross for first blood at the 25 minute mark.
CW then appeared to sense the need to further test the defence and from the kickoff, McNally offered a 25 meter burst but the defence not only held, they regained possession, retaining some momentary flow. This was short-lived and turnover ball was moved swiftly to create an overlap for Senft who went 40 m for a 10-0 lead. Her burst of speed was scary quick. As time ticked to the interval, CW won a tight-head scrum and attacked from 45m. Trafford was halted and quick ball was reversed to #4, Shaw, for a text book tally and 17 – 0 lead. Unfortunately, for the visitors, they were unable to hold this differential. A solid CW tackle saw loose ball get into Zussman's hands – dummy, shimmy, gap – 40m run under the posts and 24 – 0 lead at the interval. CW had made a statement once the flood gates had been pried open.
The second stanza opened with a Sargent break and fun 'back & forth' with Shaw, only for the ball to go to ground. The pedal was kept depressed and it was only five minutes in when Senft picked up from her #8 spot and with 40m of ground between her and pay dirt, a dummy, a 'don't argue' and afterburners for her brace, 31 – 0. Next was Watters from another tight-head and 40m clean heels for her brace. The next attack started in their own half and The Tricolors used quick hands to Galbraith who made a useful break, fed Watters inside for yet another 45m sprint and her hat-trick and 43 – 0 lead.
To their credit, Cowichan came back hard, asking questions of the defence, a liberally substituted group. Inclement weather and a muddy surface slowed the pace and they were to be rewarded after CW's continuous infractions earned them field position – well deserved for their persistence. After numerous phases and retention, their hard-running #7 crossed for a well-earned try. Cowichan came yet again after the kickoff but the energy expended throughout, left them short of another crossing. Some game! CW left no doubt as to who was boss between these two. Having said this, it was amazing that Cowichan did not chuck the towel.
Players of the Match for this pundit – Cowichan #7 and CW's, Gabby Senft. Thanks and shout to ref, Ashley Anderson for consistency and facilitation and to both teams who provided a spectacle of positive rugby. Final shout out to Paul Shepherd for lining the field – week in and week out. 'Onya, Shep! Next up, road test at Burnaby Lake, seeking to avenge and earlier heavy loss.
---