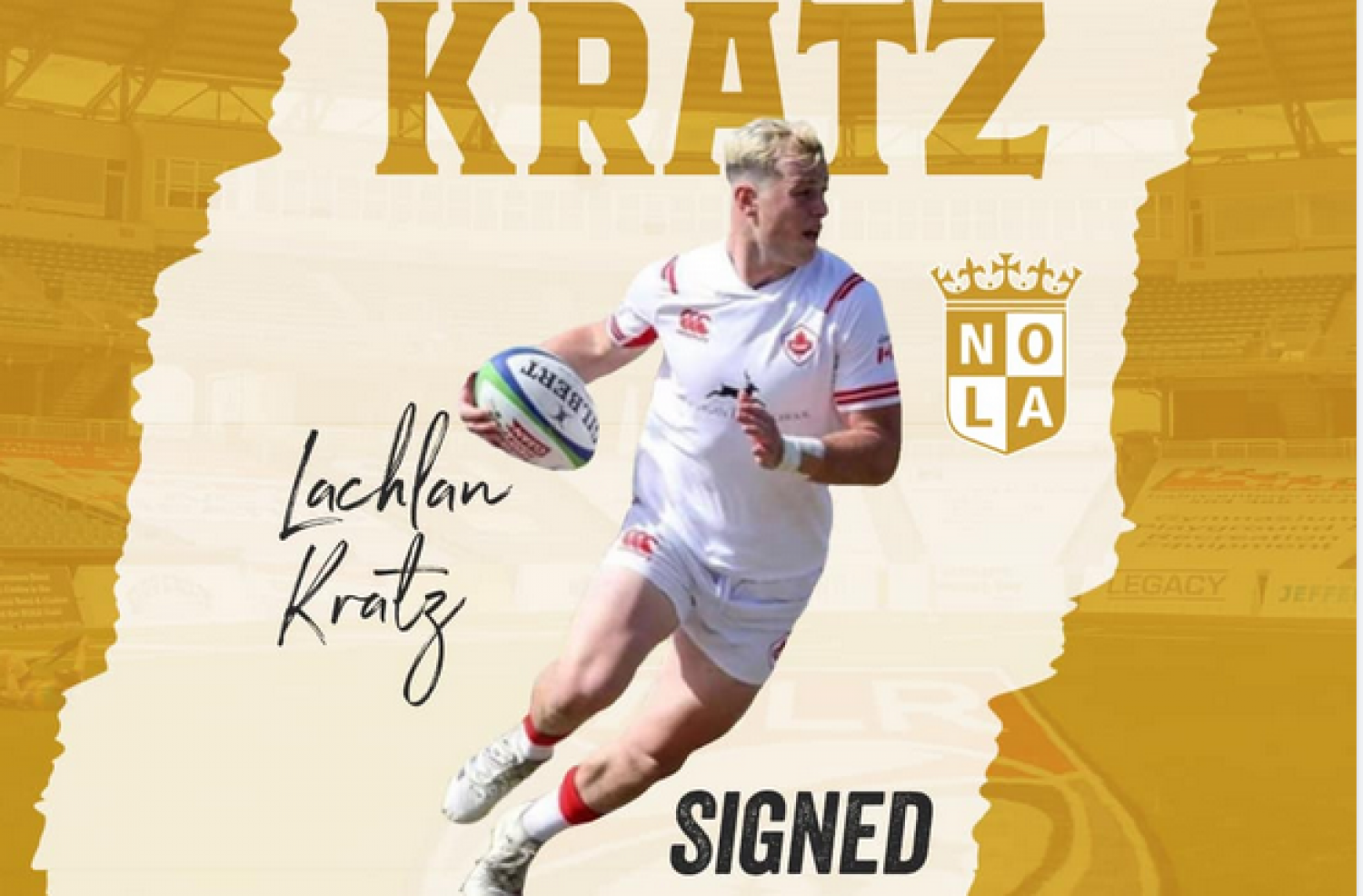 Further to last Wednesday's post about CW players in the MLR, comes the news that Lockie Kratz has signed with Nola Gold. Lachlan's body of work includes many honours packed into his rugby achievements to date in his young rugby career. CW has a unique tie of sorts with Nola. Our "own", Hubert ('Moose'/ Beardo) Buydens was a selection to their club in their early days when they entered the Pro League in 2018. Currently, one of their co-captains is Kyle Bailie, most recently of Westshore however, Kyle goes back with CW to his two seasons in 2010 and 2011. Canadian Eric Howard is also with this club so Lockie will have some ties with the "known" and Baillie will be a good mentor.













"Moose" doing his thing. Baillie - in support.
From the Gold GM, Ryan Fitzgerald; "Lachlan Kratz has signed with the GOLD for the season.
Turning just 21 years old last week, Lockie becomes our youngest player on our Active Roster. In his short time so far with us, his skills, work rate and willingness to learn has been very impressive. Lockie has a really big future ahead of him!"
As mentioned, Lockie has quite the vitae and we include some of his achievements in this news. For those of us who have seen him perform at the House of Windsor as an age grade player it very obvious that there was something pretty special in the making, as witnessed by his strong fend, his swerving runs and crazy 'out-the-back' passes! Lachlan played for Canada U20 for three years, at tournaments which took place in Brazil, Romania and Ireland. At UVic he played on the 2019 National University Champs, Vikes team and also in 2018 (3rd place). Going back to 2018, he played for Canada on the Youth Olympic Qualifiers; travelled to N.Z. with Canada for the World High Schools Sevens; played for the BCHS Champs, Oak Bay Barbs and was named Player of the Tournament. Finally, he was selected on Canada's U18 Youth Commonwealth Games Team in 2017. All of this work gives him a good base to expand his skills in a professional environment. Being a CW developed product, we are very proud for him and we wish him well.
FOOTNOTE:
Last Saturday, many Canadian rugby fans were able to catch the MLR game between Washington, Old Glory and Toronto Arrows on TSN. This viewer thought the standard of rugby on show was "not bad" – considerably higher than BC Premier and lesser than perhaps, top Sydney or Auckland grade rugby. Mostly lesser, due to the season being early days; teams still formulating with players being added; and skills depreciating in the later stages of the game. It was not short on effort, big strong men with pretty good skills and a desire to score tries.
The Arrows had very solid displays from Canadian Captain, Lucas Rumball and former UBC player, Co-Captain, Ben Le Sage and UVic grad, Giuseppe Du Toit. For the Old Glory, it was great to watch former CW Captain, Doug 'Fresh' Fraser put in a solid game. 'Fresh' has sure put on the muscle under a pro training regime!! One could expect the standards to rise appreciably. For example, the Los Angeles Giltinis, coached by a very successful Sydney Grade coach, Darren Coleman and assisted by former Wallaby, Stephen Hoiles, (Coleman at one stage coached Calgary Mavericks), and fully loaded with the likes of Matt Giteau, Adam Ashley-Cooper and DTH van de Merwe! The G's defeated back-to-back MLR Champ, Seattle Seawolves last weekend, 57 – 26. They take on Toronto this weekend, so we will keep an eye on TSN again. All of the teams in the League are loaded with ex-or current Internationals from, Tonga, Fiji, Uruguay, and Argentina; players from France, Samoa, Ireland Australia, along with a healthy contingent from USA and Canada make up the rosters.
---