It's Rugby - Must Be Saturday!
---
---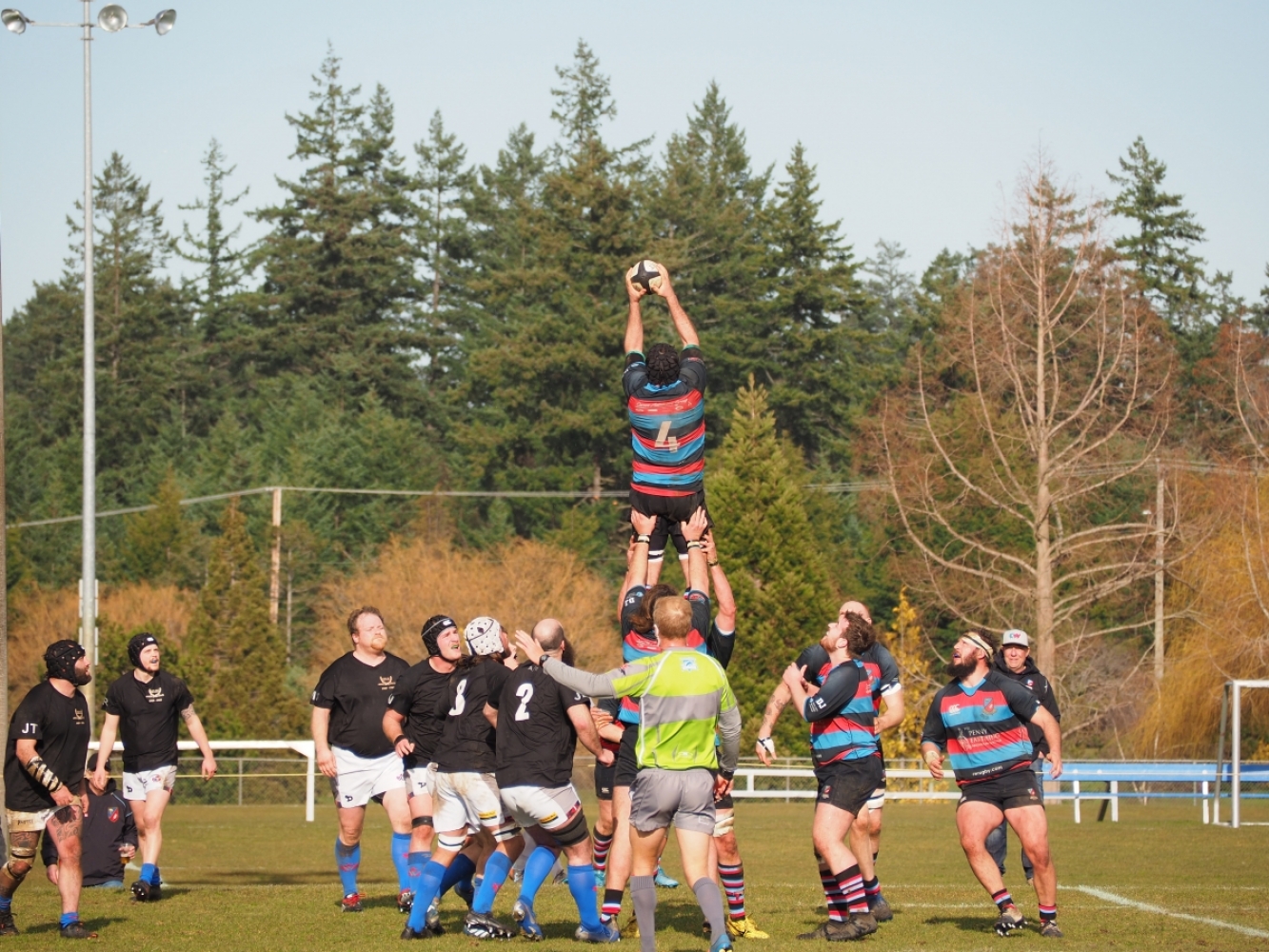 Finnie Soars High To End The Season
Name That Team

Well, we had very little response to this challenge! So, we'll leave it at that. A couple of the players on the side responded accurately, which is amazing after that time lapse! Here you go;

Back Row, l to r: Dave Bukovic, Chris Flint, Jim Carson, Craig White, Mark Todd, Chris Horsley, Bill Palmer, Paul Rober, Roger Ball, and Tim Dennett

Front Row, l to r: David Goudy, Tony Harris, Bill Adey, Bruce Grey, Chris Snape, John Alden and John Hamilton


The Future of Rugby?

Sir Ian McGeehan provides interesting reading with a recent article published in Ruck (highly read UK Rugby website).

Reports that the RFU is looking into making the amateur game 'contact-free' next season was always going to receive a mixed response, but Sir Ian McGeechan believes it could be the best option. According to rugby scribe, Gavin Mairs, the RFU plan is planning to hold back on introducing full contact rugby. The return of 'rugby activity' would see games take place without, mauls, scrums or even tackles until at least next year

"Faced with the prospect of contact-free rugby (or more accurately a "no-contact game") or no games, I would go for the hybrid option every time", (Sunday Telegraph.)

"If there is no rugby, if there is nothing to watch, no socialising, no incentive for players to train, a club's whole raison d'etre is taken away. We could see countless grassroots clubs lost. We have to remember, 99% of rugby is amateur, run by volunteers and financially supported by members and local business.

So could there be a hybrid solution to enable clubs to have a meaningful opportunity to open? I think so. It is far from ideal, and yes, it is not rugby as such. But it could be key for clubs whilst we transition from lockdown over the next season and beyond."

McGeechan further explained that when he was Wasps coach, he devised a rugby-soccer game called 'Fugby' which the players loved.

"It was great for core skills – kicking, passing, handling, catching – and ferociously competitive. No, it was not rugby, but the players left training with smiles on their faces. Why not have such games to transition back into playing and encourage some hybrid competitions regionally with minimum expense?"


(Ed. It would be easy enough to recreate that game. So, a challenge to all of those creative minds out there in cyberspace; our intellectual readers; have at it and let us know what rules you would devise for such a game!)
We thought it only fair to show the
Runner-Up Men's Try of the Season
, scored by David Devillers Vs Meralomas.
Fundraiser Extraordinaire! Off to See the Wild West Show!
In the recent Brent Johnston blog, he referred to a rather unique Fundraiser held by the Vikes at UVic, back in the early to mid-seventies –
Casino Nite
. Our blog today will take a peek at what it was like back in the day, at Casino Nite!
Some insight needs to be provided as to why fund-raise? With mentor, the late Howard Gerwing proposing rugby trips for the Vikes every three years, to broaden the mind and challenge the rugby back in 1969, the UVic club needed to find creative ways to raise a substantial sum to subsidize costs for poor students in a major way. The 1969 Tour, led by Dave Docherty and Ray Calton toured the UK. One touring member said that he; "remembered raffling a bicycle outside the BCL stores on weekends and it raised a hell of a lot!" Another added; "it was donated by Russ Hayes, along with a car stereo from Eaton's". A bicycle?!! The auction items featured an amazing fur coat from Scuby's Furs, with Gerwing winning the bid. This was a very successful tour with a notable victory over Edinburgh Academicals, a very close run with the Chris Laidlaw led, Oxford Greyhounds and a close one against Glamorgan Wanderers. These results convinced Gerwing he was on the right track, particularly as this tour set up the Vikes first-ever Rounsefell Cup victory over Kats in 1971.
The 1972 Tour planned by Gerwing was further afield and more adventurous – to Australia and Fiji. Tour costs were much higher and that is when one creative student came up with the idea of a
Casino Nite.
The first event featured drinking, gambling and an auction.
The subsequent two such events became much more sophisticated and much more creative, devising ways to spend your money!! They featured a topless bar where the rookies had to serve the beers and wine "un-shirted". Everyone traded cash for "funny money" upon entry and this "fake cash" was the source of currency throughout the night, with many folk sufficiently lubricated by evening's end that they forgot to trade back to cash! There was roulette, black jack, crown and anchor; all under appropriate license from the Gaming Branch. There was women-only, entertainment and entertainment for a mixed crowd, things were far more lenient back in the day. Highlight of the evening were the ongoing Mice Races, a six card event where the mice were freed to run the length of boarded lanes. Suitably named and odds in accordance with the house – a craft well-learned by yours truly, serving as a "penciller" for a brief spell back in native Oz! A definite hit amongst all and sundry. The evening was capped with an auction. By the time of the third such evening times were a-changing and there were complaints about the mice being treated unfairly. (In fact they had been obtained from the Biology Dept. where they were subject to more harsh practises; for at the end of the evening the were released to their freedom in the fields!)
Along with the initial Casino Nite and a car raffle, the 1972 Tour was solidly funded! Four of the five matches were against University sides – two in Sydney, University of Queensland and University of South Pacific in Suva. There was a win and a tie and a "close one". Casino Nite was the foundation of the 1975 Alan Rees led Tour to Uruguay. The Vikes achieved an outstanding result on this Tour, defeating the Uruguayan National side. Oh, for those days!
The final
Casino Nite
was to fund a tour to Europe – France, Italy and Yugoslavia in 1978 where the Vikes notched their second International scalp, defeating the Yugoslavian National side. The Vikes continued to tour every three years under the leadership of Bruce Howe and Dave Docherty however, political correctness saw the end of Casino Nite and nine years of great fun and successful fund-raising.
Faces in the crowd at the Mice Races – the late CW Pres., Doug Grey; "Tubby" McIntosh; the nape of Casey "Sabre" Walt; the late, Brent "Huggy Bear" Huggins; "Liar" Benson; "Knuckles" Mc Rae; JBA's Kim Clarke to name a few that the odd reader may recall.
---