"It Just Wasn't Good Enough"
---
---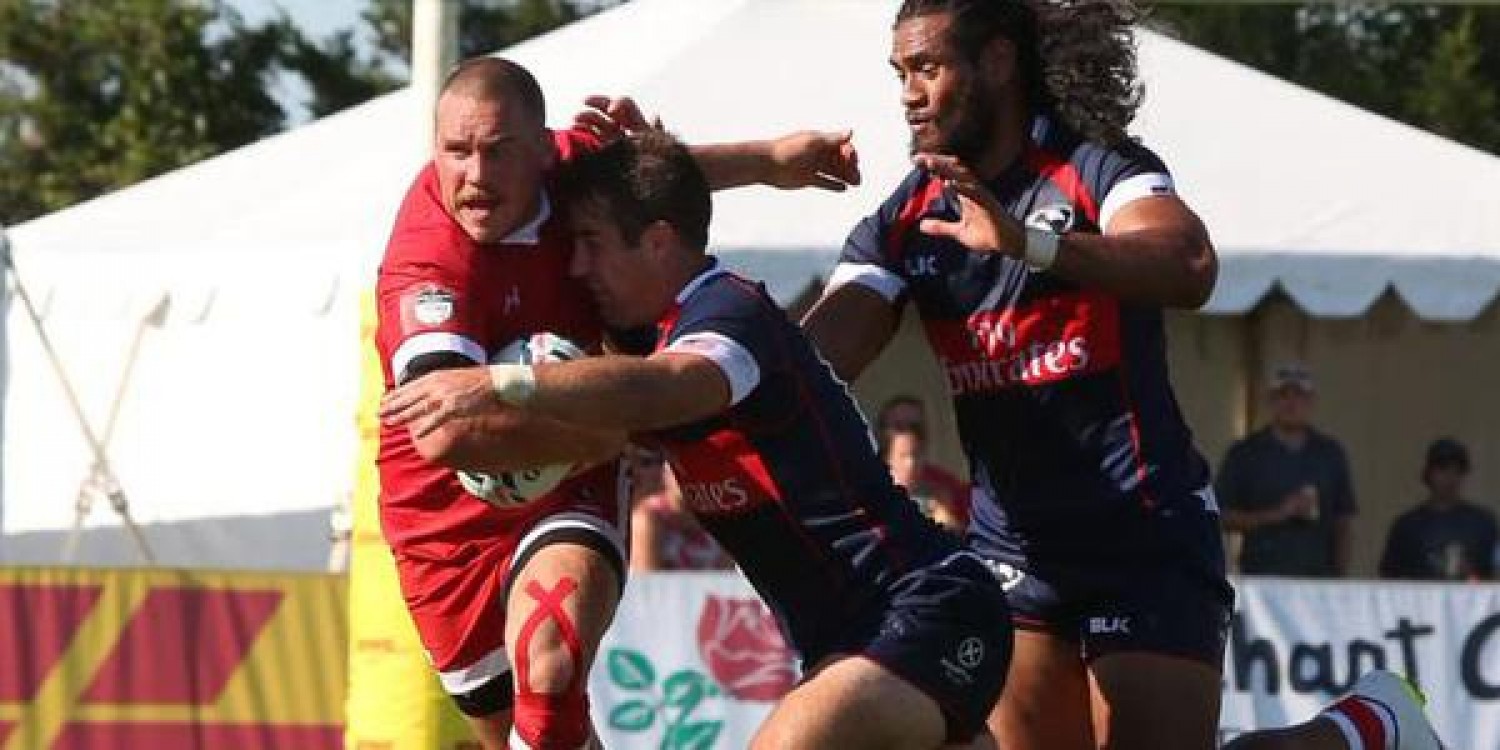 Blevins Sniffs the Line
Wished it was as good as R.C's Twitter feed made it out BUT the above quote from the coach after another Canadian, error-filled performance against a better drilled and skilled and sized, opposition on Saturday at Twin Elms in Ontario, sums it up. This match could be analyzed 'til the cows come home but all comments would arguably lead to a couple of issues. There were far too many Canadian errors but many of them were forced under pressure from an energetic defense. Our boys did not appear to be on the same page with patterns, often throwing ball away when it should have been consolidated, in a style that we have become used to with their sevens game ……only difference being there are eight extra defenders on the pitch! Finally we were badly beaten, out-muscled and schooled at the breakdown.
It was a pretty good start for about seventeen minutes and it was about 26 minutes in when the U.S. showed us their first real attack, perhaps against the grain, with a debatable "crawling issue" in the tackle undetected, also a player being able to "hang on" much longer than what Nigel Owens would accept however, it was a soft try and a 6 – 7 deficit. Canada forfeited a penalty under pressure and play went for another ten minutes before failure to clean-up a bouncing ball by McRorie led to an interval lead of 17 – 6. Canada might have been lucky to get to the tunnel with only this deficit.
The second stanza started with some gusto although more points were left on the park by the hosts but they did capitalize with their first tally, started with Moonlight as an "outside" runner, feeding Paris who made yet another super-human effort to break two tackles (one at neck level), to squeeze it to 11 – 17. This during a U.S. yellow card. Canada managed to offer three points back. Play ebbed, rather than flowed and Blevins, who had a good game going, was unlucky not to have a definite obstruction on him called as he chased a Hirayama chip. About 17 minutes in, Canada retained some good pressure with Mack on the field and six or seven hit-ups which saw Blevins break two tackles for a good try, a measure of recompense. At 16 – 20, the convert was missed, totalling some 13 points to this stage. This really was the end of it for the home team.
Mack was binned for stomping, the recipient was marginally in the way and perhaps should have been penalised but the penalty was impetuous and lacked discipline. With Mack off, an oleo of events occurred, Nate in at #9, Nate to #10, Yak to #9, scrums shunted, failure to find touch, penalties and to cap it off, a noticeably very weary, Carpenter fell for a dummy from fresh man, Suniula and 27 -16 score. The rest was ugly, with another brace added, interspersed with a Canuck lineout drive for a Carpenter tally, for total of five U.S. tries.
From where I sat during this game and thank goodness, it was at The Temple, I think Nate @#10, came through unscathed but a glaring gap at #9 has opened with McRorie seemingly confused as to what pattern of game he is to play and what best suits his skills. In fact, he may have even played himself almost out of contention today, not to mention missed "kickables". Phil Mack is an impact player and can be both brilliant and detrimental. We saw that for a second game today. Blevins was mostly pretty good in the backs although he had a couple of early cock-ups. Jones and Paris kept their sheets clean. As for the forwards, just where does one start? There were some good sets but it was patchy and clean, late-in-the-game lineouts were won, but forwards as runners were once again flat-footed, generally not aware of where the breakdown would occur to be there in numbers for retention, causing far too many penalties, having to come from the side or off their feet. Nanyak got through an amount of work but definitely showed being "short of a trot", Carpenter works so hard and is ever so passionate but he does not have the pace to be an effective back-rower at this stage – period, in my book. I give Buydens, Moonlight and Barkwill when he was not being silly, "okays". Mmmm…..Glasgow, Georgia and Fiji, thence Ireland – formidable stuff.
This game capped a weekend of heavy losses to U.S. sides. Our Women's U20 team lost in two outings to a U.S. National team, 22 – 38 and 5 – 32, a massive turnaround from these matches last year. A B.C. U18 Girls team lost to All American H.S. All Stars, 58 – 0. Wow! What's happening Stateside? I would suggest these results are no fluke. From all reports the opposition was skilled and strategically smart. Perhaps we have become a little soft, being too used to simply "turning up"? It is hard to tell, not being close to the business end of any of these outcomes but it certainly is a wakeup call. The men's result does not come out of the blue. This pundit and heaps of others have often been heard to talk of the "sleeping giant" down south. So, if we want to compete, it seems like there is much work to be done.
---