Inaugural Gerwing Shield Match
---
---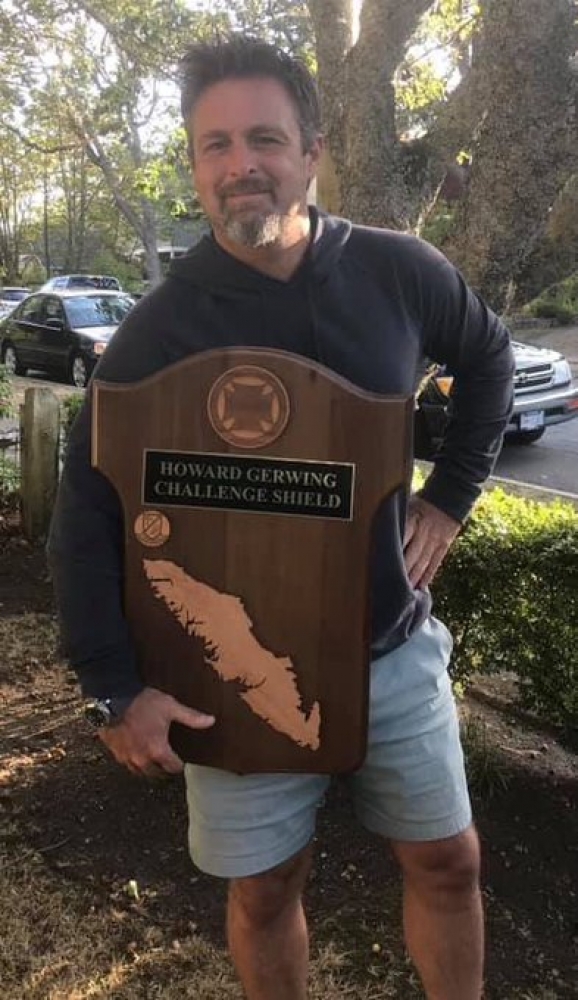 Club President, Matt ('The Chaplain') Gordon, Displays the Prize
Tomorrow sees CW's Gala Opening Day culminate in a senior men's Premier match between UVic and CW, playing for the Gerwing Shield. I could wax at length about Howard owing to a close personal relationship over a period of fifty years but suffice to say it is very fitting of the VIRU to honour Howard's work with Island rugby by inaugurating this competition in his name. The shield starts off in the hands of CW, defending Barnard Cup Champs and the winner of tomorrow's game will either retain or lose the shield which will then be contested for at the holder's next match. Got that? It is similar to the Kiwi Ranfurly Shield, held on a "challenge" basis. It is only fitting that UVic be one of the contestants in the opening challenge as Howard was a true rugby icon at the University, not to mention the honour he brought on the establishment, nationally and world-wide with his work at the Special Collections of the Library. 'onya, Howard – R.I.P., good man.


To the contest. UVic visits with a host of CW junior grads being the backbone of their selection. Gav Kratz at prop, Nick Carson at #8 and in the backs, Jonas Robinson, Lockie Kratz and Jason Dashkewytz, add to this, Carter White off the pines with maybe a few others, names unrecognised by this writer (apologies, if so!). These young men always put in something special when they come back to their roots and will provide a massive challenge. James O'Neill, a very good flanker will lead the Vikes who have many "new" names. Westshore's, Martin-Feek at #10 will also look to impress as he tries to fill a huge void left by Bowd's departure. The Vikes bench looks to have good depth with names such as Newhook, Findlay and Tudor-Jones, recognisable to this writer. We also note the word is out about the Vikes Finale season with Coach Tate. Doug has done much great work with young payers form Minis to age grade at Windsor Park. CW congratulates Doug in the work he has done with UVic rugby and we wish him well. Retirement? Can you imagine that with this man?
And CW…….the starting XV has a number of new faces and combinations, heard rumoured, due to some players still being awaited upon, registration issues and unavailability. We must give recognition to young "pathway players", Alex Kanty and Fergus Hall both having played mini rugby back yonks ago and being members of B.C. winning teams at the U17 and U19 levels. Fergus was a regular Vike at UVic and really hit his straps of old late last season being a force in a team that was within yards of being in the B.C. finals. Kanty was a regular Norseman when his studies allowed, also appearing with Sunday morning Minis, "giving back" to his club. He has big boots to fill with the absence of CHall but we suspect he will relish the opportunity at this top level and won't disappoint. He will be guided by Schelly, slotting in at #9, a position we have an inkling he favours. He will pick up where he left off last week against Rugby Canada. These are a couple of story lines.
To the nuts and bolts. The outcome could well depend on the work the CW pack can do to put their mark on the match. The pack has heaps of experience, led by Braddock, Finnemore and Chisholm. An interesting selection is that of Luke 'Bam Bam' Bradley at #8, a position others have opined he fits best. We would not be honest if we did not comment that Nate Stewart will be missed but cometh the hour, cometh the man! Newcomers to the forwards are hooker, Pasagic and big prop Horton. We saw plenty of the later last season to be convinced he's the goods at this level and his matchup with Kratz should be fascinating. Herron and Suddsy round out a good "back three" of loosies.
The combination of the backs is unpredictable to this pundit. The poise that Schelly and Hall must provide could well be the factor. Kegode's presence after almost a full season of Premier play last year should also be an asset. The other half of the Kenyan Connection, David Keta, will provide a measure of pace to counteract UVic, expect the unexpected from this man who had a season interrupted by injury last year. UVic has pace to burn with both Robinson and Kratz having a fun summer of Sevens and despite the fact that Prevost has graduated to the Pride, they will still be full of tricks, with the ability to attack and counter from anywhere, so the backs will have to stick to the plot, one no doubt devised to play to their strengths. The Main Match goes at 2:45, preceded by the Reserves at 12:15 p.m. It will be aggregate day of action and fun and hopefully the 16TH MAN will come through in what will be a tight outcome. Don't miss this one!
---